We adjudged YU as the best debut brand of the year 2015, and not without good reason. It was in 2014 that the Indian smartphone went through a revolution of sorts, with the likes of Motorola, Xiaomi and ASUS setting the market ablaze with their online-only sales and VFM offerings. Indian giant Micromax saw this as an opportune time to change tact and thus, YU was born. Targeted at the internet generation and promising lots of goodies like the Cyanogen OS platform, YU's debut smartphone, the Yureka (review) created a lot of buzz when it landed in January 2015. The brand followed it up with other notable offerings like the Yuphoria (review) and the Yureka Plus (review), but its latest, the Yutopia (unboxing and first impressions), seems to be its most ambitious bet yet.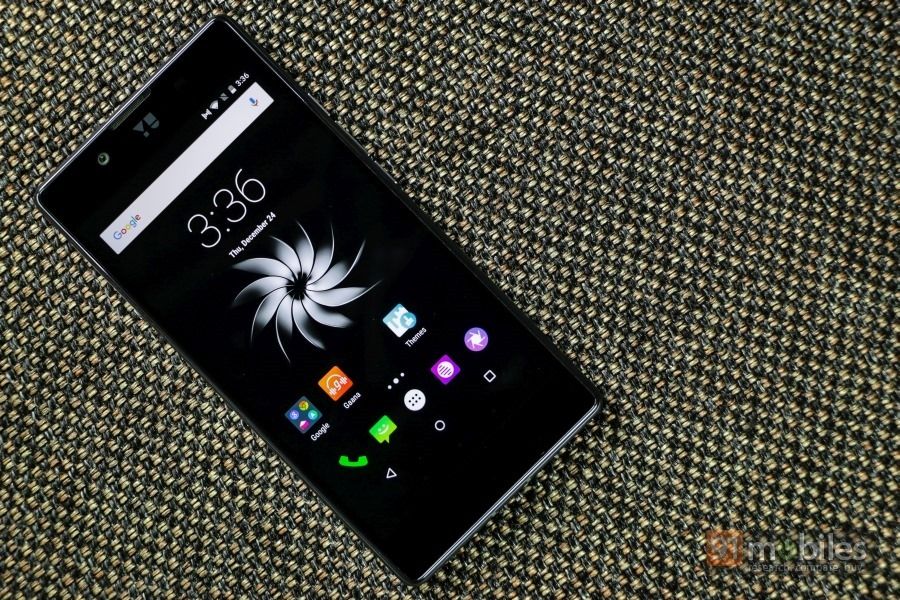 Touted as the most powerful phone ever, among other things, the Yutopia is not just the priciest phone from YU, it's also the most expensive yet from any Indian brand. Its price tag of Rs 24,999 puts it into the same league as loaded offerings from international brands, and makes it go head-to-head with some very strong rivals. Time to put it through its paces and figure out its mettle.
Specs at a glance
Display
Size
5.2 Inch
Resolution
1440 x 2560 pixels
Performance
CPU
Quad core, 2 GHz + Quad core, 1.5 GHz, Snapdragon 810
RAM
4 GB
Storage
Internal memory
32 GB
External memory
Up to 64 GB
Battery
Capacity
3000 mAH, Li-Polymer, Non removable
Camera
Primary camera
21 MP
Secondary camera
8 MP
Connectivity
Network support
Dual SIM 4G
Other options
Wi-Fi, Bluetooth 4.1, GPS
Others
Battery Capacity
3000
Operating system
Android 5.1.1 Lollipop
Design: the gleam of metal
Dimensions
: 147 x 73 x 7.2 mm
Right off the bat, the Yutopia manages to impress. The device is positioned as a loaded flagship, and the first thing it ensures is that users are not left wanting when it comes to design and build quality. The metal unibody feels solidly built, lending it a premium feel when you hold it in your hands. The gunmetal finish means the looks are subdued and can't really be described as flamboyant, but we still think it looks stylish. The metal is cool and smooth to the touch, though that also makes it a tad slippery.
The Yutopia is quite compact, thanks to its svelte body, slim bezels and a screen size that avoids venturing into phablet territory (as against most other flagships). One-handed usage therefore, shouldn't really be an issue. Design-wise, it sticks to the same ethos we saw on the YU Yuphoria, with various elements places symmetrically around the phone.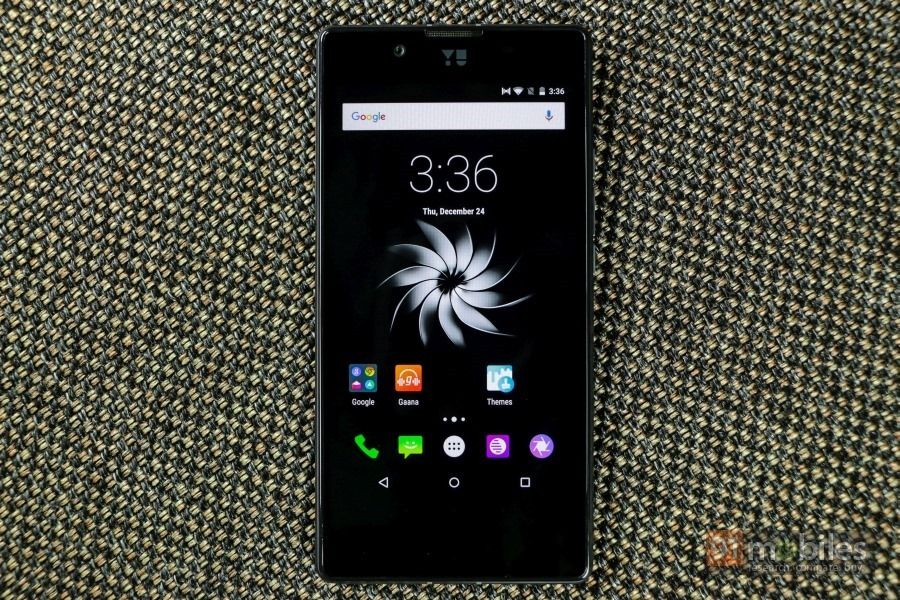 The fascia is barebones, with no hardware navigation keys, and only the usual earpiece, front camera and sensors adorning the area above. A notification LED is present below though.
The headset socket and micro-USB port are placed dead centre on the top and bottom respectively. The right holds two separate volume keys, with the power key placed in their midst. A large ejectable tray on the left spine accepts a micro-SIM and either a nano-SIM or a microSD card.
On the rear, the first thing you'll notice is the circular window that houses the main camera and LED flash. It juts out of the body and the glass covering it is susceptible to scratches. Below that, you'll see the circular fingerprint scanner, plus YU branding and a speaker grille down below.
Display: looks good, hates touch
Resolution
: 1440 x 2560 pixels
Sticking to its loaded credentials and aiming to outclass rivals, most of which come with 1080p displays, the 5.2-inch screen on the Yutopia is a QHD affair. Offering a sharp pixel density of 565 ppi, it utilises One Glass Solution tech and comes protected by a layer of Corning Concore Glass. We appreciate the fact that YU's chosen to go with a screen size that works well for one-handed usage, instead of taking the phablet route. Most flagship-grade phones these days come with large screen sizes, and it isn't really easy to find a capable option in case one-handed usage and easy pocketability is high on your priority list.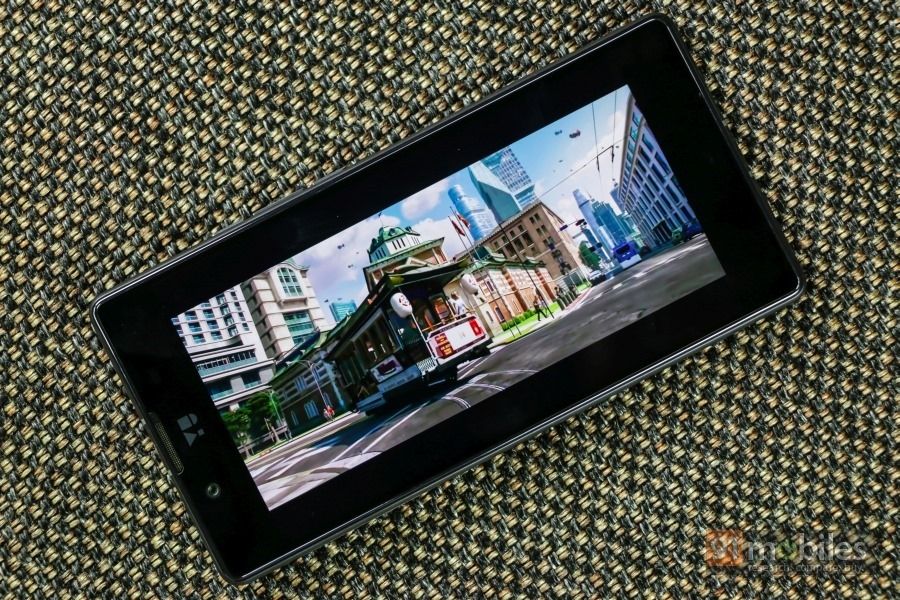 The Yutopia's screen is quite sharp and vivid, offering nice colours overall. However, the touch response is quite iffy and we found ourselves tapping multiple times on occasion for it to register our touch, bringing the user experience down by several notches. A software update could possibly take care of this, and we're hoping YU has one in the pipeline.
To tweak screen output, you'll find an option called LiveDisplay under display settings. Apart from letting you enable an outdoor mode that bumps up brightness and contrast under harsh lighting, this will also let you set different colour temperatures for day and night.
Software: Cyanogen all around YU
Operating System
: Android
OS Version
: 5.1.1, Lollipop
YU's partnership with Cyanogen, announced even before its first smartphone, the Yureka was launched, created quite a buzz, and has been touted as a key differentiator for its offerings. The brand's exclusive deal with Cyanogen affected OnePlus One sales soon after this phone was launched in India, but that's another story altogether. Cyanogen OS has been a part of almost all smartphones by YU so far (barring the budget Yunique), and the Yutopia runs the same platform as well. More specifically, it runs CM 12.1, based on Android Lollipop 5.1.1, and the next big refresh, i.e., CM 13, which would utilise Android Marshmallow, can be expected in the near future.
As usual, Cyanogen OS brings an interface which is nearly stock at first glance, but is spiced up with a bunch of useful tweaks. There's support for downloadable themes, and Truecaller is integrated into the dialler. The preloaded stuff includes AudioFX sound enhancements, YUniverse browser powered by Opera, and Gaana (includes a six-month subscription to premium services). The device settings has a few more goodies, including a powerful privacy guard that gives you complete control over app permissions, and an option to control the behaviour of the virtual navigation keys.
The fingerprint scanner lets you register up to five fingers, and setting it up is quite straightforward. While the said scanner unlocks the phone in a jiffy, the accuracy is a tad bit questionable though, as sometimes, it fails to recognise registered fingerprints. For the most part though, it works reasonably well and shouldn't give you a reason to complain.
Just like Cyanogen added more flavour to stock Android, YU has done some mischief of its own on top of the platform. Making its debut on the Yutopia is a service called Around YU, which gets its own dedicated space on the side, accessible by swiping right from the primary home screen. By tying up with various service providers like Zomato, Ixigo and Ola, Around YU lets you locate restaurants nearby, find hotels, book cabs, and get seats on flights, buses and trains… all without having to install dedicated apps. Around YU is a neat idea we think, and while it seems useful enough in its first avatar, we hope future updates can bring more services under the umbrella and take it to the next level.
Camera: we expected more
Flash
: Dual-color LED Flash
The primary shooter on the Yutopia is a loaded affair, much like the rest of the smartphone. Entrusted with capturing special moments is a 21-megapixel primary shooter that utilises a Sony Exmor RS IMX230 sensor. The camera boasts features like optical image stabilisation and Phase Detection Autofocus. A dual-tone flash is available to help in low-light situations. From 4K to slow motion, it can record it all. For self portraits, you get an 8MP front-facing snapper.
The camera app from Cyanogen is quite minimalistic, and we've seen it in action on other phones running the same platform. There are buttons to shoot still photos, videos and panoramas on the main viewfinder, plus a toggle to switch to the front camera, flash control, a button for settings, and another that throws up a separate row of controls to tweak exposure, white balance, timer and geolocation. Shooting modes include options like HDR, Night, Action, ChromaFlash, OptiZoom etc, and can be changed by swiping on the viewfinder itself. OptiZoom is a feature that attempts to take clearer zoomed photos by combining multiple shots, while ChromaFlash captures a couple of images – one with flash and the other without – and merges the results for a more natural-looking low light image.
When it comes to real-life performance, we think the Yutopia can take pretty decent pictures, especially in daylight. Maybe we were expecting a little too much from it after all the hype YU created around it, but it didn't really make us jump with joy over its image quality. HDR and low light performance aren't its strong points, but all said and done, the camera should suffice for casual photography. Do check out our detailed camera review, along with a quick glance at a few image samples here.
Performance: a smooth blend
CPU
: Quad core, 2 GHz + Quad core,…
Memory
: 32 GB + Up to 64 GB
SIM Slots
: Dual SIM , GSM+GSM
The top-of-the-line octa-core Snapdragon 810 processor. 4 gigs of RAM. These are ingredients for steroidal performance, and the Yutopia doesn't disappoint in this aspect. There's no evidence of any speed breakers – whether you use the usual productivity or social apps, or indulge in intensive gaming.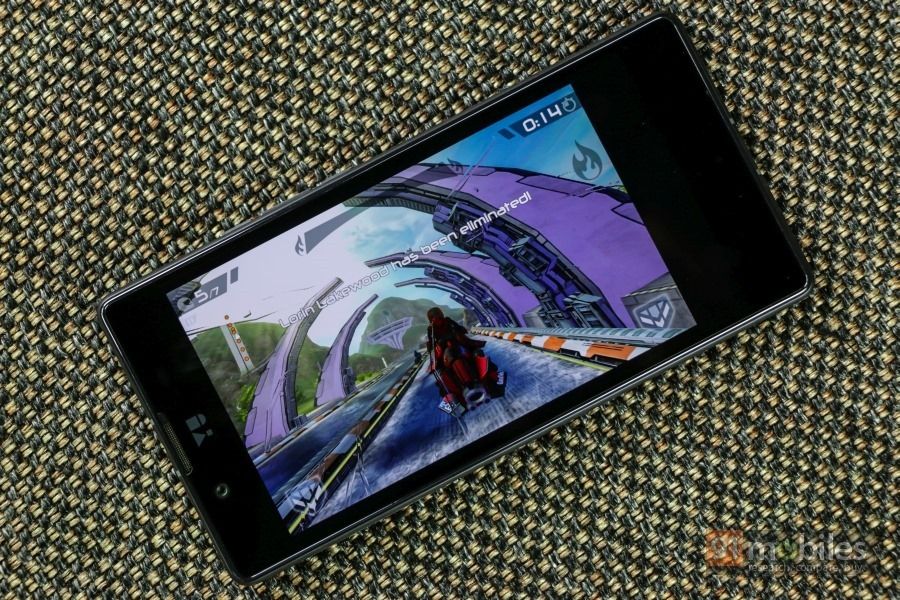 Some of the games we tried on the Yutopia include Riptide GP2 and Asphalt Nitro, and the smartphone was able to handle them pretty easily, so no complaints there. It does tend to heat up when stressed though, especially near the top, but usually, the temperatures didn't go high enough for things to become truly uncomfortable for us during our usage.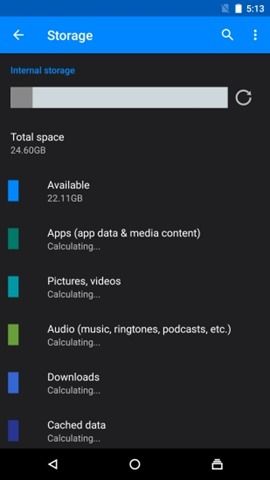 With a little over 22 gigs of space available for your use, out of the built in 32GB, things should be fairly comfortable for you as far as storage is concerned. Of course, you can add more via microSD if you wish, and utilise its USB OTG capabilities to connect flash drives directly when in a crunch. The other connectivity options include 4G and support for dual-band Wi-Fi (including the ac standard), but if you're looking for NFC, don't – it's not present.
The 3,000mAh battery fares reasonably well, managing to keep the Yutopia alive for the entire day with medium usage. If you're a heavy user though, you might need to locate a power source by lae evening. Our battery rundown test ran for about eight and a half hours before the battery gave up, and this is a fairly average result. Fast charging is supported as well.
Verdict
There are a lot of things to like about the YU Yutopia, such as its all metal build and smooth performance.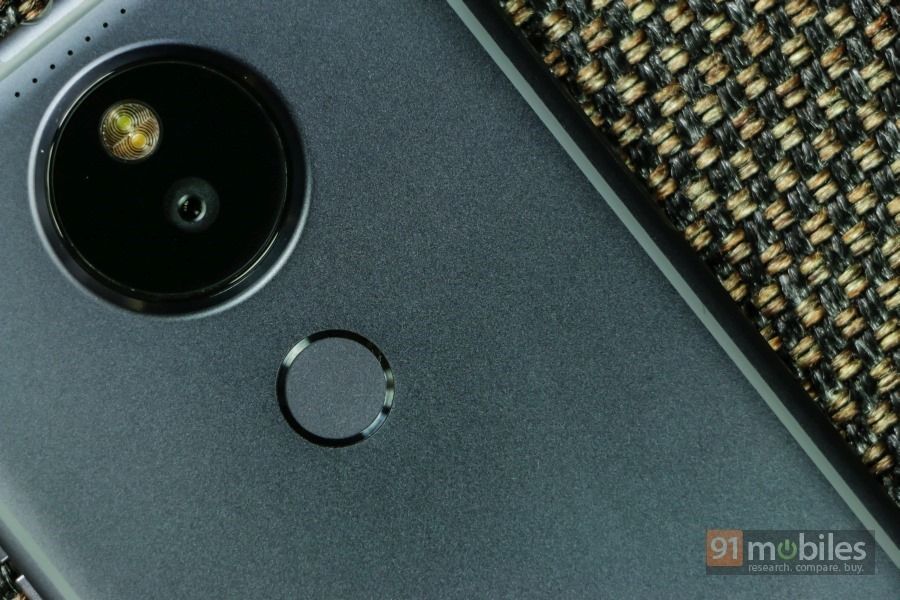 However, it can be a bit of a mixed bag, and we do have our share of niggles – with the key ones being the iffy touchscreen and fingerprint sensor. Battery life and camera quality could have been better too, but should suffice for most. Maybe our key issue with the Yutopia is that we were expecting quite a bit from it, especially after all the promises made by the company. However, it doesn't seem to deliver on all fronts. Moreover, it also raises quality control-related questions, as many of the previous devices from the brand, the Yureka and the Yuphoria for example, were riddled with issues… though to be fair, the company released updates quickly to tackle most of them later. As we mentioned previously, the Yutopia is the priciest smartphone to come out of an Indian brand, and at its asking price, is competing with the likes of the OnePlus 2 (review) and if you're stuck on a compact option, the Honor 7 (review) as well. And as things stand, both seem to be pretty compelling options. For us to be able to recommend the Yutopia, YU needs to issue a big software update for the phone pronto.
Editor's rating: 3.5 / 5


Pros
Solid, metal-wrapped build
Sharp screen
Smooth performance
Cyanogen OS with its tweaks
Around YU seems useful
Cons
Iffy touchscreen
Fingerprint scanner can be problematic
Camera performance and battery life doesn't meet expectations
No NFC
Photos by Raj Rout
Top Alternatives
| | | | | |
| --- | --- | --- | --- | --- |
| | Yu Yutopia | vs | Huawei Honor 7 | |
| | | | | |
| --- | --- | --- | --- | --- |
| | Yu Yutopia | vs | OnePlus Two | |
| | | | | |
| --- | --- | --- | --- | --- |
| | Yu Yutopia | vs | Google Mobile Nexus 5 2015 | |