"Intel®'s Skylake CPU's feature improved processing capabilities, power efficiency and advanced tech"
Now this is a real upgrade right here. Don't know what we're talking about? It's the latest generation of Intel® processors. The successors to the BroadwellTM family, SkylakeTM processors are the sixth in the lineup from the company, and feature a bunch of improvements, be it in processing capabilities, power efficiency or other the advanced tech features they come with.
Intel® announced SkylakeTM processors back in 2014 at the Intel® Developer Forum, and launched these chips in September this year. These are designed to drive all sorts of devices… from convertibles to desktops, as well as mobile workstations. But you don't need to sit and wonder what's so special about the new SkylakeTM processor… or how it manages to be so diversely capable… or whether or not should you opt for a device powered by it (spoiler: you should), because we'll answer it all for you right here.
The basics – what SkylakeTMprocessors bring to the table (or in this case, the computing devices)
The credit for faster processing, better graphics, longer battery life and other improvements SkylakeTM processors bring goes to the completely overhauled microarchitecture.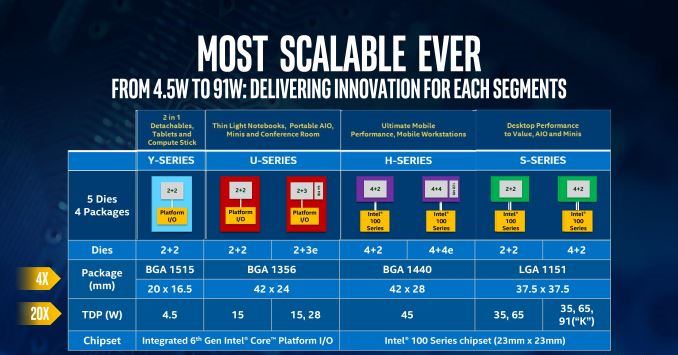 Image credits: http://anandtech.com/show/9582/intel-skylake-mobile-desktop-launch-architecture-analysis
The new SkylakeTM family includes both dual-core chips and quad-core chips. Intel®'s multithreading technology, called hyper-threading1 pumps that up to four and eight threads, respectively. While it does boost the performance through parallel processing, there are newer and even more efficient technologies and resources the SkylakeTM processors make use of to deliver the ultimate experience, all on the same 14nm2 Broadwell architecture's die size.
To list a few, the new processors come with support for the latest-gen DDR4 SDRAM along with being able to work harmoniously with DDR3L RAM. Moreover, SkylakeTM processors are the most scalable processors from Intel yet, with 4.5W chips to power tablets, to 91W processors with all the grunt to drive desktops. Since the 6th-gen Intel® processors boast a thermal design power of up to 95W, the power efficiency is enhanced manifold. The Intel® Speed Shift technology enables the device's hardware to take control over power states and their transitioning, hence offering smoother performance, and for longer3.
In a nutshell, the Intel® SkylakeTM processors have been designed to take performance up several notches, while ratcheting down on the power consumption and making this experience available through a wide range of devices.
Categories – something for everyone
Primarily, the new SkylakeTM processors have been made available in four families, which are Y, U, H and S. Each family comprises different configurations to suit an individual's needs.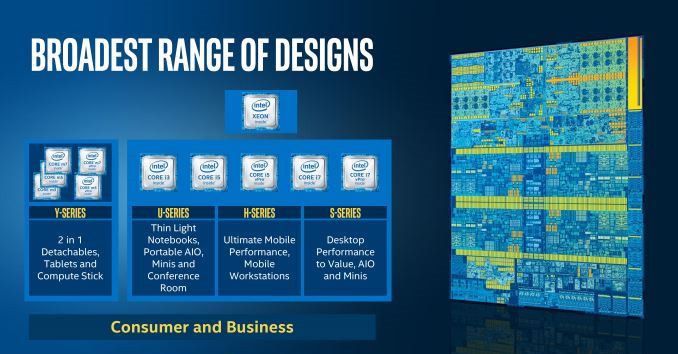 Image credits: http://anandtech.com/show/9582/intel-skylake-mobile-desktop-launch-architecture-analysis
The SkylakeTM S is a desktop-class processor which comes with DDR4 RAM support and configurable thermal design power, varying from 35W to 95W. Then, there's the H variant, meant for gaming or high-end laptops. The SkylakeTM H supports the next-gen DDR4 SDRAM as well. The Y and U series of SkylakeTM processors are more suited for affordable and portable laptops or tablets… the Y edition being smaller than its Broadwell equivalent, making it suitable for embedded systems as well. Both the Y and U SkylakeTM chips only support the low-power DDR3L RAM3.
Why SkylakeTM is Intel's® best processor ever?
While you might think it's obvious for any latest or upgraded product to be better than its predecessor, the case with the SkylakeTM processor is a little more extravagant, since it's not just a step-up from the previous-gen Broadwell processors, but a leap.
1) Better graphics and performance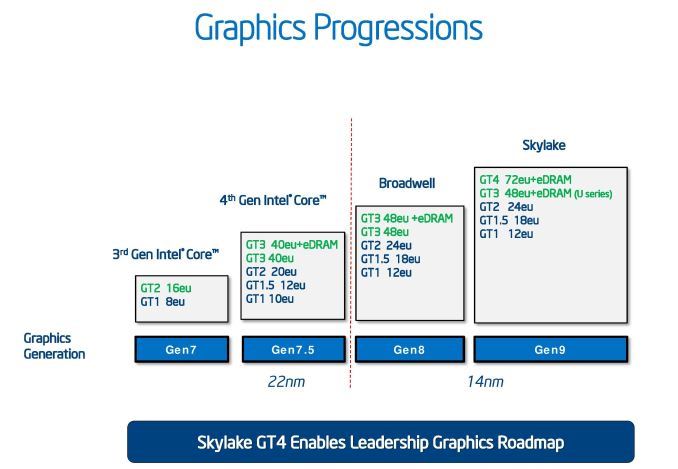 Image credits: http://anandtech.com/show/9582/intel-skylake-mobile-desktop-launch-architecture-analysis/6
SkylakeTM processors come equipped with Gen 9 graphics, with support for DirectX 12, and offer 30 percent better 3D graphics4 as compared to older laptops. SkylakeTM's integrated graphics system offers L4 cache to feed the GPU and enhance frame rates for a better graphic experience. While the graphics performance gets a significant boost, the overall performance has also gotten better. To exploit the chips' potential even further, Intel® has provided unlocked multipliers, letting you overclock the CPU to your will (and of course, your device's cooling potential). Support for DDR4 standard for RAM only ensures that there's nothing old school about your laptop3.
2) Improved battery life
Battery life is a crucial aspect when it comes to mobile systems and almost everything about the SkylakeTM processors ensure that you get the most of it. The 14nm build of the 6th-gen Intel® processors correspond to less power dissipation. The aforementioned Speed Shift technology allows the chips to change their power state in accordance with the requirement. This simply translates to more efficient use of power and henceforth, the SkylakeTM-powered laptops promise to deliver better battery backup.
3) Quick boot
The new SkylakeTM processors have a faster wake up time. The Windows 10 Modern Standby tech allows you to wake up your laptop from standby in less than half a second5. Since the SkylakeTM processors have been designed to work with Windows 10, you also get the liberty to say "Cortana, wake up", to do that.
4) Ready for the future
Calling out to your PC while brewing your coffee isn't the only cool thing you can do with the new SkylakeTM processors. Intel®'s RealSense technology, along with Windows Hello, lets you log in to your PC with just your face. The company has equipped the SkylakeTM microarchitecture with an Image Signal Processor, capable of handling two 13MP cameras simultaneously6. Since the SkylakeTM chips can be scaled down to power smaller devices, you can now use the RealSense tech and the associated features on smaller devices like tablets as well.
With better decoders, the devices powered by the 6th-gen Intel® CoreTM processors can run 4K videos with extreme ease. The SkylakeTM processors come with support for Thunderbolt 3, which means you get double the transfer bandwidth, at almost half the power consumption and the ability to drive two 4K displays simultaneously7.
The 6th-gen Intel® CoreTM processors not only deliver the best you can get right now, they also make sure you don't miss out on things that trend sometime later, by being future proof. And that is precisely why it's time for you to upgrade to a SkylakeTM-powered device and experience computing like never before.
Source and footnotes:
1 http://www.intel.in/content/www/in/en/architecture-and-technology/hyper-threading/hyper-threading-technology.html
2 http://www.intel.in/content/www/in/en/learn/whats-new/6th-generation-intel.html?wapkw=14nm&_ga=1.228969369.406646501.1441775461
3 http://anandtech.com/show/9582/intel-skylake-mobile-desktop-launch-architecture-analysis
4. Measured using 3DMark* 1.2.0 Cloud Gate for DX 10 graphics subtest – a 3D graphics benchmark that measures 3D gaming performance. Find out more at www.futuremark.com.
5 http://www.intel.com/content/www/us/en/processors/core/core-processor-family.html
6 http://www.digitaltrends.com/computing/how-intels-skylake-processor-will-dramatically-improve-your-next-pc/
7 http://www.in.techradar.com/news/computing-components/processors/5-things-you-should-know-about-Skylake/articleshow/48481940.cms