Yahoo! announced the launch of Yahoo messenger app for iOS devices Apple iPad, iPhone and iPod Touch. This new app downloadable for free, allows the user to have a video chat using their iOS devices. So, no matter where ever you're in the world, you can stay connected to your friends using the Yahoo messenger.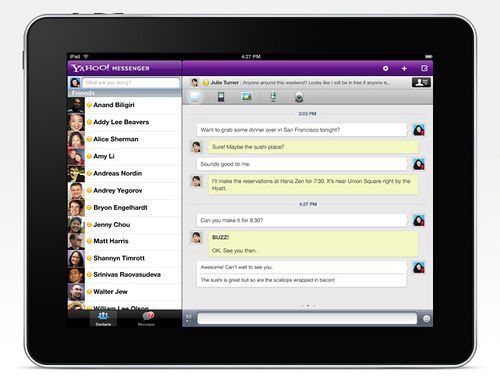 The new Yahoo Messenger app allows users to send an instant message, text, share photos and videos etc. Also, it gives access to make voice calls and video calls to friends in messenger list. The new release features include –
Affordable International Calls: Make low cost international calls to landlines or mobile phones with your Yahoo! Voice Phone Out account.
Photo & Video Sharing: Share photos and video in real-time, with your Yahoo! Messenger buddies.
Windows Live Interop: Bring all your friends in one place: Add and IM your Windows® Live Messenger friends right in Yahoo! Messenger.
Multitasking: Work with other iPad apps – a notification alerts you when an IM arrives, even when the app is running in the background.
Yahoo! Messenger for Apple iPad supports nine different languages including
English, German, French, Spanish, Italian, Traditional Chinese, Vietnamese, Bahasa Indonesia,
and
Romanian.
Download
the new app from market enjoy, start calling your friends & family and stay connected. Yahooooooooooooooooooooo