"The XOLO Q1200 sports a unibody design and a custom UI with several smart features."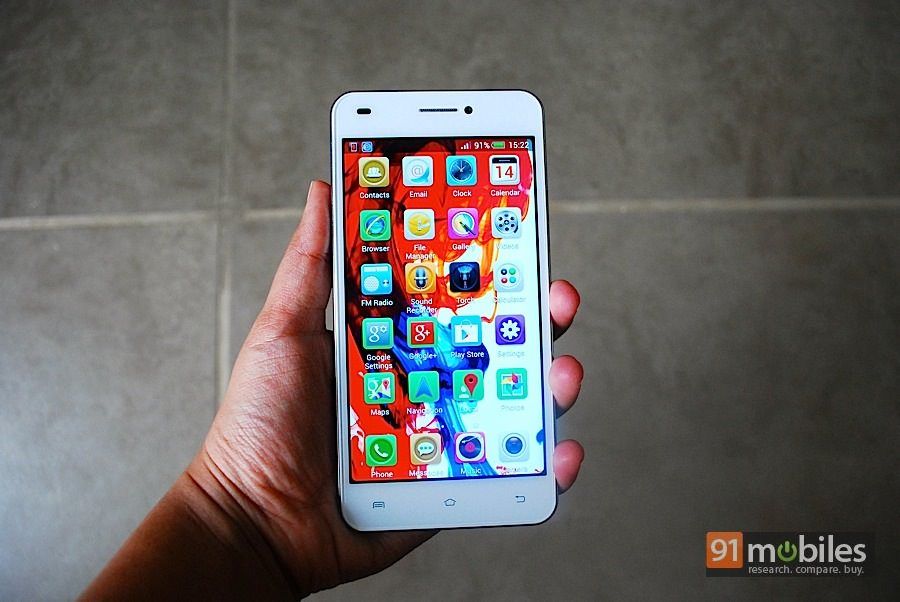 XOLO has been quite busy lately, launching a spate of KitKat running devices including the Q1011, Q2000L, and more recently, the Q500S IPS. Keeping its promises, the company also began rolling out a KitKat update for the Q1010i, followed by one for its older sibling, the Q1010.
The KitKat trend isn't the only area where the company is focused though. It recently released its first Windows Phone device, the Win Q900s. It also announced its new HIVE user interface for Android devices, and a gaming device, the Play 6X-1000, powered by MediaTek's new hexa-core processor. Despite all the innovation, one area where the manufacturer has been getting a little stale is with its endless range of Q-series handset launches, most of which have minimal differentiating features. The Q1200 though, attempts to partition itself from the crowd with a sleek unibody design and a custom UI (that's unfortunately not HIVE). Following our unboxing and first impressions, we spent a couple of weeks with the handset, and here's our full review.
Refreshing unibody design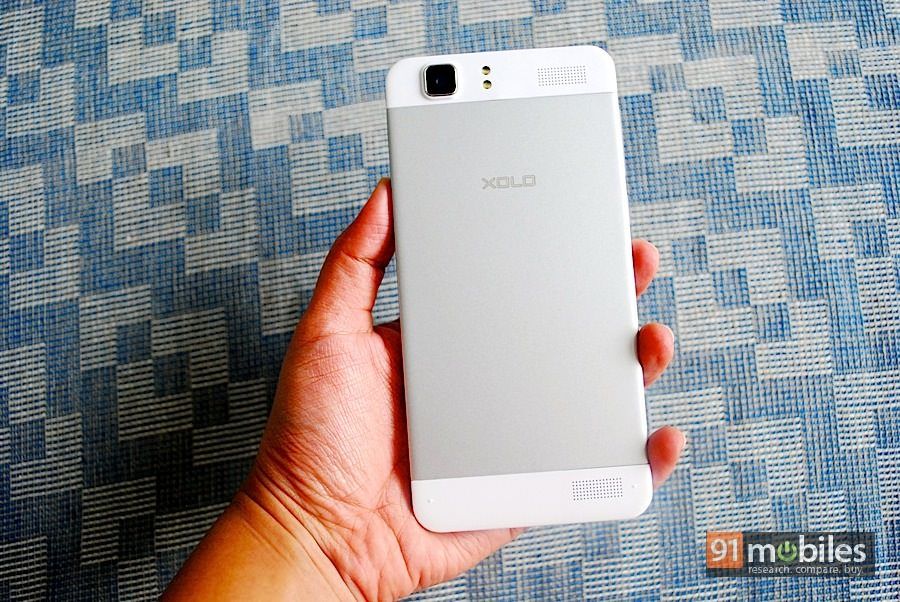 Specs At A Glance
5-inch, 1,280 x 720 display
8MP primary camera, 2MP front shooter
1.3GHz quad-core MediaTek MT6582 processor
Mali 400-MP2 graphics
1GB RAM, 8GB expandable internal storage
2,000mAh battery
Single-SIM, 3G, Wi-Fi, Bluetooth 4.0, GPS, USB OTG
Android 4.2.2 with custom UI
FM radio
The XOLO Q1200 is one of the best-looking devices we've come across from the company till date. Skipping the usual removable back panel for a unibody design, the smartphone appears sleek, slim and stylish. With a frame measuring just 6.9mm, it can easily slip into your pocket. Our white unit was all glass in the front, with the earpiece, sensors and front 2-megapixel camera on top, and a row of capacitive (non-backlit) Android hardware keys at the bottom. Given that it sports a rather large 5-inch display, the thick bezels on the top and bottom add unnecessary height to the phone.
Coming to the port placement, the left side holds a metal-finish power button and volume rocker. On top, you'll find the 3.5mm headphone socket, and the bottom features the micro-USB port and primary microphone.
On the right, there's an ejectable tray that holds both the SIM card and a microSD card. XOLO has provided a tool in the box to remove the tray. Interestingly, the Q1200 accepts only a single SIM, which is quite unusual for a smartphone from an Indian manufacturer. We found that the SIM card and microSD card don't sit quite snugly on the tray, and we were worried about them getting lodged inside.
A thin chrome strip runs all around the edges, which complements the dual-tone white and silver back panel. At the rear, you'll find the 8MP primary camera and dual-LED flash, along with stereo loudspeakers, one at the top and one at the bottom.
Bright display with vivid colours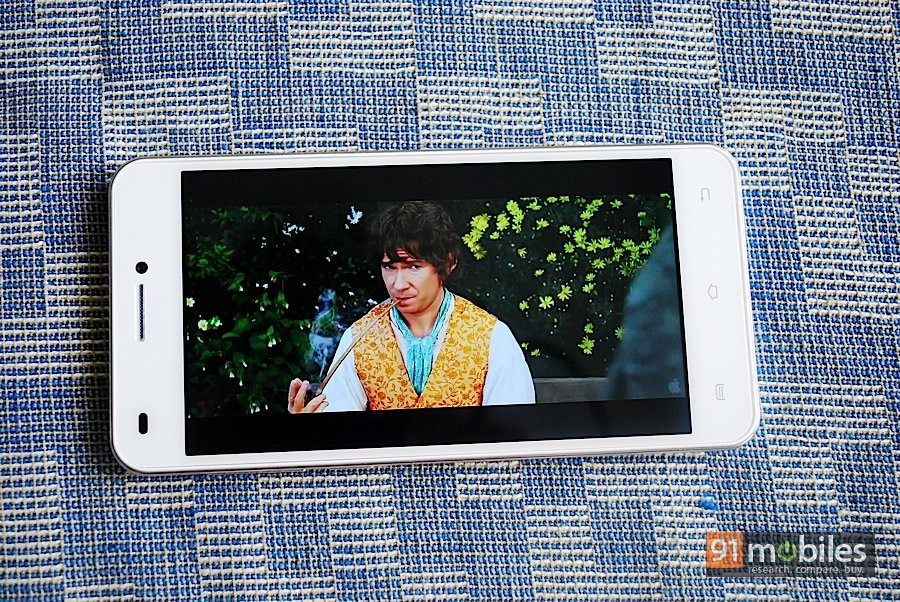 The Q1200's 5-inch display sports a respectable resolution of 1,280 x 720 pixels, resulting in a pixel density of 294ppi. It also gets a layer of Corning Gorilla Glass 3 for protection. The display is exceedingly vibrant, so much so that colours appear slightly oversaturated. The plus side is that the viewing angles are good, and brightness is a strong point too. The large size and bright colours also make it ideal for watching videos or playing games. Sunlight legibility was also decent, as long as the brightness was cranked up. The display was responsive, but wasn't as smooth as we'd have liked.
The screen also supports several smart gestures, which we'll explore in detail in the software section.
A snapper with a Sony sensor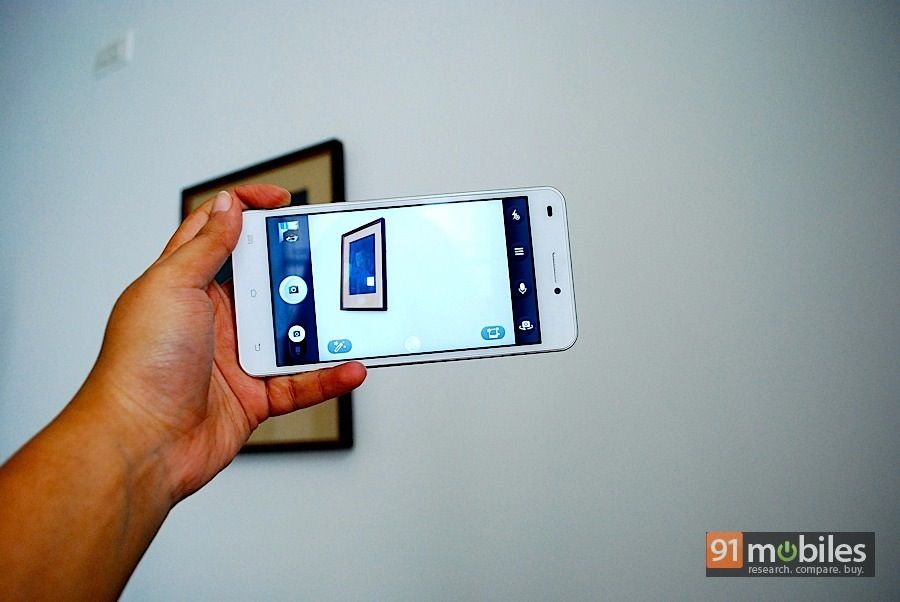 The Q1200 features an 8MP primary camera that's equipped with a Sony Exmor R sensor. While we've seen quite a few Indian-made devices which use Sony sensors, the Q1200's camera was undoubtedly one of the best among them. The camera is quick to focus, and can get quite close to subjects, making it ideal for macro shots. Landscape shots weren't a strong point, with results varying from washed out to over-darkened. The HDR mode doesn't help, over-sharpening and washing out images.
In low light, the camera still manages to capture colours well, but images display a fair bit of grain. Night shots are usable, although the camera has some difficulty focusing.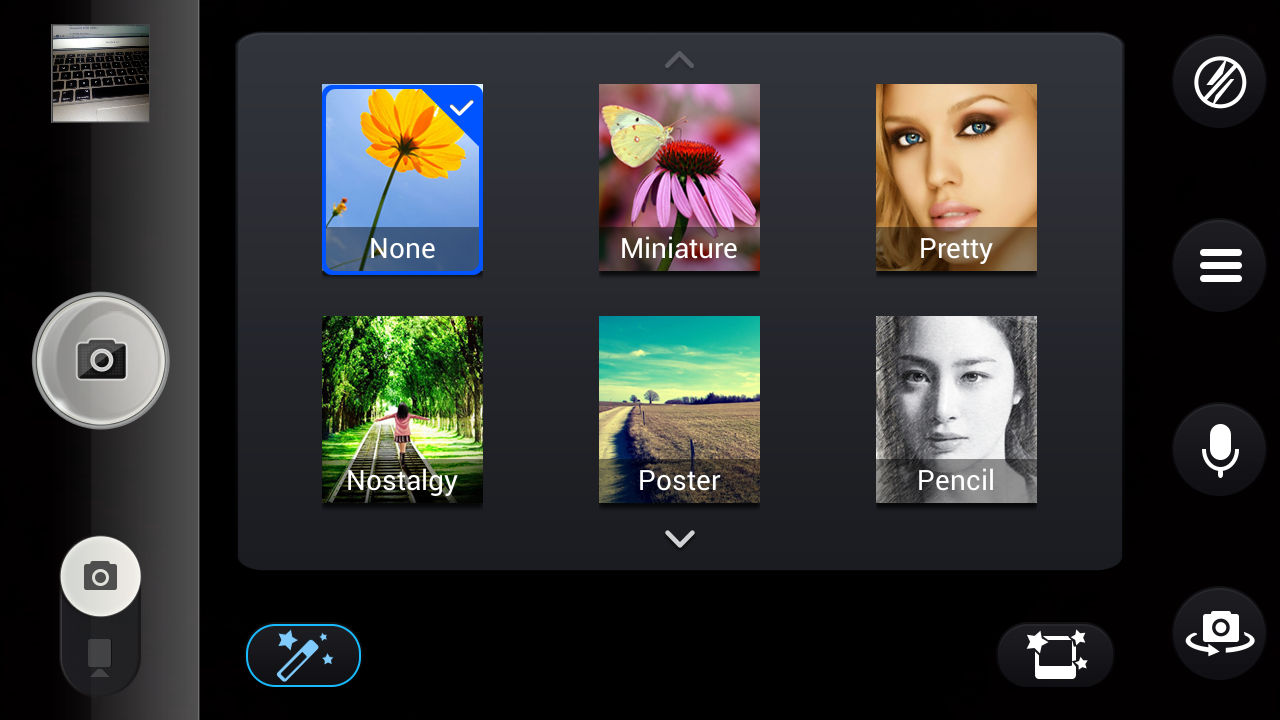 The camera app offers a wealth of effects, such as Miniature, Pretty, Pencil, Pinfocus, Selectcolor, Sepian, Mirror, Fisheye, Kaleidoscope, etc. There are also a bunch of frames you can wedge your face into for selfies.
In the camera settings, you'll find options for HDR, Smart Selfie, Smart Magic, Panorama and Smile shot. There's a 'Professional mode' which gives you access to manual controls like white balance, exposure, sharpness, ISO, and more. Scenes can also be selected from here.
The camera supports voice capture, a feature we saw earlier on the Lava Iris 504Q+. Activated by pressing the microphone button on the camera interface, voice capture lets you take a photo by saying 'capture' or 'cheese'.
The front camera takes a decent selfie, as long as there's sufficient light. However, focusing is an issue in low light, and images can appear a tad hazy too.
The Q1200's primary camera can capture videos in 1080p, and results were pleasing.

Here are some image samples from the primary camera. Click on the thumbnails to view them in full resolution.
A heavy UI with Samsung-inspired smart gestures

Software is the area where XOLO has made the most customisations. The handset runs a heavy skin on top of Android 4.2.2 Jelly Bean, and XOLO has promised an update to KitKat in the future.
Honestly speaking, we're not a big fan of the UI. It just feels like there's too much going on. The default theme features a bright wallpaper and equally bright icons, which are jarring on the eyes. This theme doesn't have an app drawer either, so all the icons are displayed on the home screen itself. You can choose from a few different themes though. Some, like Business or Crystal, offer an app drawer.
There are several customised widgets to choose from, including an 'exclusive space widget' for the camera. This takes up an entire home screen, and with a tiny window that acts as a viewfinder to snap photos, and slots to display the two most recent photos taken below.
The pull-down notification bar has been modified to display a separate tab with several quick settings, which can be customised too.
Among the pre-loaded apps, you'll find the standard trio of XOLO's own. XOLO Care lets you register your device to bring it under warranty, XOLO Secure lets you back up your data to the cloud, and XOLO Power offers various modes to help you conserve battery life.
The third-party apps include Facebook, Notes and PicasaTool. The device also offers a File Manager, FM Radio and a torch. Most of the regular apps like the calculator, gallery, music player, video player and more have been tweaked in line with the UI. Interestingly, the smartphone doesn't come pre-loaded with the default Android browser or Chrome, and instead sports a custom browser with a misplaced Internet Explorer icon (FYI, Internet Explorer isn't available on Android).
One of the highlights of the UI are the several extra features which are labeled 'Smart Somatosensory'. There's Smart Wake, which lets you scribble various symbols on the sleeping screen to activate certain functions. For instance, sliding upward will unlock the phone, and sliding downwards will launch the camera. You can also cold access apps, by drawing 'c' to wake the dialer, 'o' to open contacts, etc.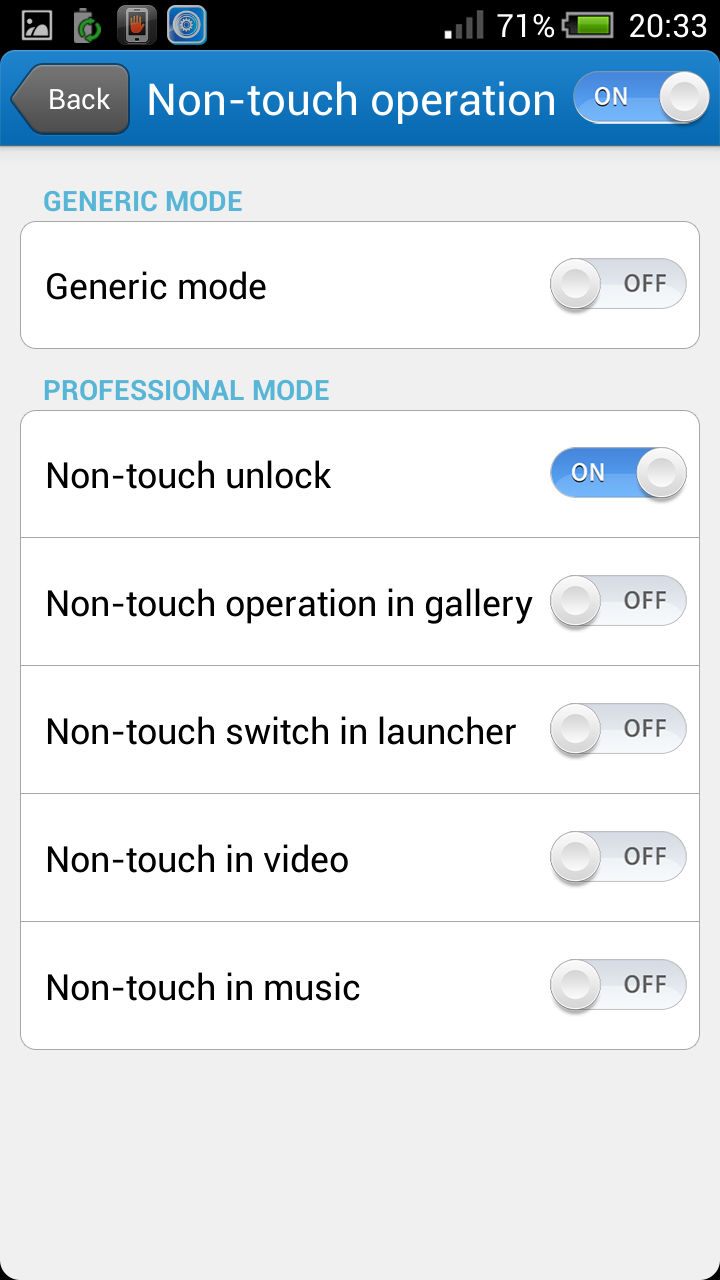 The Smart Light feature lets you double click to wake the display. There's also a Smart Stay feature, which keeps the screen active as long as you're looking at it.
Non-touch operation utilises the phone's proximity sensor to let you swipe your hand above the display to navigate the gallery, launcher, video and music player. You can also swipe your hand above the lockscreen to unlock the phone.
Other options include Reverse to Mute and Pocket Mode to increase ringtone volumes when the phone is in your pocket.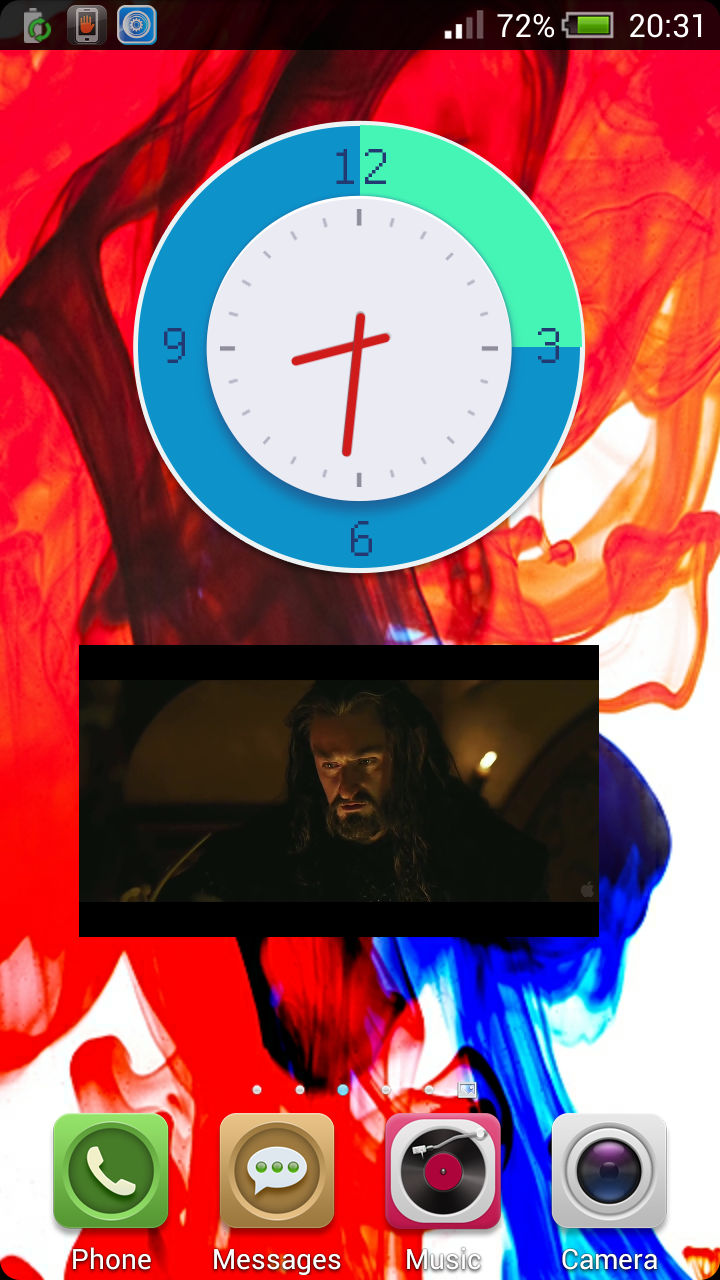 There's an interesting option called Float multitask window, which brings up a floating window that you can open the video or music player in, and run alongside other apps. Float window also has shortcuts to lock the screen and access notifications. Additionally, you can enable Read Mode from here, which will keep the screen running until you turn it off, or Game Mode, which disables the back and menu key for an interruption-free gaming experience. The Float Window can be enabled or disabled by long-pressing the back button.
Apart from the voice control features we mentioned for the camera, you can also use voice commands to control the alarm or answer calls.
Decent performance marred by its sluggish skin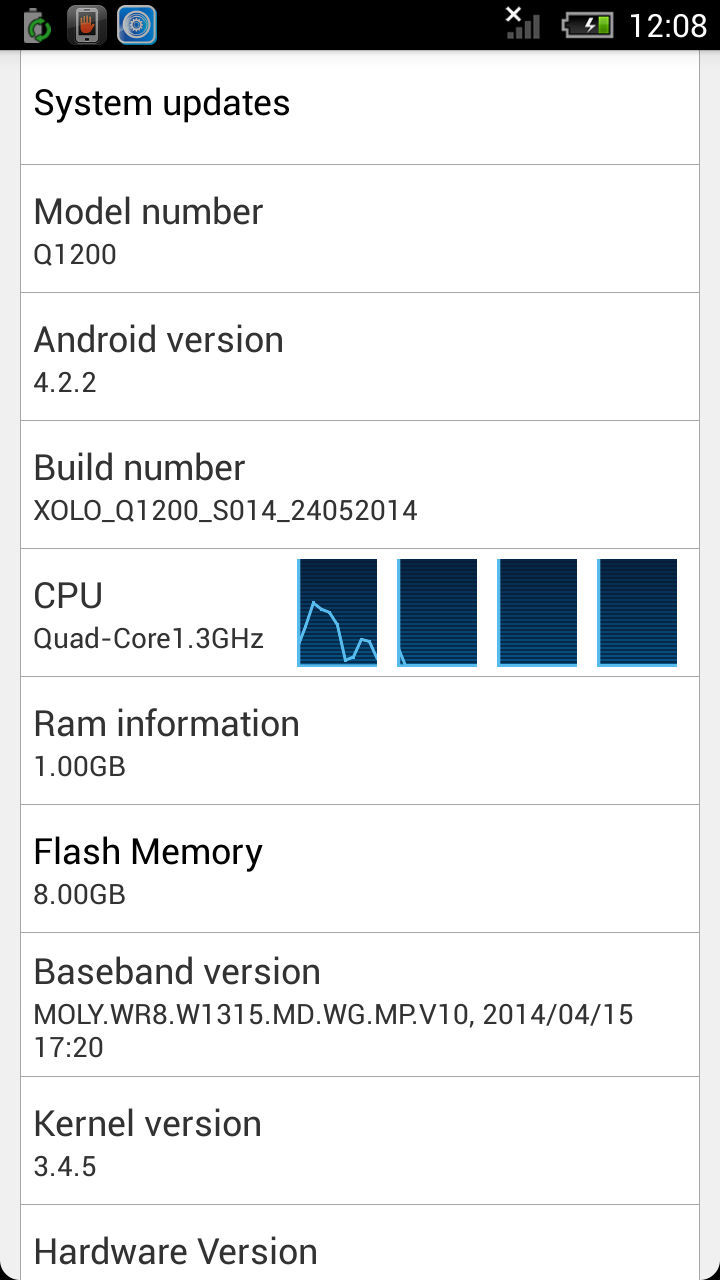 The Q1200 is powered by a 1.3GHz quad-core MediaTek MTK6582 processor, paired with 1GB of RAM. This combination usually works well, but on the Q1200 it's not as smooth as we'd like, mainly owing to the sluggish UI. Apps take a few seconds longer than usual to open, and we faced app closes more often than we'd like. We wouldn't call the phone slow, but it certainly wasn't as zippy as it should have been.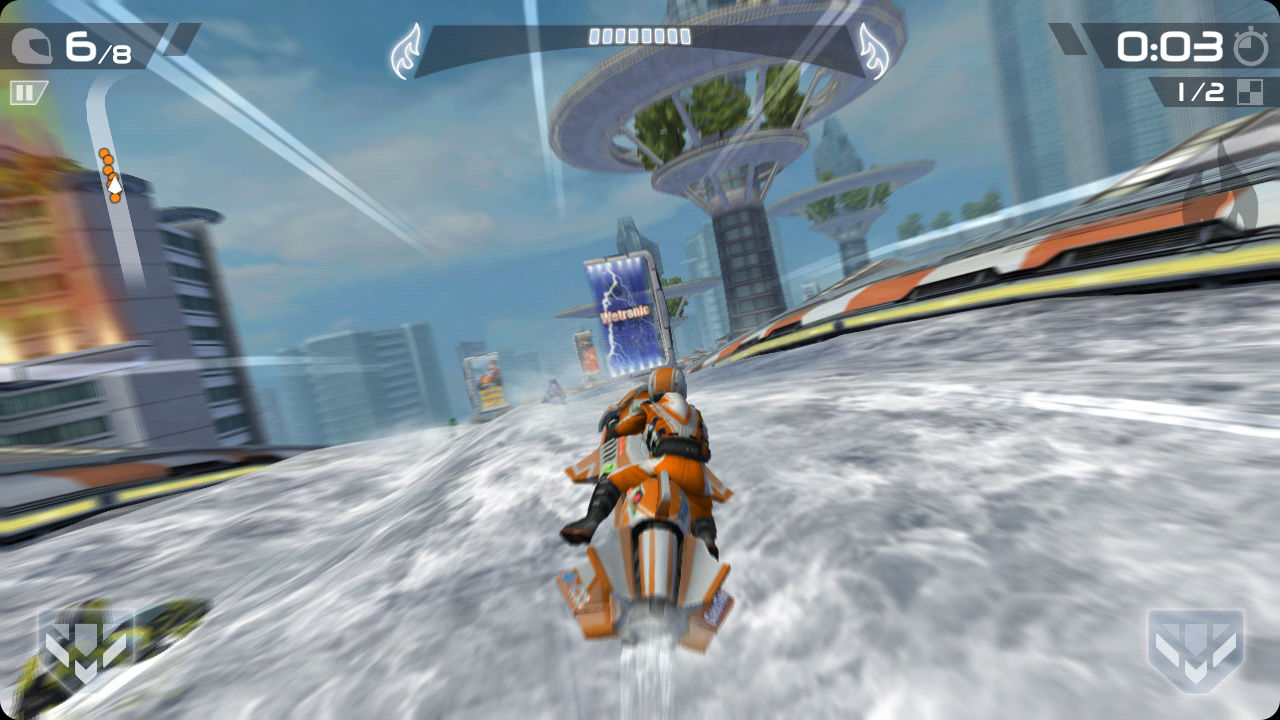 The Mali 400 MP2 GPU can handle intensive games like Riptide GP2 without any freezes or lags.
The device offers 8GB of internal memory, which can be expanded to an additional 32GB with the microSD card. Out of this, a little under 6GB is available for storage. This is pre-partitioned, with around 1.85GB available for apps (internal storage) and around 4GB (phone storage) available for media files.
Call quality wasn't the greatest on the phone, with volumes on our end being lower than we'd like, and users on the other end frequently reporting muffled voices.
The 2,000mAh battery barely lasted us through the day, and drained quickly with 3G or gaming. Our standard video loop battery run down test gave us just over six hours of playback before the phone died, and that's a very average result in our labs. The 'Low Battery' mode in the XOLO Power app can help to conserve battery life for longer.
Verdict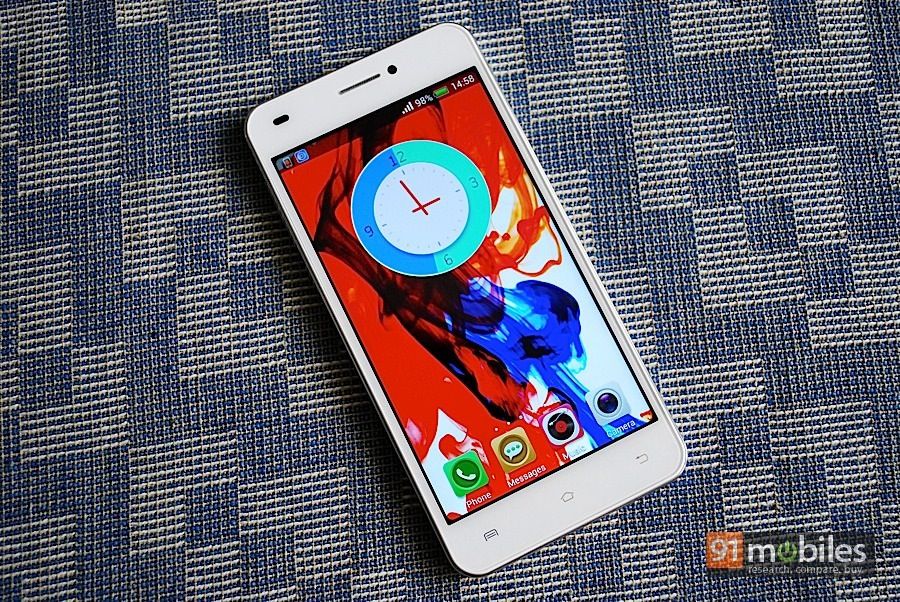 If you asked us a few weeks ago, we would have said that the XOLO Q1200 was a decent mid-range Android handset, marred mainly by its excessive UI. But a lot has changed since then. First, ASUS launched its Zenfone range of smartphones, with better specs and pricing than the Q1200. The Zenfone 5, which we reviewed earlier, seems like a particularly strong rival. As if that wasn't competition enough, Xiaomi pretty much massacred the market when it announced the Mi 3 (first impressions) a flagship smartphone with a Snapdragon 800 processor, 1080p display and an aluminium-magnesium freame for a sweet Rs 13,999. In a market where even the Moto E and Moto G are under threat, it's tough to recommend the Q1200. We can give the device a thumbs up for its design and display, but the heavy UI and average performance don't help its cause. At an MRP of Rs 14,999 (it's available for around Rs 12,999 online), the Q1200 sits rather forlornly among the market, no doubt joined by several others. Frankly, we're much more excited to see what XOLO's Windows Phone device and HIVE UI have to offer, and we'd suggest you wait for the company's new devices or a price cut before you make your choice.
Price: Rs 12,999 (online price)
Editor's rating: 6 / 10
Pros:
Classy, unibody design
Good primary camera
Bright, colourful display
Update to KitKat incoming
Cons
Below average battery life
Jarring, crowded UI
Slightly sluggish for everyday tasks
A tad overpriced for its features
Video by Pratik Vyas