Micromax Canvas 4 is the latest hype of the Indian market coming from a home grown brand with decent features in affordable prices. However, this is certainly not the only device that is creating buzz at the moment. Another Indian manufacturer, XOLO (Read Lava) has launched another powerful smartphone features in the form of XOLO Play T1000 to compete against the Micromax Canvas 4. Both of the phones are powered by Quad Core processors with XOLO Play T1000 having an advantage of being the first Indian smartphone powered by NVIDIA Tegra 3 processor. These smartphones are competent enough to compete against each other, but can a XOLO device out run the much-hyped latest Micromax device? Lets see!
Micromax Canvas 4 vs Xolo Play T1000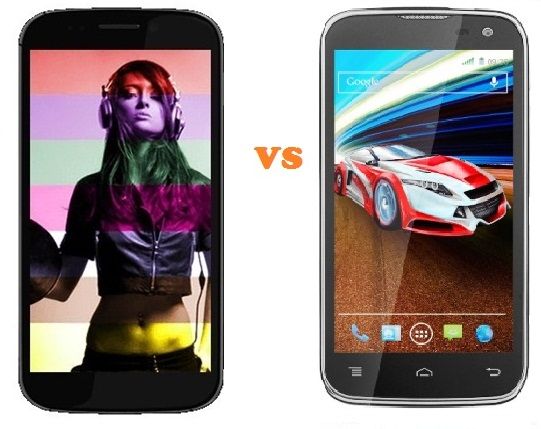 Design –
Micromax has a good looking design in the Canvas 4 with clean and premium body. Its aluminium striping around the display gives it a sophisticated feel and curved edges make it easy to use. While, XOLO Play T1000 is much thicker and heavier than its competitor but its metallic ascents give it a special looking. Overall, both of the phones come with a decent sophisticated looking design with well build quality.
Display –
Micromax Canvas 4 is featuring a 5inch display against the 4.7inch display of the XOLO Play T1000. Both of the phones sport 1280*720 pixels resolution but the XOLO device is having advantage of higher 313ppi pixel density over the slightly lower 294ppi present in the Canvas device. XOLO smartphone also features One Touch Glass technology in the screen, which claims to give you better security against the scratches and provides better brightness and color output. Micromax Canvas 4 comes with a bit bigger display but the XOLO Play T1000 out runs it with better resolution and color output.
Hardware Performance –
The biggest difference in these devices is the hardware performance features. Micromax Canvas 4 is powered by a 1.2GHz MediaTek Quad Core processor along with 1GB of RAM, while XOLO Play T1000 is powered by the NVIDIA Tegra 3 processor with same 1GB of RAM. But, the XOLO device is having some serious advantage in the hardware performance because of the highly popular Tegra 3 processor with special gaming environment. XOLO device provides much better gaming experience comparing to the Canvas smartphone because of its processor and NVIDIA GeForce graphics processing unit. However, Micromax device is having advantage of higher 16GB inbuilt storage comparing to only 4GB available in the XOLO smartphone.
Software features –
Micromax is having advantage of running the latest Android 4.2.2 Jelly Bean OS in its device comparing to a bit older 4.1.2 Jelly Bean present in the XOLO device. Micromax Canvas 4 is also equipped with some smart features like Blow to unblock, flip to silent, smart pause and video pinning etc. These features give it better smartphone software experience over the basic software features available in the XOLO Play T1000.
Camera & Battery –
Micromax Canvas 4 sport a 13MP rear camera along with 5MP front shooter, while the XOLO Play T1000 comes with only 8MP rear and 2MP front cameras. Micromax device captures quality photos in the low light conditions and it is surely the winner of camera section of this comparison. Both of the phones are powered by the same 2000mAh battery but the XOLO device provides better battery backup because of 5
th
special core present in the Tegra 3 processor that conserves the battery. The XOLO device also gives you higher gaming time comparing to the Micromax smartphone.
Verdict –
Micromax Canvas 4 is not really a new smartphone because company has tweaked the highly popular Micromax Canvas HD a little bit and launched it as company's latest flagship. While, XOLO Play T1000 is a brand new device and as we mentioned before, it is the first Indian smartphone with the powers of NVIDIA Tegra 3 processor. If you are looking for an Android smartphone that provides great gaming environment in the affordable price range, XOLO Play T1000 should be your first choice if you are also having Micromax Canvas 4 in your list of the phones to buy. The Micromax device is having only advantage of a bit large display and sleeker design, but with the XOLO smartphone you will get better hardware performance along with quality media experience with the higher resolution display. Also the XOLO device is just priced for Rs. 15,999 with decent gaming powers while the
Micromax Canvas 4 price
is bit higher that is Rs. 17,999. You can consider going for Micromax Canvas 4 if you are not a die hard gamer and camera is your focus. With Canvas 4, you only pay 2k extra but gets a better camera, larger screen and some bizarre features. The choice is yours.