"The XOLO 8X-1000 is the first smartphone to run the company's custom HIVE user interface."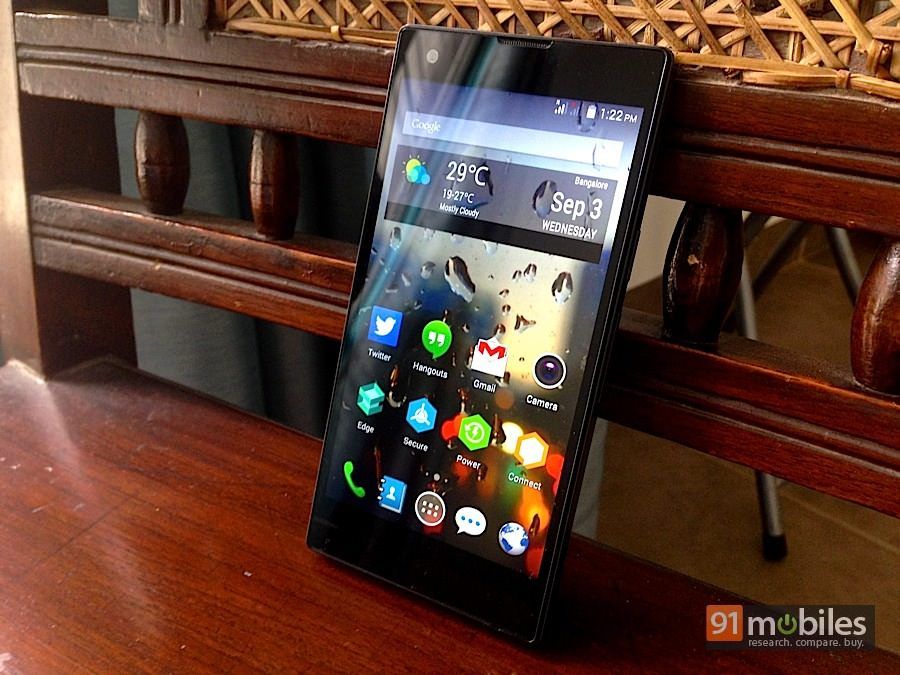 The 8X-1000 is one of XOLO's most significant smartphone launches this year. For a change, this importance attributed not to the hardware features of the phone, but to the software it runs. The handset is the first to come with XOLO's in-house HIVE user interface, the only project of its kind from an Indian brand. HIVE brings several new features, including its own theme store and the ability for users to engage with its team right from the smartphone. Software aside, the 8X-1000 also boasts of an impressive spec sheet, and seems like a formidable entry on its own. We've had the device in our labs for the last couple of weeks, and here's what we think.
A design that's all glass and geometry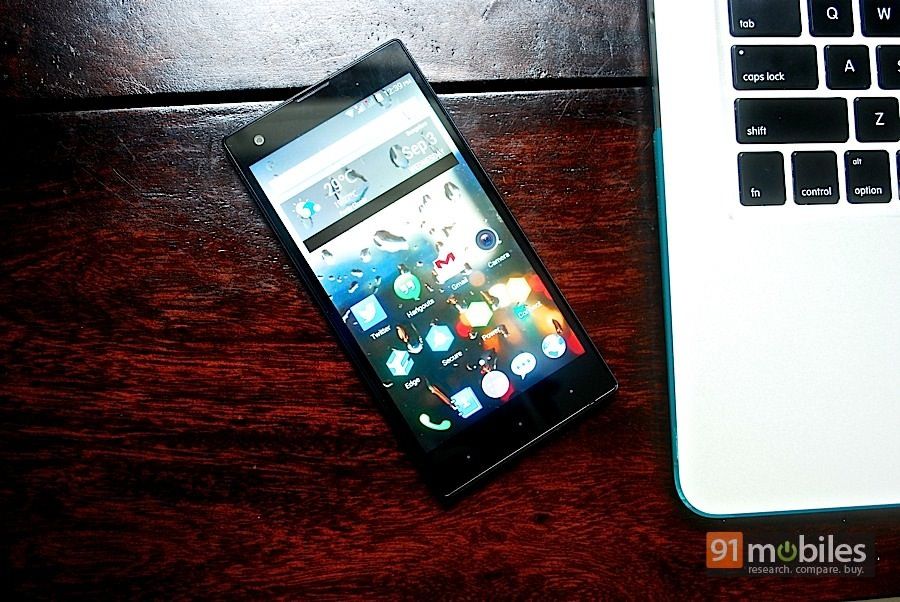 Forget gentle curves and dual-tone finishes – the 8X-1000 is all about clean lines and geometry. Resembling a rectangular block, the device sports a sandwich design and a glass back panel. Because of its all-black colour scheme, it's difficult to distinguish between the front and back panel of the device when it's on standby, save for the shiny XOLO logo at the rear.
In the front, above the display is where you'll find the front camera, earpiece, notification LED and the usual array of sensors. While the device features capacitive Android buttons on the chin, XOLO has decided to give the traditional icons a miss in favour of three backlit dots, which represent the standard controls of options, home and back, respectively.
The smartphone is fairly slim, measuring 7.9mm around the waist. Even though the frame itself is made out of plastic, the top and bottom edge feature a soft, rubberised finish. On top, you'll find both the micro-USB port and the 3.5mm audio jack. At the bottom are two grills that appear to be a pair of speakers, but in fact only the one on the right is. The grille on the left could either be there for aesthetic purposes, or possibly be the secondary microphone, which we found no evidence of anywhere else.
The sides slope down towards the back panel, making the phone comfortable to hold in the hand. On the left spine you'll find an ejectable tray which holds both (micro) SIM cards. On the right, there's another tray for the microSD card slot, followed by a power button and volume rocker. We found that both trays were flimsy, and difficult to insert once removed.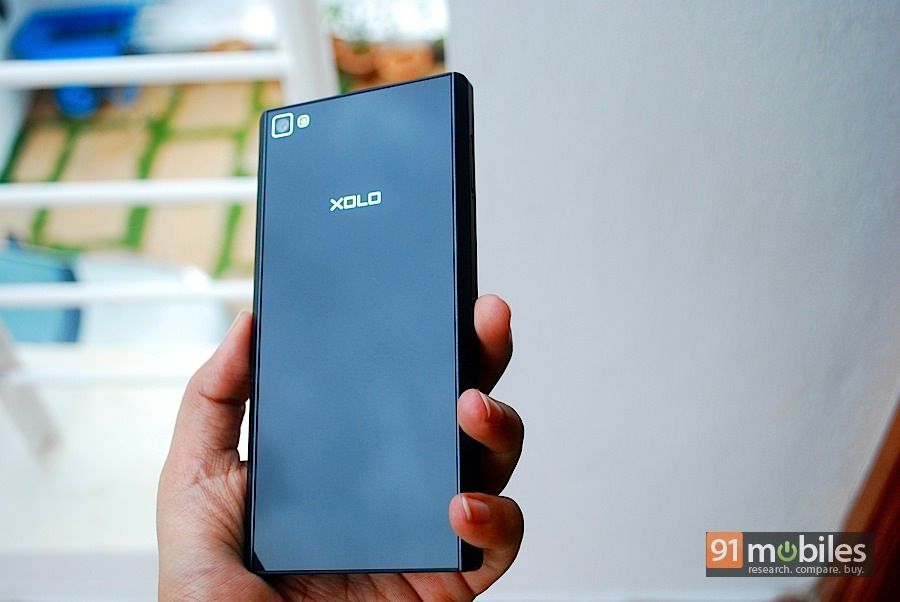 Since the back panel is made of glass, XOLO has thoughtfully opted for a layer of Corning Gorilla Glass 3 to protect it from scratches. This however does nothing to stave off fingerprints, and the phone ended up looking like a smudgy mess after a few hours of use. Apart from the XOLO branding, the back panel features the primary camera and LED flash, which sit flush with the surface.
Specs At A Glance
5-inch, 1,280 x 720 pixel IPS display (294ppi)
1.4GHz octa-core MediaTek MT6592 processor
2GB RAM
8-megapixel primary camera with flash, 2MP front
16GB storage (expandable up to 32GB)
3G, Wi-Fi, Bluetooth 4.0, USB 2.0, GPS
Android 4.4.2 with HIVE
1,920mAh battery
FM Radio
Vibrant display with good viewing angles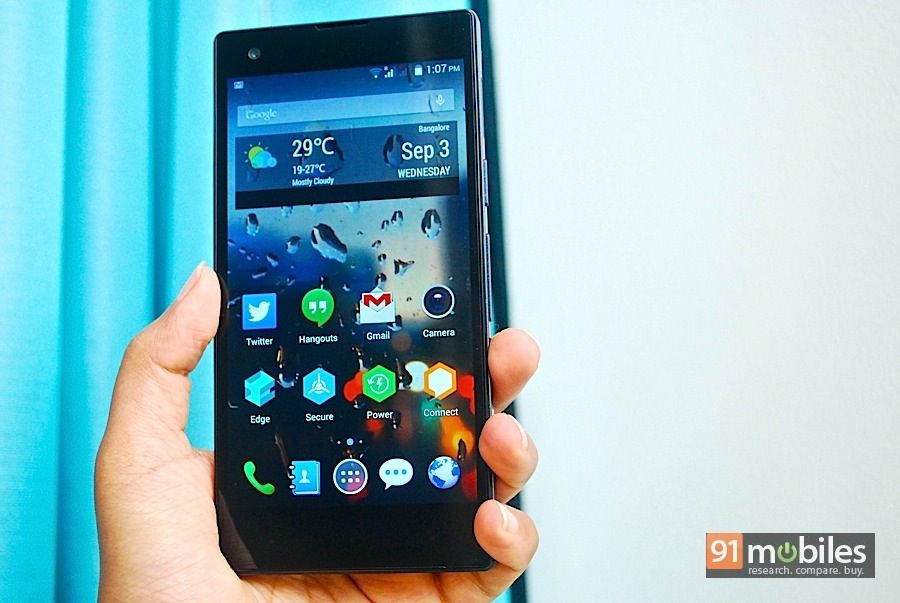 The 8X-1000 sports a 5-inch display, a size that is fast becoming the norm on most mid-range devices. Featuring HD resolution, the display offers a fairly crisp pixel density of 294ppi. Thanks to its IPS technology, it produces vibrant colours and good viewing angles. Brightness is a strong point too, and the display is legible even in sunlight.
For protection against minor scratches, the screen is sealed with a layer of Asahi Dragontrail Glass. It's puzzling that XOLO has opted for Dragontrail Glass on the display and Gorilla Glass at the rear, when ideally, it should have been the opposite.
The display was responsive throughout our usage, however it wasn't as smooth as expected when scrolling or swiping.
The cameras offer mixed results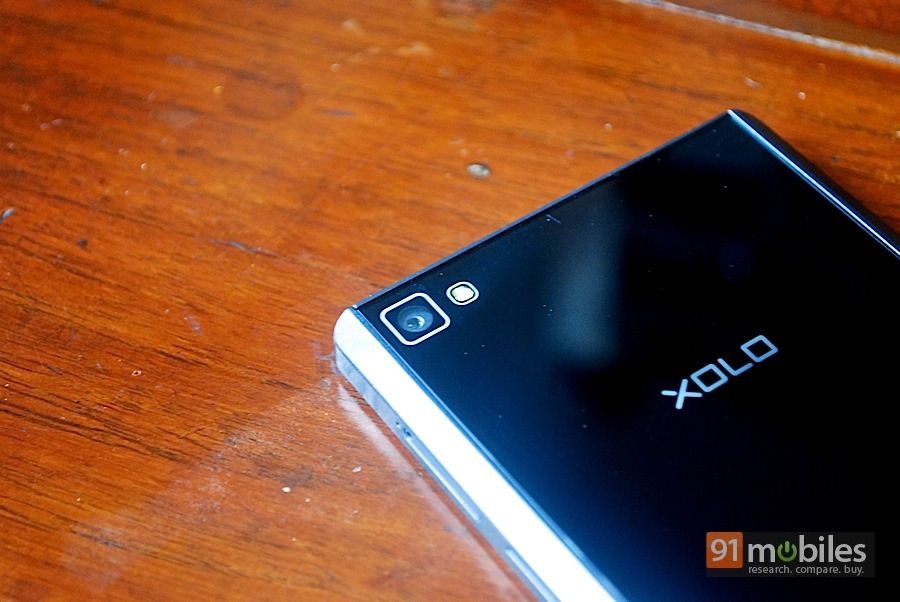 The smartphone features an 8-megapixel primary camera with a Sony Exmor R sensor and an aperture of f/2.0. In the front, it sports a 2MP snapper for selfies and video calls. The camera app packs in a few effects you can apply in real time, such as Mono, Sepia, Negative, Aqua, Blackboard and Whiteboard. There are also some shooting modes, like Panorama, HDR, Gesture Shot, Face Beauty and Pro. Gesture Shot brings up a countdown timer when you make the 'V' sign, but it didn't always work in our experience. The Pro mode brings up controls for ISO, exposure and white balance.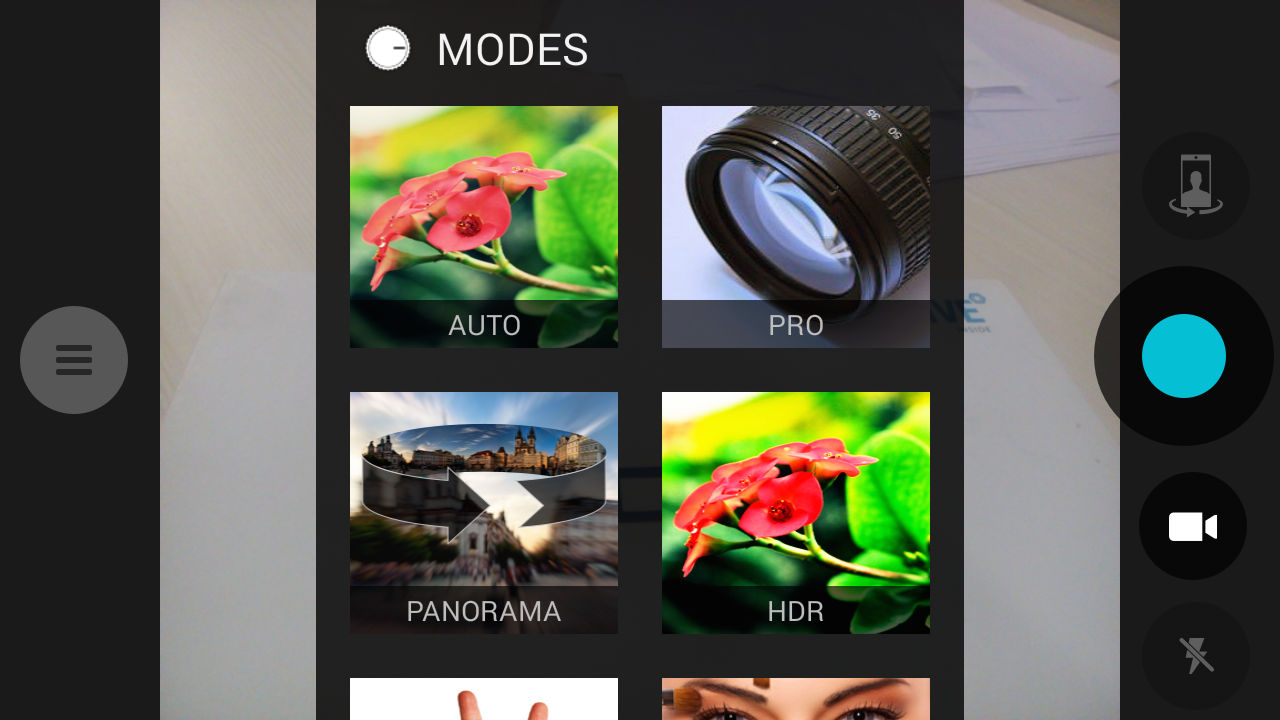 When it comes to image quality, the 8X-1000 is a mixed bag at best. It performs decently in daylight, and produces good macro shots. In low light too, it captures the ambient light well to create bright images. On the downside, grain is an issue, both for daylight and night-time shots, with visible loss of detail when you zoom in to images.
The front camera isn't great for selfies, with images appearing hazy and washed out. We'd advise using it only for video calls.
Here are some image samples from the primary camera. Click on the thumbnails to view them in full resolution.
HIVE is a good first effort
The highlight of the 8X-1000 is HIVE. Running on top of Android 4.4.2, HIVE completely changes the look-and-feel of stock Android.
One of the most significant features of the user interface is a MIUI like theme store, which XOLO calls Edge. Here, you can browse and download a variety of company and user-created themes, wallpapers and ringtones.
There's also a platform called Connect, which is a portal via which users can connect with the HIVE team. From this app, you can offer feedback, vote on suggestions, and see what new features and fixes the HIVE team is currently working on. You can also directly chat with someone from the team, check for updates and view a list of service centres in the country.
HIVE features several cosmetic changes as well, including a revamped quick settings tab, which features circular sliders for brightness and screen timeout, as well as shortcuts to switch between default SIMs for messaging and calling. There's also a "Chameleon Widget" on the home screen, which adapts to the colour of the wallpaper you've chosen. It displays updates for the date, weather, location, as well as indicators for missed calls and texts.
The app drawer has also been modified, letting you view apps alphabetically, by recently installed first, and by category. There's also a dedicated tab for the Play Store.
While HIVE is certainly a commendable effort by XOLO, it's very much still a work in progress. We don't know what XOLO's plans are for the future of HIVE, and how many of the company's handsets it will be installed on going forth. The interface has a long way to go, and we expect that future builds and updates will be more stable and smooth than the version we're currently using.
For a complete picture of what HIVE offers, check out our detailed overview.
Smooth performer, but the heavy UI takes its toll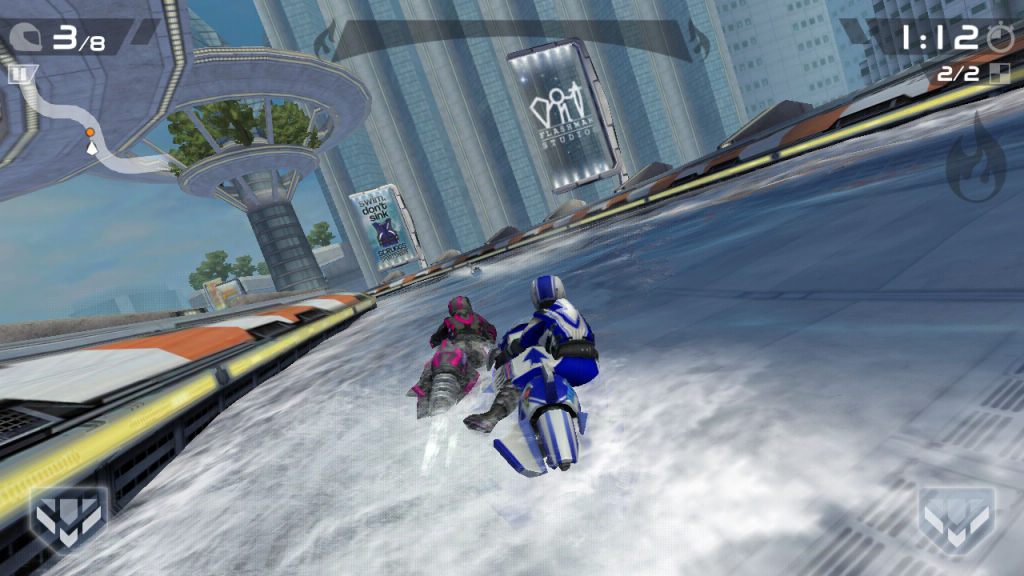 The 8X-1000's internals are fairly loaded. Powering the show is an octa-core processor MT6592M from MediaTek, which has been underclocked from 1.7GHz to 1.4GHz, most likely to prevent over-heating issues. Aiding the processor is 2GB of RAM and a Mali-450 MP4 GPU. The device gets an ample 16GB of internal storage, partitioned into two segments. Out of this, a little over 13GB is available to the user. The microSD card can expand the memory by an additional 32GB.
The smartphone is fine for day-to-day tasks, but there were a few lags on occasion. We also felt that some of the heavier themes impacted performance more than others, and we suggest you use the default or other HIVE created themes if you want a smoother experience.
When it comes to gaming, the device has no problems handling intensive games like Riptide GP2 without stalling or lags. However, it does tend to heat up after a few minutes of use, and this isn't helped by its glass back panel.
Powering the device is a 1,920mAh battery, which lasted for barely a day with regular use, and required a recharge by the evening. In our standard video loop battery drain test, the handset gave us around five hours and 30 minutes before running out, which is a very average result.
In terms of connectivity, the smartphone supports dual-SIM, 3G, Wi-Fi, Bluetooth 4.0 and GPS. As a plus, 3G is supported in both SIM card slots.
Verdict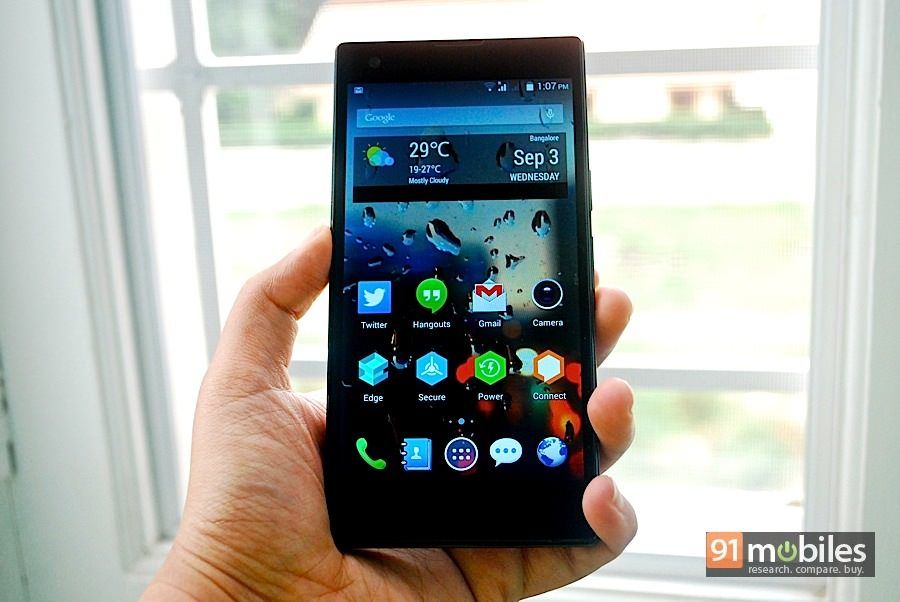 The XOLO 8X-1000 was launched at a price of Rs 13,999, and even though it's available for around Rs 12,500, it still seems a tad overpriced when you take the competition into consideration. When we look at Indian brands in the same price range, the Karbonn Titanium Octane (first impressions) and Micromax Canvas Nitro (unboxing and first impressions) come to mind, both of which offer similar specs at the same or lower price. Looking at international brands, the new Moto G (first impressions) and the ASUS Zenfone 5 (review) are also formidable competitors.
While the XOLO 8X-1000 is a compelling device, its main attraction is HIVE. But this still a work in progress, and will require some polishing before it becomes an attractive proposition for potential buyers.
Editor's rating: 7/10
Price: Rs 13,999
Pros:
Classy design and flagship-quality build
Bright display with good viewing angles
HIVE adds an interesting software twist
Cons:
Performance can be sluggish depending on the theme
Average camera duo
Battery barely lasts a day
Video by Pratik Vyas