"Wondering which smartphone to go for in the VFM segment? You're at the right place"
The affordable smartphone market has been taken by storm with the launch of some beautifully-crafted powerhouses from Chinese vendors. While Xiaomi launched the Redmi Note 3 (review) in March this year, others have quickly caught up. On one hand LeEco announced the Le 1s Eco (first impressions), both MEIZU and Lenovo have jumped on the bandwagon by announcing the m3 note (first impressions) and ZUK Z1 (first impressions) in India respectively.

Although all four smartphones offer tons of features, customers can certainly feel a little spoilt for choice. To set things straight, here is our comparison of these VFM smartphones from top to bottom.
Design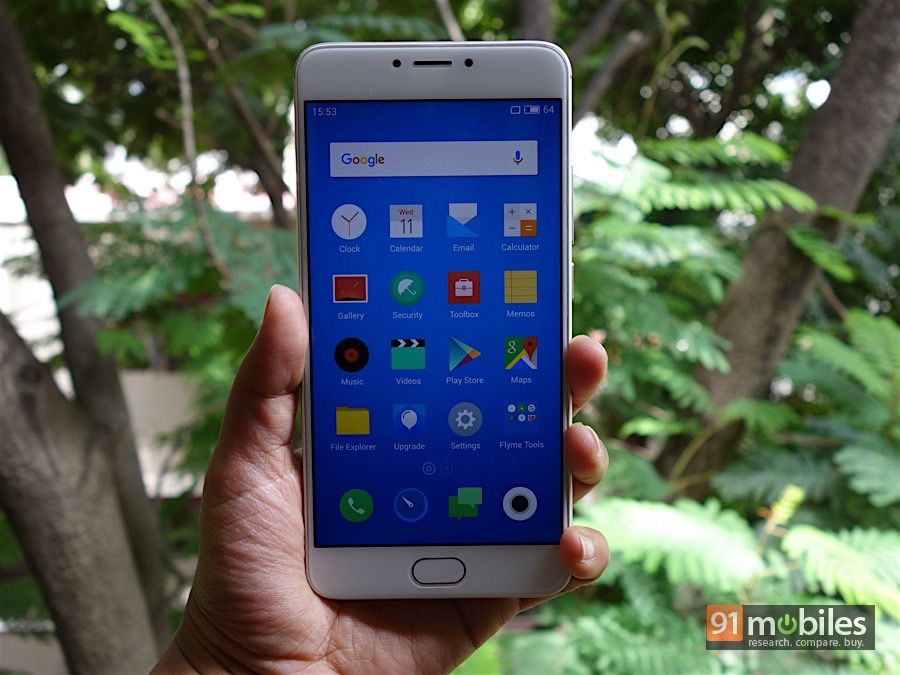 It's quite surprising to see that all four affordable smartphones sport some metal in their build in one form or the other. Apart from the ZUK Z1, which uses a metal frame around the edges and a polycarbonate rear panel, all three other smartphones sport metallic construction which is not only appealing to the eyes but feels sturdy in the hands as well. Both LeEco and Xiaomi have opted for rear placement for the fingerprint scanners, while MEIZU and Lenovo have opted for front-facing fingerprint scanners in their smartphones. The Le 1s Eco is the slimmest of them all with a waistline of just 7.5mm. We have to admit that the companies have put a lot of thought behind the design aesthetics and have done an excellent job in bringing it to reality.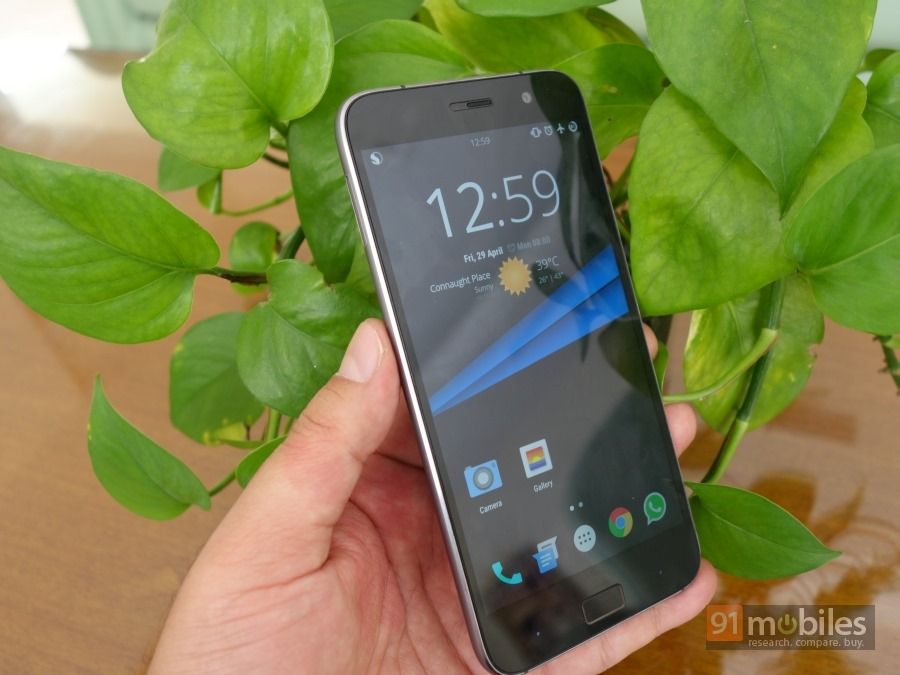 In a nutshell, you can't go much wrong with any of the devices, though the plastic back of the Z1 might prove to be a tab bit less durable as compared to the metal bodies of its rivals.
Display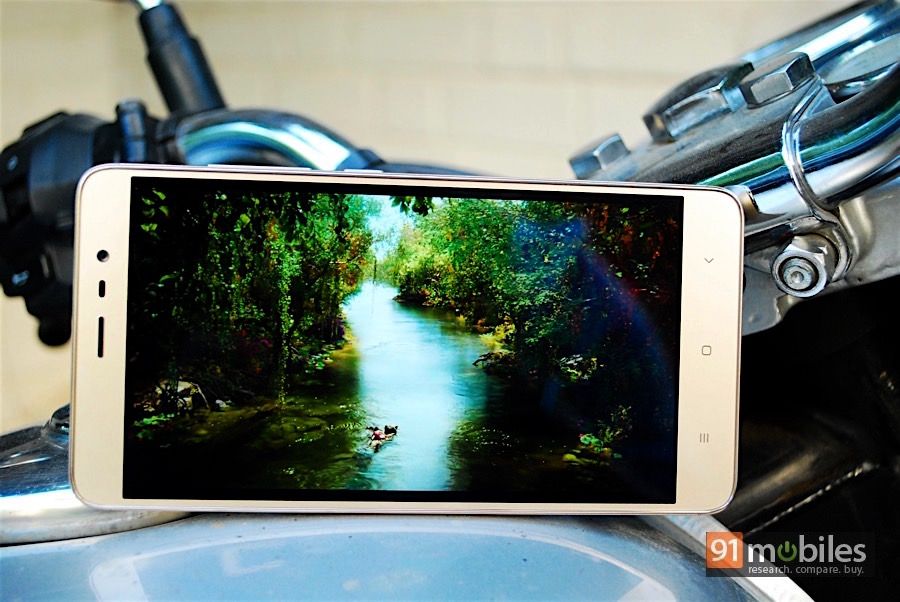 It doesn't get closer than this. All four smartphones come equipped with 5.5-inch full HD displays with a pixel density of 401ppi. The IPS LCD panels are crisp, and display a good amount of detail thanks to the high resolution. With a screen-to-body ratio of about 74.2 percent, the LeEco Le 1s Eco gives the most screen real estate in the least amount of space. It is closely followed by Xiaomi's Redmi Note 3 which has a screen-to-body ratio of 72.8 percent.
Performance
The Redmi Note 3 and the ZUK Z1 are powered by Qualcomm Snapdragon processors, whereas the m3 note and Le 1s Eco come with MediaTek SoCs under the hood. The Redmi Note 3 uses a hexa-core Snapdragon 650 processor as compared to the quad-core Snapdragon 801 found in the ZUK Z1. Both the MediaTek powered smartphones get octa-core processors, with the Le 1s Eco sporting a Helio X10 chipset and the m3 note a Helio P10 chipset. All four smartphones come with 3GB of RAM, although Xiaomi is also offering a lower-priced variant of the Note 3 with 2GB of RAM.
Camera
The Redmi Note 3 comes with a 16MP rear snapper with phase detection autofocus. This gives it an edge over its competitors, all of which come equipped with 13MP primary cameras. That said, the Le 1s Eco is the only smartphone out of the four which supports 4K video recording as of now.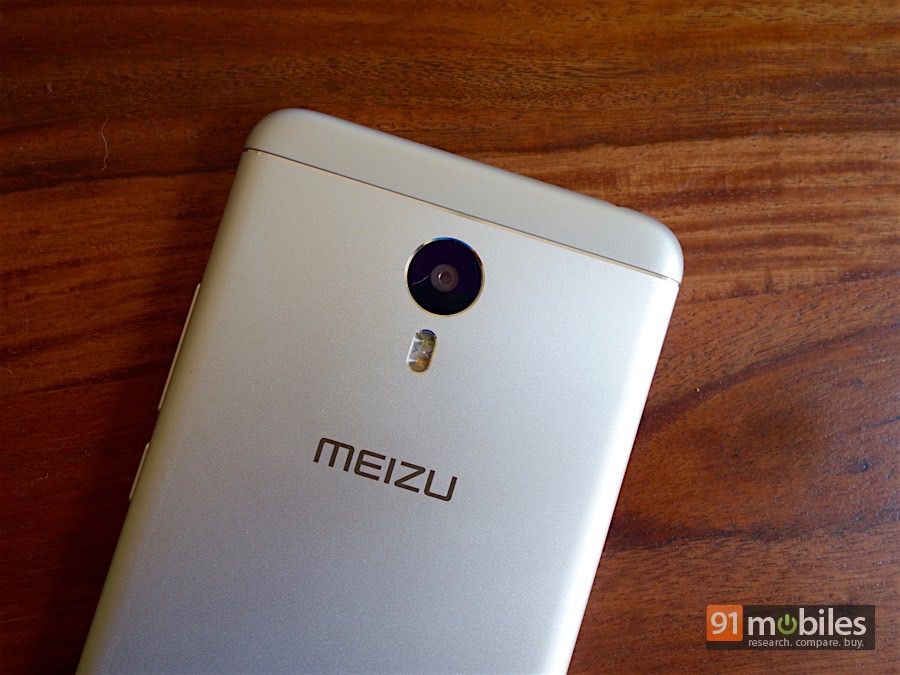 The rear cameras of all four smartphones are aided with dual-tone LED flash strobes and come with different modes including HDR, panorama, and continuous shots. On the front, Lenovo's ZUK Z1 comes with an 8MP selfie camera whereas the other three only have 5MP front snappers.
Storage and battery
On the storage front, the Lenovo ZUK Z1 goes one step ahead by offering 64GB of internal storage, while the others are still offering just 32GB of on-board storage, with the affordable version of the Redmi Note 3 featuring 16GB flash memory. But the Z1 and the Le 1s Eco fall behind when it comes to expandable storage, as none of them offer microSD card support. On the contrary, the Redmi Note 3 and the MEIZU m3 note support expandable storage.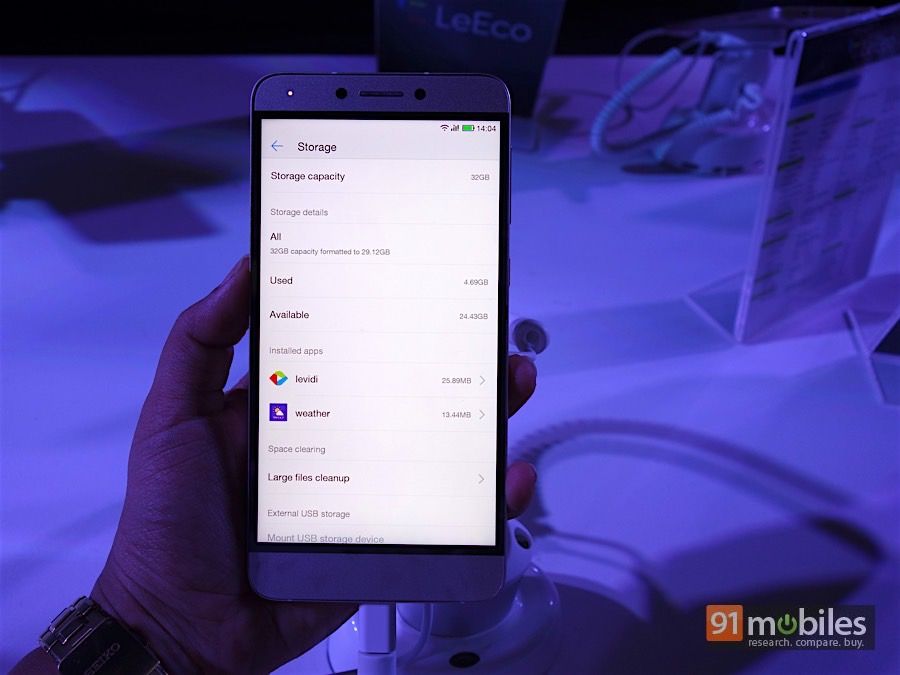 The hardware in all four devices draws juice from non-removable batteries. The Lenovo ZUK Z1 and MEIZU m3 note come with mammoth 4,100mAh batteries. The Redmi Note 3 is right behind with a 4,050mAh battery. All three smartphones seem adequately powered on paper and should offer some amazing battery life and screen on times. Unfortunately, the Le 1s Eco sports a 3,000mAh battery, which isn't bad in any way, but is way less than the battery capacity of the other three smartphones. However, much like the ZUK Z1, it does come with a USB Type-C port, unlike the Redmi Note 3 and MEIZU m3 note. MEIZU's offering is also the only one out of the four to miss out on the fast charging feature, meaning that charging the 4,100mAh battery could take a while.
Software and Connectivity
Here's when things get even more interesting. While the software on all four smartphones is based on Android Lollipop, they feel miles apart in real world usage. The Lenovo ZUK Z1 runs Cyanogen OS 12.1 which is based on Android Lollipop, and is a popular alternative ROM. The Redmi Note 3 features MIUI 7, which is among the most refined Chinese UIs and offers numerous features such as themes, phone manager, etc. LeEco offers eUI, which isn't as feature rich, but its highlight is the subscription to streaming services like Eros Now, Hungama and YuppTV, which offer music, movies, and TV shows to the users. The Flyme OS running on m3 note also offers similar features as MIUI such as unified homescreens, themes, and one-stop suite among other things.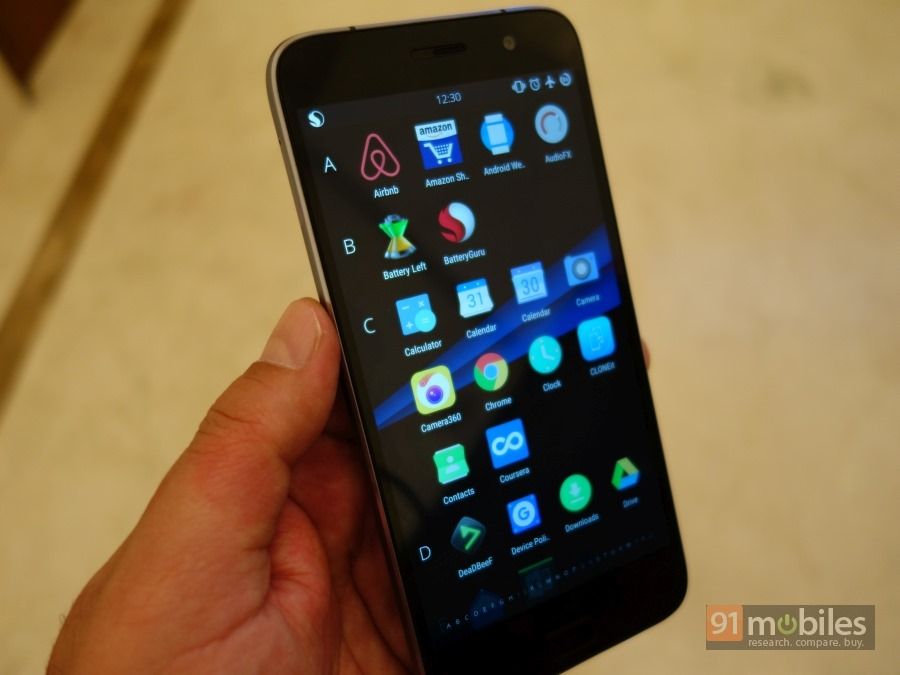 On the connectivity front, all phones feature 4G LTE, Wi-Fi 802.11 a/b/g/n, mobile hotspot, Bluetooth, and GPS.
Pricing and availability
The Redmi Note 3 is available on Amazon India and Mi.com for Rs 9,999 for the 2GB RAM / 16GB variant and Rs 11,999 for the 3GB RAM / 32GB variant. The next flash sale is slated to take place at 2PM on May 18th. Just 24 hours later, the Lenovo ZUK Z1 will go on sale exclusively on Amazon India at a price of Rs 13,499. Following suite, MEIZU has also made the m3 note an Amazon Exclusive and has priced it at Rs 9,999. It will go on sale starting May 31st. The Le 1s Eco is the only device to be available on Flipkart. Priced at Rs 10,899, the Le 1s Eco comes bundled with the company's new LeEco membership for entertainment content.
Verdict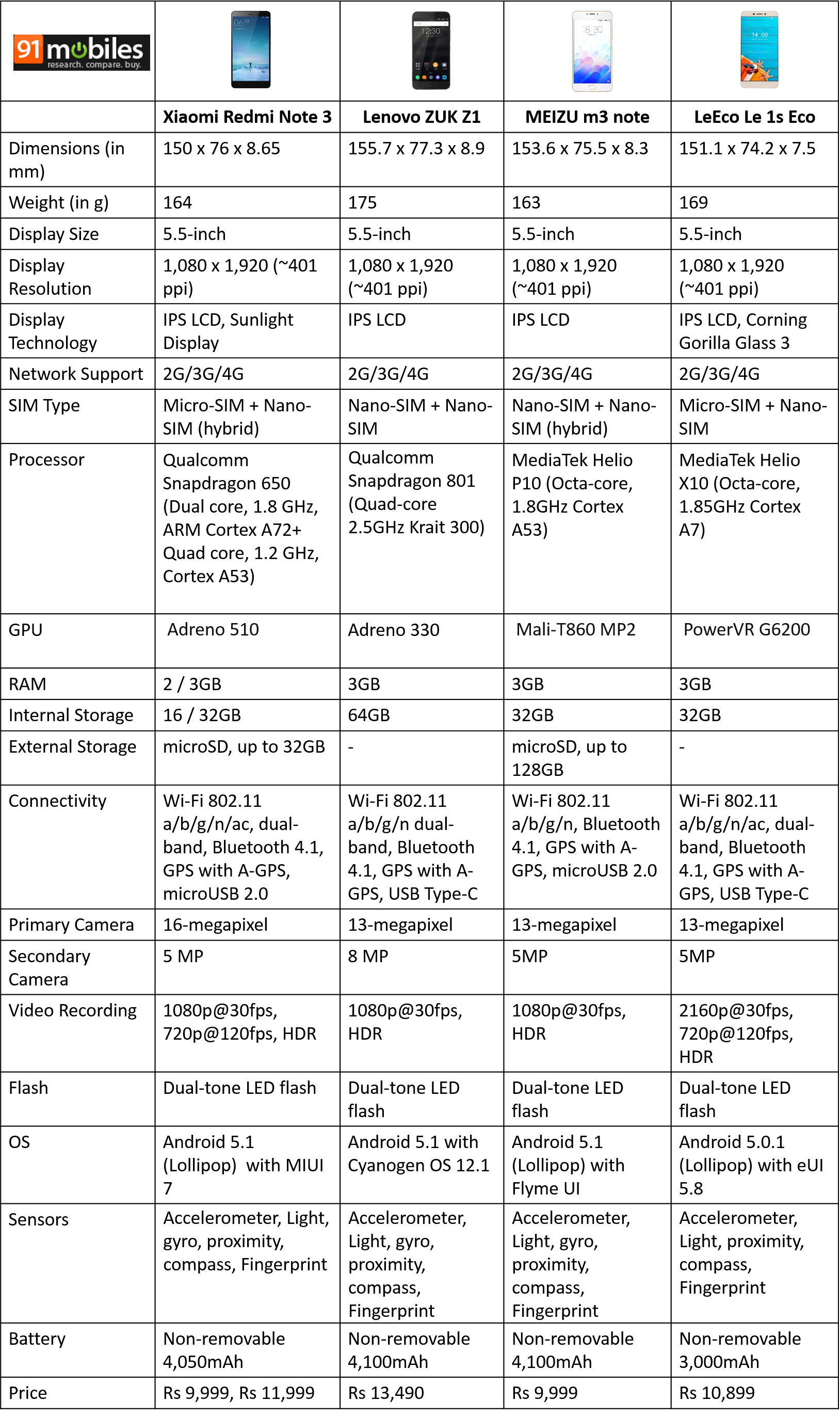 As it's clear from the comparison, all the device are great choices and you couldn't go wrong with any of them. If you have a tight budget of Rs 10,000, then the MEIZU m3 note seems to be a steal deal. LeEco's Le 1s Eco is an excellent option for those who use the phone for consuming multimedia content since the device comes with subscriptions to popular streaming services. Xiaomi's Redmi Note 3 seems like a reliable choice as the brand has already established itself in India, though you have to be patient to get it via flash sales. Lenovo's Z1 is a loaded phablet which would be liked by power users, thanks to CM OS and 64 gigs of storage, although it runs on a slightly older processor.