"The Mi Bluetooth speaker from Xiaomi is a well-designed, compact gadget that's worth a buy"
Xiaomi is a popular name in India and enjoys massive fan following for its phones that offer a lot of bang for the buck. Take its latest offering in India, the Redmi Note 3 (review) for example. The smartphone is a killer device, bringing with it a metal body, loaded internals and long battery life, and as a result, coming across as one of the best options you can buy in the region of Rs 10,000. In the short period of time Xiaomi has been in India, it's also managed to make a name for itself in the accessories space, and its products such as power banks and earphones have also been quite in demand. The Mi Band (review), which is one of the most affordable fitness trackers, has also turned out to be a chartbuster. For those of you who aren't aware, Xiaomi has a large product portfolio back in its home country, covering TVs, tons of accessories and smart gadgets. We're sure you'd have heard about Mi TVs, the brand's smart televisions that come loaded with features and are priced quite affordably. Some of the other gadgets in Xiaomi's line-up include air purifiers, smart weighing scales, wireless routers, a smart lamp, smart Wi-Fi plugs, a water testing pen, and even a self-balancing scooter in the form of the Ninebot Mini. And in typical Xiaomi style, most of these are VFM devices that we'd love to see in India – starting with the Mi TVs and the Ninebot Mini (if given a choice). The brand is slowly getting more goodies to India to add to its portfolio here, and the latest to jump the borders is the funky-looking Mi Bluetooth Speaker.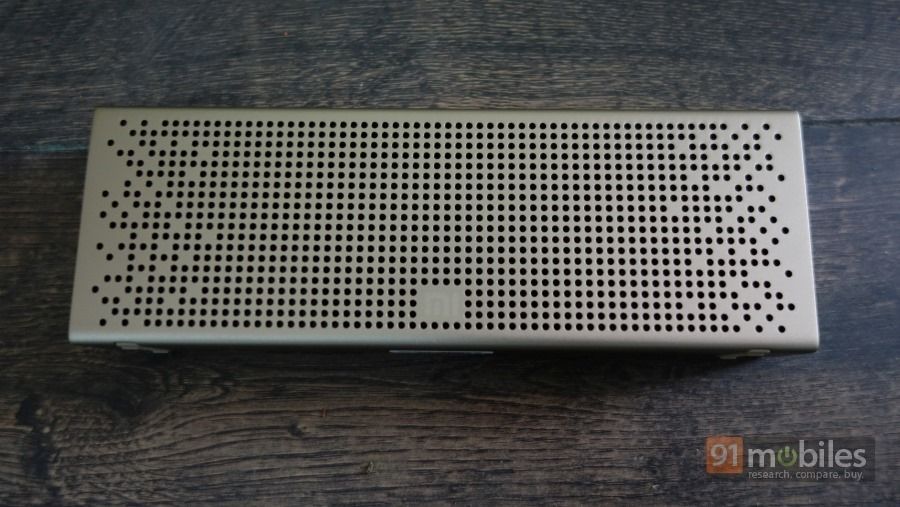 The audio accessory just went on sale via Mi.com, and priced at Rs 1,999, looks quite compelling. Our unit comes in gold, but you can buy one in blue if you wish. We hope the brand is planning to make other colours available in India too.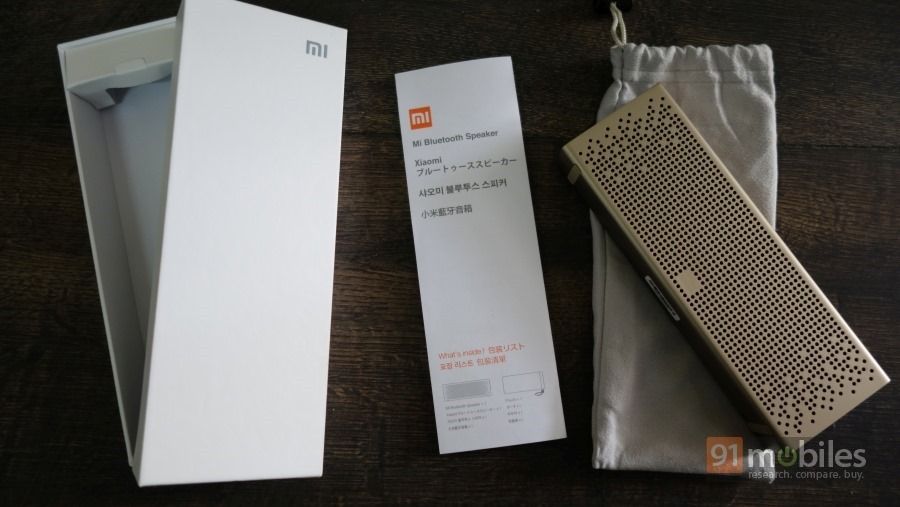 The speaker ships in a trademark white cardboard box that only carries Mi branding on top and an info label with pricing and other details at the rear. Opening the box reveals a user guide along with the speaker ensconced inside a pouch made of soft cloth.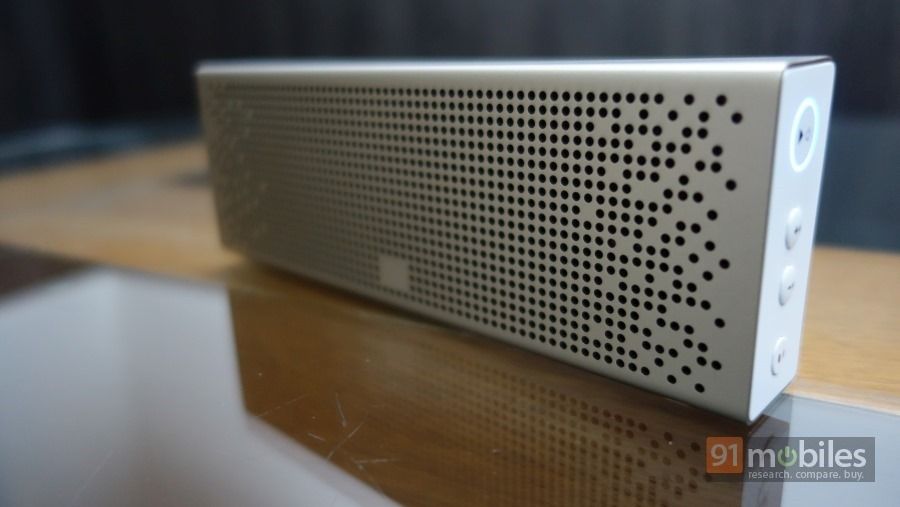 The speaker itself looks great – it's wrapped in metal and the size is hardly bigger than a small pencil box. More specifically, it measures 168×24.5x58mm and tips the scales at 270 grams. The build quality feels fantastic and Xiaomi says that the aluminium alloy-clad device is resistant to dust and ideal for carrying on trips. The fascia bears Mi branding and a grille that hides a pair of 36mm speakers along with a bass radiator in the middle. The rear is almost barren, while the bottom has a pair of rubber inserts that keep the device from dancing around when kept on a flat surface.
On the left, you'll find a micro-USB charging port, a microphone for handling calls and a 3.5mm aux-in port for connecting wired sources. The right panel sports four multi-functional buttons, and are labelled indicating what they do. The large button on top is encircled by a blue LED and functions as a power key (with a long press), along with serving as a play/pause button during playback and accepting/ending phone calls when your phone rings. Then there's a volume up button that can also move forward to the next track in your playlist if you long press it, and a volume down button that jumps back to the previous track. At the bottom is another button that indicates battery status using voice prompts when you press it and initiates pairing mode when long pressed. The speaker goes into pairing mode when you switch it on for the first time, but you'd need to use this last button for pairing subsequently.
Notably, the model that Xiaomi's selling in India doesn't include a microSD card slot, unlike the one that it retails in China. This is a handy feature since you can just load a microSD card with music and use the speaker standalone to play music, without connecting any wired or wireless music source. It's a shame that the Indian version of the speaker doesn't boast this feature… and we're left wondering if we'd sound greedy if we want an FM radio in there too.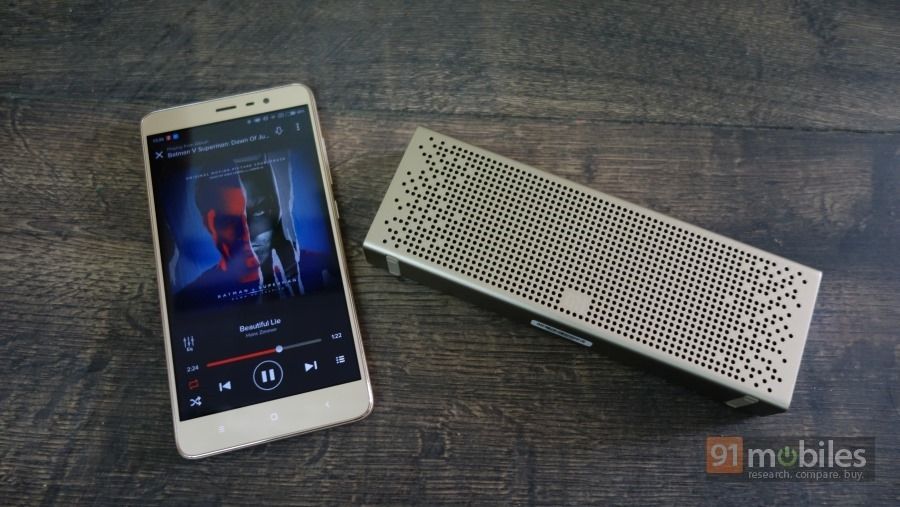 As far as the audio quality is concerned – let's just say you'd be satisfied you aren't an audiophile. The sound doesn't get too loud at max volume levels, but is enough to fill a small room and even power an impromptu party with a small group of friends. We've heard a few other small speakers go louder, but the Mi Bluetooth Speaker's volume levels certainly defy its small size. More importantly, the sound doesn't distort even at maximum volume and it produces rich, clear audio with nicely balanced tones that should please most. We tried out different genres and were left impressed with the ease it's able to handle most of them. Bollywood sounds reasonably good too, though those preferring metal and bass-heavy music may not find it up to the mark in terms of the bass levels it offers.
The built-in 1,500mAh battery charges up fully in around 2.5 hours, and promises to last up to 8 hours on a single charge… and we saw similar results in our mixed usage.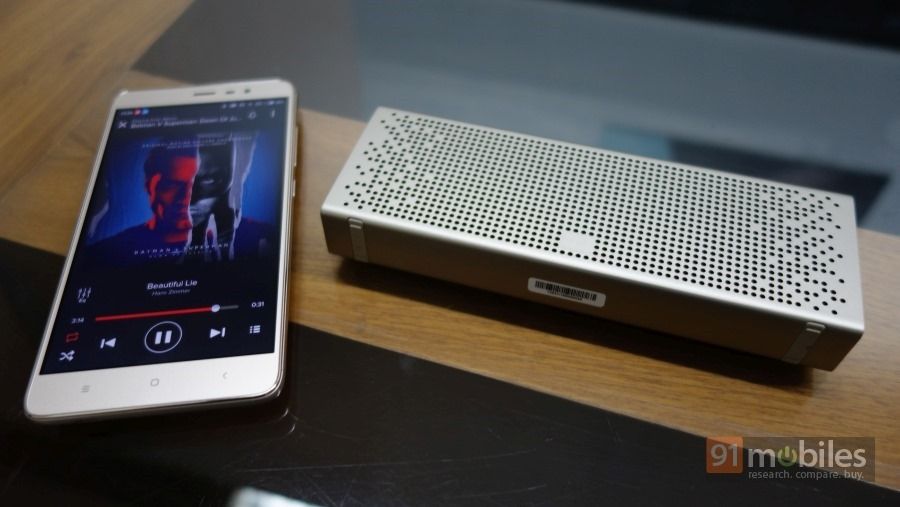 The portable Bluetooth speaker segment is rife with options and these gizmos are a dime-a-dozen, coming in a variety of different shapes and sizes, with prices starting at under Rs 1,000, with almost no upper limit. It's tough to make a choice in such a scenario. In the case of the Mi Bluetooth speaker, it isn't really the most affordable one around, and isn't the loudest or the most feature-rich. Features such as built-in microSD card slots, USB ports to play music directly and FM radio can be found in a few other, similarly-priced rivals, which makes Xiaomi's offering seem a little less compelling. Some competing options available out there are also ruggedised, and a few even offer features like reverse charging. You can probably find one that looks funkier, offers more features, and costs the same or less, but unless you're sure of the sound quality, we wouldn't recommend buying it. The Mi Bluetooth speaker is well designed and quite compact, offers rich sound, and for its asking price of Rs 1,999, comes across as a worthy choice if you need a nice-looking, no-frills option that won't let you down. Go for it.