"The new Mi Air Purifier 2 is an inexpensive, smart way to improve your family's health"
In recent times, there has been a lot of brouhaha around air pollution in the country, and Delhi even tried an odd-even formula in an attempt to bring it down to some extent. Fact: as per World Health Organization (WHO), half of the world's top 20 most polluted cities are in India, and Delhi, the capital, occupies 11th spot. Vehicular emissions, burning of traditional fuels like wood and kerosene, industries, etc are just some of the main sources of air pollution in India, and we don't really need to tell you about the long-term effects of inhaling polluted air – asthma, bronchitis, and lung cancer, to name a few. Which brings us to the device we have in hand today to review.
Xiaomi of course, has grown from an unheard-of brand to being almost a household name in the country in a very short span of time, and the reason for that is mainly its loaded, yet affordably-priced portfolio of smartphones that set the market abuzz almost each time a new one is introduced. Xiaomi pioneered the concept of online flash sales in the country, and starting from its debut phone, the Mi 3 (review) to its most recent launch, the Redmi 3S Prime (review), managed to win the hearts of many. Xiaomi's fitness tracker, the Mi Band (review), has been one of the most popular fitness bands in the country, and the brand's accessories such as power banks have also been extremely popular.
Those who follow the brand however, would know that it also offers a wide variety of smart (and some not so smart) products back in its home country China, covering stuff like televisions, a smart weighing scale, a self-balancing scooter, a smartwatch, a smart washing machine, and what not. And ever since the company set foot on our shores, we've been pestering the good folks at Xiaomi to give us a taste of some of those goodies and let us experience them in India. Starting today, Xiaomi is giving us one less reason to complain, as it has just launched a product from its Mi Ecosystem range, it's very first in India. Enter, the Mi Air Purifier 2. Like many of the brand's offerings, the Mi Air Purifier 2 is a smart, connected device, and lands at a time when air pollution has become a matter of concern for many. Let's take a closer look at the device, what it's all about, and how well it really works.
The jargon
While we intend to keep this review as simple as possible, it's best you understand the basics of a few terms you might come across. Just so you know, air quality is represented in the form of a number referred to as Air Quality Index (or AQI for short). As per Wikipedia, India uses values ranging between 0 and 500 to indicate AQI, with lower numbers being better. One of the ways Air Quality Index can be mentioned is PM2.5 values, which represents concentration of particulate matter smaller than 2.5 microns in size at a specific location, over a certain time period. The unit for this is micrograms per cubic meter (ug/m3). Again, as per Wikipedia, PM2.5 values between 0-30 are rated as good, 31-60 as satisfactory, 61-90 as moderately polluted, 91-120 as poor… and above that as something you should completely avoid. Another term you can note is CADR, which stands for Clean Air Delivery Rate, and specifies the amount of clean air an air purifier can throw out. This is represented in cubic meter per hour, or m3/h.
Related read: the ultimate guide to buying an air purifier
Design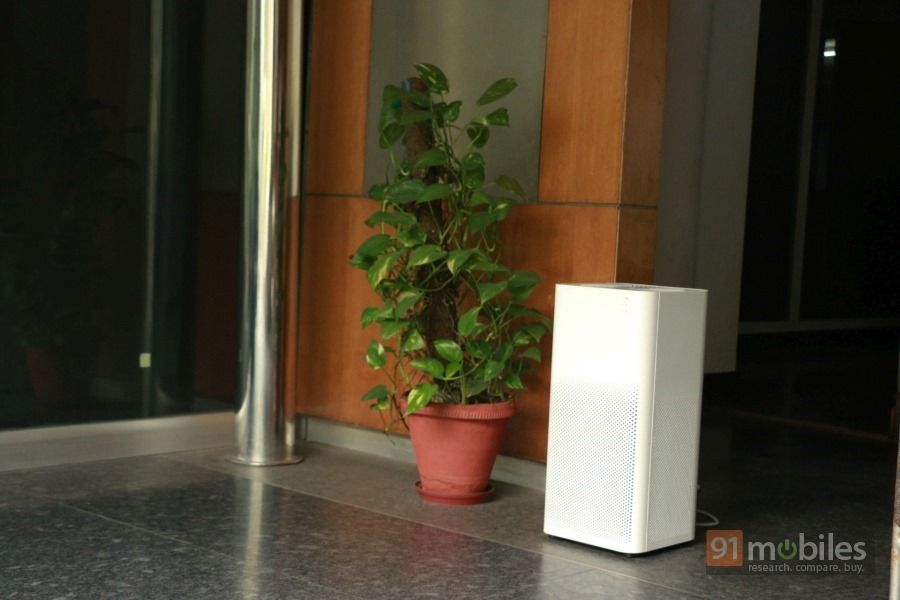 The Mi Air Purifier 2 uses a tower-type design, and at first glance, looks like a funky speaker, thanks to the holes that cover three sides. Its cuboidal shape means it has a small footprint, and the while body helps it blend well with any kind of decor – important for any home appliance you'd want to give place of pride in your living room or bedroom.
The front and the two sides of the device look the same, except that on the front, there's an LED placed closer to the bottom, and a column of three LEDs near the top that indicate the mode the purifier is operating on. The LED on the bottom front glows orange when the air purifier detects bad air quality, and green when things are good.
The rear holds a reset button, plus a removable panel that comes off to reveal the filter inside. Notably, the screwless design means that the rear panel can be opened in a jiffy, using just your hands, making filter replacement a breeze. The top of the air purifier is where you'll see the fan, along with the mode button and a tiny LED that indicates Wi-Fi connection status. The mode button switches between three modes – auto, sleep and turbo. While the auto mode controls fan speed based on the air quality, the sleep mode ensures fan speeds are low enough to not disturb your slumber. The turbo mode can be used when you think the air in your room requires some urgent cleaning up, and that too as soon as possible.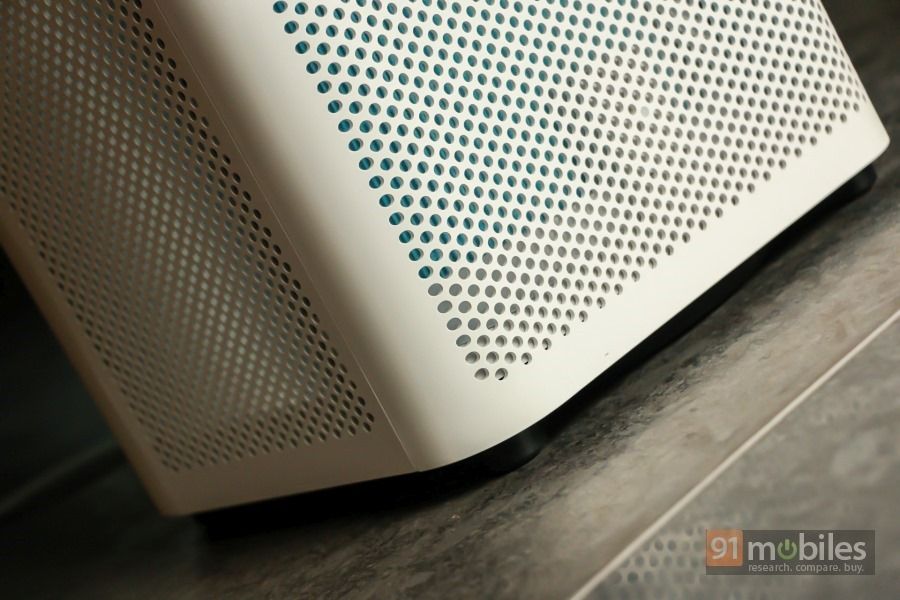 That's all to it – there's no display on the air purifier, which is a bummer, but the minimalistic design means it's really simple to operate. The ideal place for an air purifier should be in the middle of the room, but since that won't be practical for most rooms, Xiaomi advises you should place the Mi Air Purifier some distance away from walls, furniture and any other obstructions, so it can do its job well.
The filter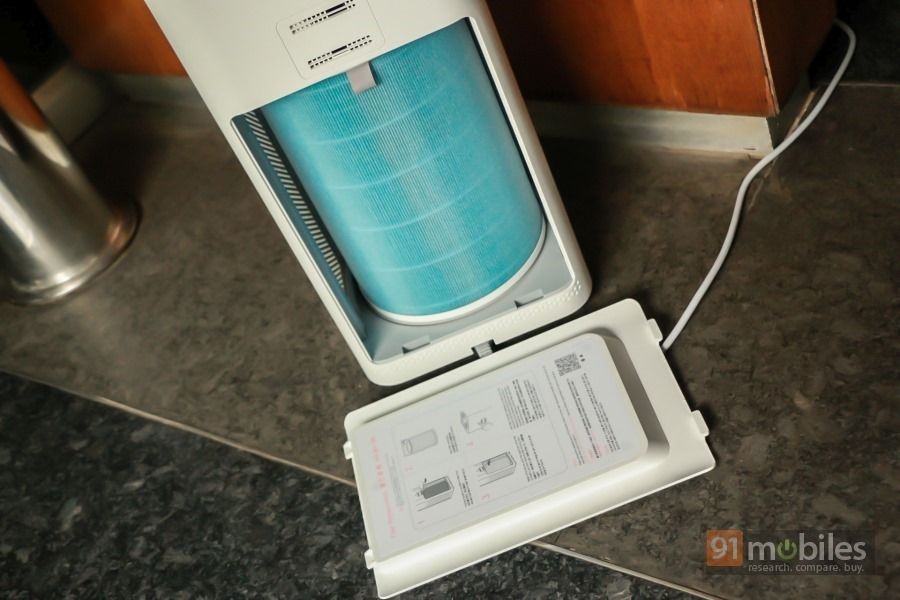 The Mi Air Purifier 2 uses a three-layer filter that has been designed in a cylindrical shape to maximise the surface area. This is important, as the larger surface area indicates it should be able to clean the air faster as compared to conventional flat filters. The external layer is the pre-filter, which is responsible for catching dust particles, pollen, pet hair etc, while the main layer inside is an EPA filter that catches respirable particles. The third, and last layer is an activated carbon filter that helps get rid of odour.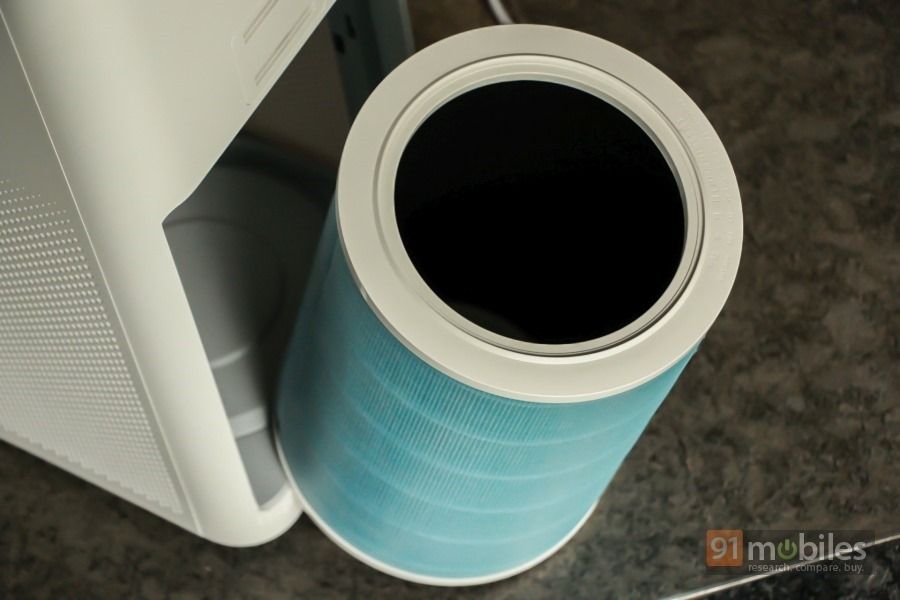 The life of the filter inside the Mi Air Purifier 2 is rated at three to six months, depending upon how often you use the device and the air quality in the area where it's used. When the filter is due for replacement, the Mi Home app (which is the companion app required for the Mi Air Purifier 2) notifies you, and a visual indication of the same is also provided via the LED on the front panel. Even during regular usage, the Mi Home app indicates the remaining life of the filter, and when you need a new one, it will set you back by Rs 2,499. The Mi Air Purifier 2 sucks in air from near the base, and throws clean air out the top.
The smarts
The fact that the Mi Air Purifier 2 is a smart appliance is one of its key highlights, and one that clearly makes it stand out from the competition, especially in the same price range. The device comes with built-in Wi-Fi, and using the Mi Home app (available on both Android and iOS), you can link it to your home Wi-Fi. The one-time setup process is pretty simple, and all you need to do is power the device up and download the app on your smartphone (which should be connected to the same Wi-Fi network you want to link the purifier to). The app requires you to sign into your Mi account (or create a new one in case you don't have one already. Once you do that, the app should detect the air purifier on its own (or you can add it manually), after which you need to enter your Wi-Fi password into the app. Voila – your Mi Air Purifier 2 is now connected to your wireless network.
Since the purifier has a built-in sensor, it can detect the current air quality and display that info on the app (indicated as PM2.5 values), along with ambient temperature, humidity, remaining filter life etc. Using the app, you can control the Mi Air Purifier 2 remotely, turn it on or off, switch modes and check the air quality of the room in which it's placed. For this to work, the air purifier should be connected to power and your Wi-Fi should be on as well. Since it's linked to your cloud-based Mi account, you can use the app to control its operation regardless of where you are – which means you can power it up on your way back home, and let it purify the air in your bedroom (if that's where you placed it) and have it all clean by the time you reach. The app also has a few other options, like letting you customise the turbo mode, choosing the brightness of the front LED or switching it off, checking for firmware updates etc.
Performance
Apart from external design and how efficiently and how fast it cleans the air, a couple of other parameters to consider while zeroing down on an air purifier are its sound levels and power consumption. In our usage, we found the Mi Air Purifier 2 to be extremely quiet when working on auto mode. Till the time you don't look at the status LEDs or place your hand near its top to feel the fan blowing out clean air, you won't know it's actually switched on. The sleep mode is about the same, except that it ensures that the blower won't speed up even if the air purifier detects bad air quality. The turbo mode of course, is quite audible, as the fan works fervently to blow out cleaned air as quickly as possible. As far as the power consumption is concerned, Xiaomi says the Air Purifier 2 uses 4.8W of power, which is less than that used by an energy-saving light bulb – so you can leave the purifier on all the time without worrying about hefty electricity bills.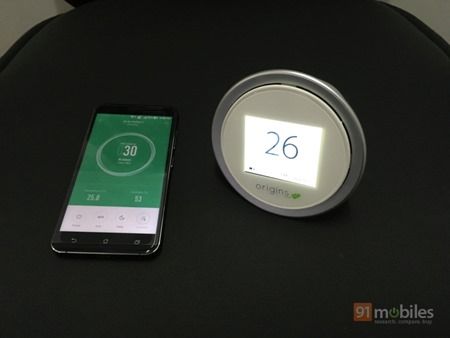 Now let's come to the key aspect – how well does it really work? Xiaomi says the Mi Air Purifier 2 can circulate clean air in a 21m2 room in just about 10 minutes, and we found that claim to be true, based on the PM2.5 concentration levels displayed by the app. To verify, we also used a Laser Egg by Origins, a device that measures air quality and displays AQI and PM2.5 levels, and found that its readings were very close to those shown on the Mi Home app. Do note that the results could vary depending upon room size, and other factors like air quality, whether the room is closed or not etc. In our case, we found the Mi Air Purifier 2 to be quite effective, bringing down PM2.5 concentration levels from 78 (moderately polluted) to 30 (A-OK) within 10 minutes in a medium-sized bedroom.
Verdict
Before we get to the verdict, let's just try to figure out whether you actually need an air purifier or not. If you have elderly folks at home, or someone with respiratory problems, it's a no brainer for sure. Even otherwise, an air purifier is recommended if you want to ensure you and your family breathes clean air, especially if you're a town dweller. The thing is, buying an air purifier requires a conscious decision by a person concerned about his or her family's health, which isn't the same as buying a smartphone or any other home appliance like a refrigerator or a TV. Those things can be considered essentials, but an air purifier isn't an essential purchase in the same sense. Almost all of us use water filters or purifiers at home because we know tap water isn't safe to drink, and the effects of drinking unclean water can be felt in a matter of hours anyway. The ill effects of breathing polluted air can only be noticed after months and years, which is why many tend to be on the fence regarding air purifiers. But as we said, if you're concerned about air quality in your location, and feel your family deserves better, investing in an air purifier could be a wise decision to make.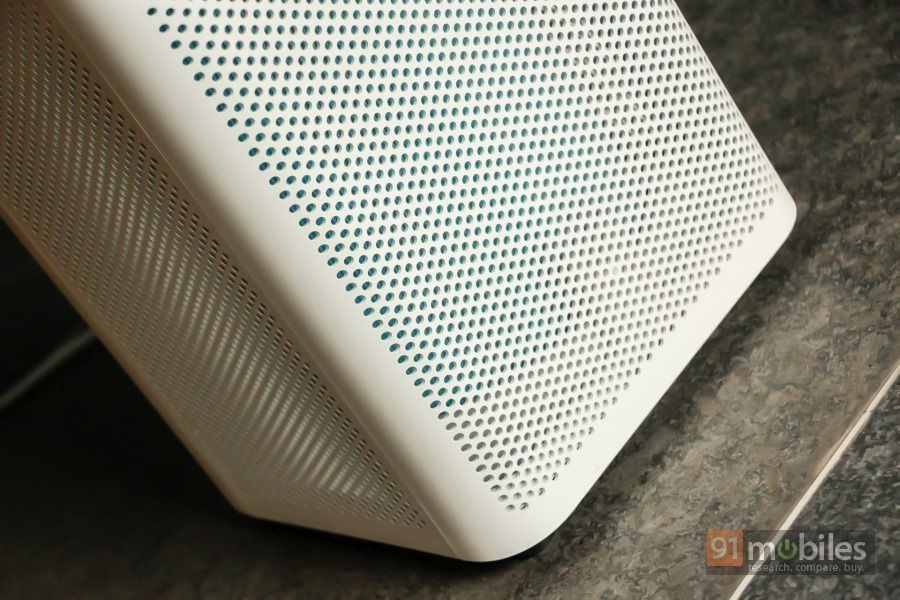 And when you do decide to buy one, we think the Xiaomi Mi Air Purifier deserves more than a second look. It's got quite a few points in its favour – it looks nice, takes less space, is power efficient, does its job quietly and quite effectively too. The fact that it's connected and smart, and can be controlled remotely via the app is a big feather in its cap, making it stand out from the rest of the crowd. While there are a variety of different air purifiers in the same price range as Xiaomi's new offering, even a few that cost lower. The options include those from well-known brands like Dr. Aeroguard from Eureka Forbes, Philips, Livpure and Panasonic. Well frankly, we can't say how well the Xiaomi Mi Air Purifier 2 works in comparison to others, but we can vouch for the fact that it's quite effective (CADR rating of 310m3/h). And when you consider the fact that the next most affordable Wi-Fi enabled smart air purifier (Honeywell's Air Touch-S which is rated at a lower CADR of 300m3/h and consumes more power at 7.5W)) costs over three times as much as the Mi Air Purifier 2, we think Xiaomi's option is one you can put at the top of your shortlist. Yours for Rs 9,999.
Editor's rating: 4.5 / 5
Pros
Stylish design
Quiet operation
Smart features
Effective
Cons
Photos by Raj Rout