"The Xiaomi Mi 4i was revealed to the world in India, and here's a look inside the retail pack"
Xiaomi's going places. Soon after it unveiled its latest offering, the Mi 4i, right here in India, came the news that Ratan Tata has picked up stake in the Chinese brand. Tata is the Chairman Emeritus of Tata Sons, and doesn't really need any introduction. With his investment, Tata has become the first Indian to pick up stake in Xiaomi and the stage is now set for the brand to go into overdrive as far as the Indian market is concerned. As of now however, we're focussing on the Mi 4i, a stylish and compelling smartphone that looks poised to shake up the market.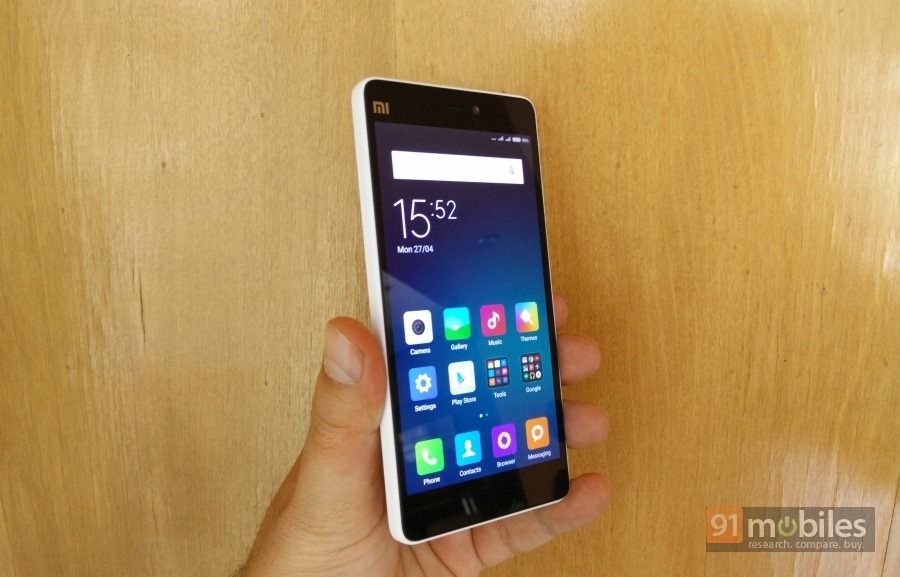 Announced at a massive event in New Delhi, the Xiaomi Mi 4i (first impressions) marks the first device that the brand has introduced first outside of its home country and features a 5-inch full HD screen, a 1.7GHz octa-core Snapdragon 615 processor, 2GB RAM, 16GB fixed storage, 13MP/5MP cameras, dual-SIM 4G connectivity, and a 3,120mAh battery. With a sticker price of Rs 12,999, it comes across as a great buy, at least on paper.
Our full review will try and answer whether it does, in fact, works well as a daily driver or not. The review is in the pipeline as you read this, since we have the Mi 4i with us in our labs. While the retail box doesn't hold any surprises, we're still going to take it through our customary unboxing and see what's included with the smartphone. Truth be told, we're more concerned with the smartphone itself anyway.
Xiaomi's brown cardboard box has become somewhat of a brand identity, and since the company entered the country, we've opened quite a few of them – maybe a few more than what you'd expect, since we've also unwrapped the Mi Note (review), a device which hasn't been launched in India yet.
The unmarked brown box sports a Mi logo on top as usual, and a label with the key specs, pricing and other regulatory info at the rear. The first thing you see after opening the lid is the smartphone lying on top, and our review unit comes clad in white.
Next, out comes a two-pin wall charger, carrying a 2A rating. You'll also find a micro-USB cable to go with it.
A slim and flat cardboard envelope on the side holds the SIM eject tool, along with a quick start guide. As usual, Xiaomi hasn't included a wired headset in the box, and if you want one, you'll just have to use one from your old smartphone pack or buy a new one.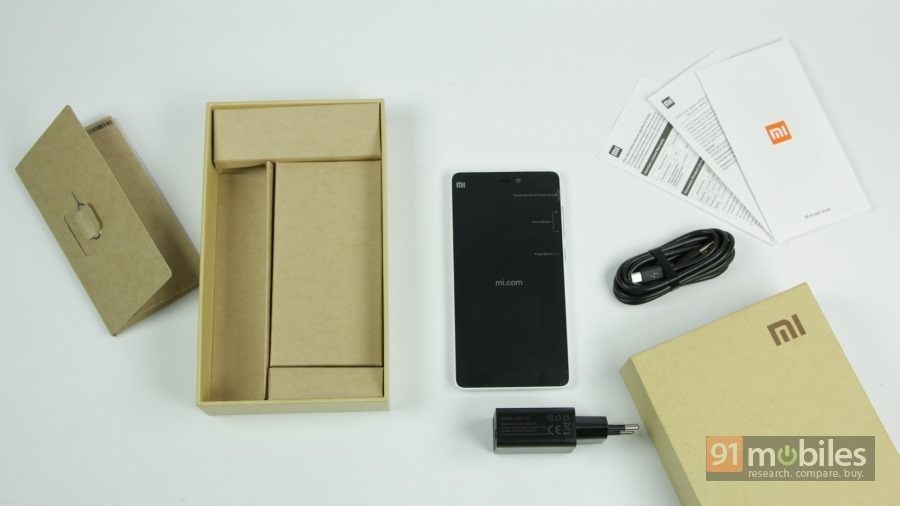 So that was an unboxing of the new Xiaomi Mi 4i – we know it was over before it started, but that's Xiaomi's retail packaging for you. Our journey with the highly notable smartphone has just begun however, and we're asking you to join us as we take it through its paces over the next few days. Rest assured, if you need a verdict on whether the Mi 4i is worthy of your hard-earned cash, our full review should set things straight. Time now for us to get better acquainted with Xiaomi's 'made-for-India' device… watch this space for more.