"The brand has much more in store for consumers than just smartphones and a slate"
The Indian entry of the Chinese brand Xiaomi was nothing short of spectacular, all thanks to the drool-worthy pricing of its devices. It launched the Mi 3 flagship (first impressions) which will be going on sale next week, while the Redmi 1s (first impressions) and Redmi Note (first impressions) in the affordable segment are expected to hit the Indian shores next month. At the launch event, Xiaomi showcased its entire portfolio of accessories and peripherals, and here's a peek at what all it has in store, figuratively speaking. As of the time of writing, these products aren't available in India, but Xiaomi promises many of these will reach our shores soon.
Accessories
By now, you'd have understood that Xiaomi prices its smartphones very aggressively, and takes wafer-thin margins from them. So, you might be wondering how the company plans to make money? The answer lies in these covers and lanyards, as the brand creates an entire ecosystem of accessories for its consumers. Fans love this idea as it gives them the opportunity to personalise their devices.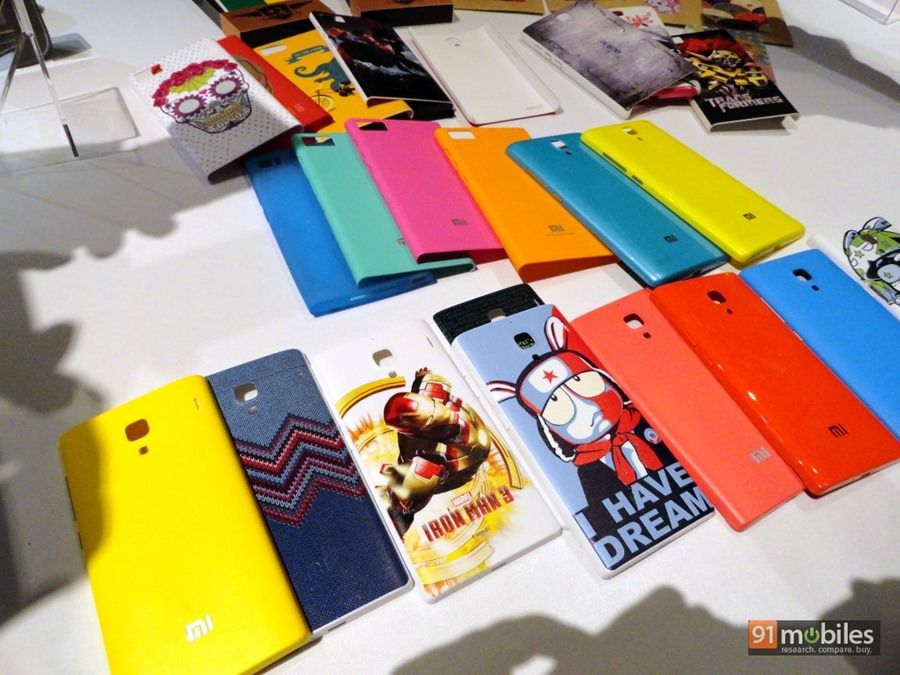 As mentioned in our first impressions of the trio of phones Xiaomi is planning to launch in India, the Redmi range features removable back covers, whilst the Mi 3's rear isn't removable because of its unibody design. Xiaomi is cleverly offering clip-on covers for the Mi 3, which can go on the back cover itself. On the other hand, you can get colourful back panels for both the Redmi 1s and Redmi Note that replace the default cover, or opt for a clip-on cover as well.
In case you don't like to the covers, then Xiaomi also offers stickers that can be pasted on the back of the smartphone.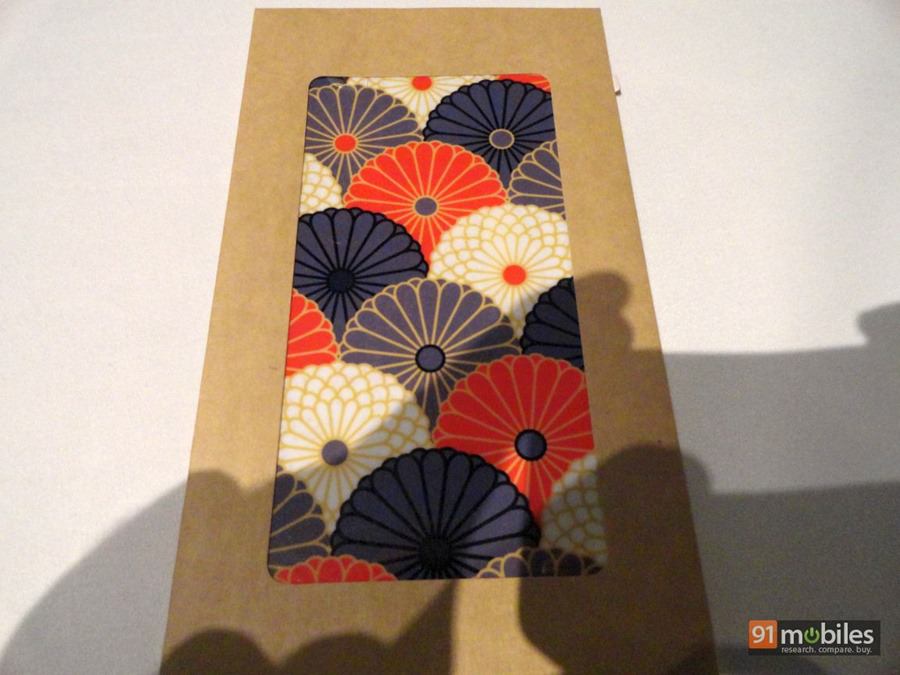 There are also lanyards with interesting designs like Xiaomi's mascot, the Android logo and more.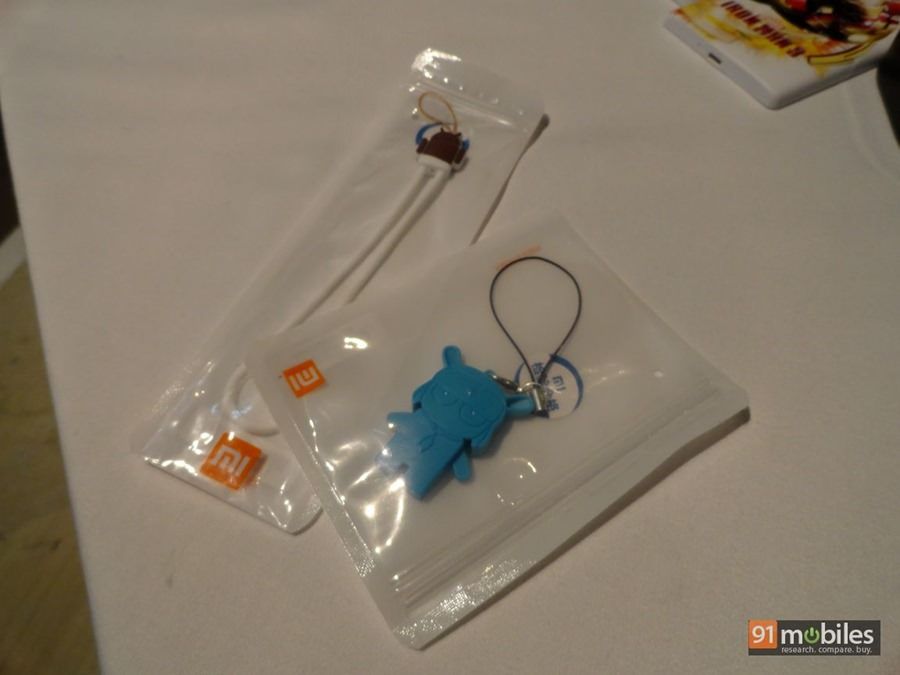 Also on showcase was a set of premium earphones packed nicely in a plastic box. Along with the earphones, the box also includes three sets of differently-sized rubber tips.
At this moment, the brand isn't exactly clear how its vast range of accessories will be sold in India. However, it has promised that over time, it'll either bring them to India or offer the option to ship them from its home country China directly to buyers.
MiPower banks
When the Chinese brand disclosed its first device for India, it also teased that it'll be releasing portable battery banks in the Indian market. Sadly, it looks like it might take a little longer, but they'll definitely be launched here.
There are two portable power banks, differing in size and rated capacity – 5,200mAh and 10,400 mAh. Both of them are incredibly lightweight and stylish thanks to the use of metallic casings. In fact, they can be easily carried around in the pocket, as compared to other bulky options of the same size.
The design of the MiPower banks is also minimalistic, with the ports, controls and indicator lights located on one side only. There's a large circular button for powering on the battery bank. A micro-USB port is available for charging, while a 1A USB port is present to charge smartphones and other electronic devices. The dots act as an indicator for battery status.
MiWiFi
The Chinese brand has combined the functionality of a Wi-Fi router and a network storage drive into one device dubbed as MiWiFi. The router is powered by Broadcom's dual-core CPU clocked at 1GHz and supports high-speed dual-band Wi-Fi access and the latest generation Wi-Fi ac standard. It also has NFC connectivity allowing for quick pairing with compatible devices. The built-in 1TB hard drive makes it an ideal device as a centralised hub for accessing multimedia content, just like the Seagate Wireless Plus.
There's no info if and when this device will be made available to Indian consumers.
MiBox
At first glance, you'd be playing the guessing game regarding the purpose of this small device. Going beyond mobile devices and accessories, Xiaomi has also manufactured a set-top box for TVs. Connect it with your TV and you can stream content from various sources via the internet, or plug in your USB drive or external hard disk for accessing your own media. The box can be controlled by the bundled remote or your Android or iOS smartphone.
Similar to the MiWiFi, the company hasn't shared any details whether the MiBox will be launched here or not.
One thing missing from Xiaomi's product showcase at the event was its smart TV called MiTV – a 49-inch 4K TV powered by Snapdragon's 600 quad-core processor. If the brand manages to bring it to India, then it'll give traditional TV manufacturers a run for their money thanks to its loaded feature-set and as we expect and hope, excellent pricing too.
The vast range of products from Xiaomi's portfolio are definitely interesting and we seriously hope they come to India soon. Which device or accessory would you like to see in India? Share with us in the comments below.