For all the Carnatic Music enthusiasts, Microsoft has added two new paid music apps on the Windows 8 app store – The Navagraha Kritis at Rs. 100 and the Melodic Chants at Rs. 55.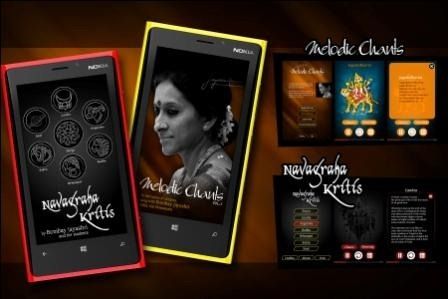 The Navagraha Kritis for the Windows Phone 8 has seven compositions dedicated to each planet of the week. All the compositions have been rendered by renowned Carnatic music singer Bombay Jayashree of the Life of Pi fame. The app has Kritis on Surya, Chandra, Angaraka, Budha, Brhaspati, Sukra and Sani. The eminent singer commented that, "The Navagraha Kritis, compositions of Saint Muthuswamy Dikshitar, when sung, is like praying to the planets seeking blessings for peace and health, and I hope my humble effort in this new format reaches out to the music world."
The melodic Chants app has been designed specially for children. It has tunes that can be sung by children with lyrics and their meanings displayed on the interface. The app consists of two volumes of four chants each.
This songs on this app is sung by children along with Bombay Jayashree. While the first volume has chants dedicated to Durga, Maruti, Vishnu, and Child Krishna, the second volume has chants dedicated to Ganapati, Shiva, Krishna and Amba Parameswari.
The new apps have been specially designed in collaboration with the singer to reach out to her huge fan base through a new segment. The two new apps will join the multitude of Indian audience centric applications that have been added on the Windows app store. However, the apps can be accessed only on Windows 8 devices which can be a dampener. Right now Nokia Lumia 920 and Lumia 620, HTC 8X and HTC 8S are built on the Windows 8 platform.