Vodafone launched a dedicated facebook phone in India today in partnership with Facebook. Couple of months back, HTC too launched a similar looking facebook phones called HTC Chacha and HTC Salsa. Vodafone Blue 555 is largely similar to the predecessors in design as well as functionality. Vodafone Blue is essentially a feature phone with full QWERTY keyboard, 2.4 inch screen and a dedicated facebook button. Vodafone Blue surprisingly does not have 3G or WiFi connectivities. Instead it relies on 2.5G EDGE for communication or data transfer.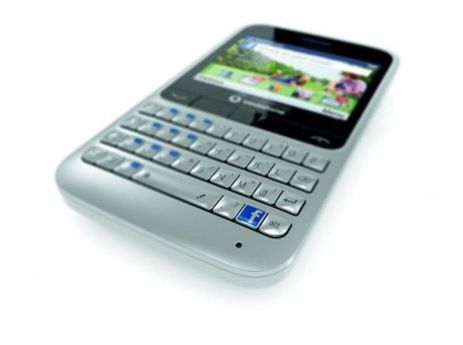 Facebook Phones have one thing very common, they all have a dedicated facebook button 🙂 The dedicated facebook button allows you one-touch access to all the key features of facebook such as status update, news feed, photo upload, sharing etc., The button is pretty context-aware. For example, if you just finished taking a picture of your family, press the dedicated facebook button and the photo is instantly uploaded to your facebook account. If you are listening to a song, press the facebook button and your friends know which song you are listening to. If you are reading a webpage, the same story continues..you get the hang! When you pick a call from your friend, the screen shows the latest updates from your friends facebook page (only if he has one). The users of these phones are logged on automatically when they switch on the device. The connection is established through the phone number. If someone does not have an account, they can setup one.
Vodafone is pricing this handset at Rs. 4,000 – Rs. 6,000. Vodafone will also be offering attractive pre-paid and post-paid data plans for the users who buy the handsets from them. And remember, this will be a operator-locked handset.