One of India's leading telecom service provider, Vodafone has partnered with the leading private Indian bank, ICICI to launch a unique mobile service application, which has been named as M-Pesa.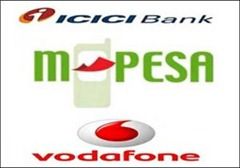 The use of M-Pesa will let the Vodafone customers deposit and withdraw cash from designated outlets, transfer money to any mobile, remit money to any Indian bank account, do shopping at selected stores and lot more.
M-Pesa had been launched initially in the eastern parts of the country as an unique mobile money transfer and payment service targeted at strengthening global expertise in financial security and mobile payments. The global reach of Vodafone coupled with the secure transactions of ICICI would surely result in convenience and benefit of the customers.
The M-Pesa service will presently be available West Bengal, Kolkata, Bihar and Jharkhand via more than 8300 authorized and trained agents. Thus, it is going to be a new experience for the Vodafone users to enjoy a fast, secure and simple way of transferring money by innovatively using the mobile technology.