"Vodafone FLEX plan offers users the flexibility to avail any service with a single recharge"
The telecom industry is raging with announcements referring to 4G data costs having been reduced to as low as Rs 50 per GB (high five if you got the Reliance Jio reference). To match up with the new competition, one of the biggest existent players in the market – Vodafone, announced its new prepaid plan called FLEX, recently. The new plan offers users the flexibility to avail any service with a single recharge. In a nutshell, consumers need to buy FLEX credits worth a specific sum, and the credits in turn amount to calls, SMSes, data or any combination thereof. Interestingly, Airtel which is another big name in the industry, offers customisable prepaid plans called myPACK too, wherein users can pick individual services or combinations depending on their usage needs. Just in case you were wondering if the new FLEX plan from Vodafone really does give 'Power to You', read on.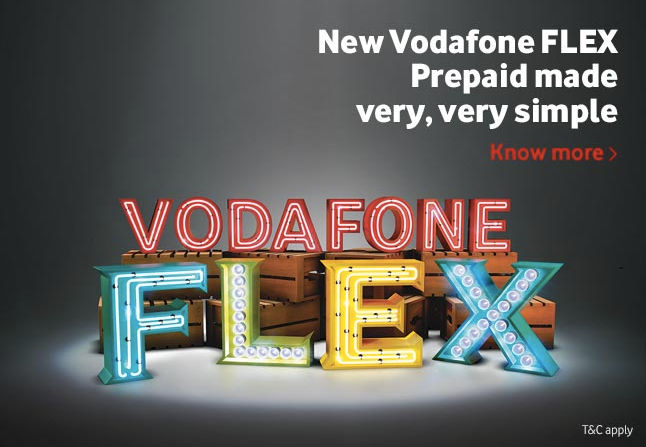 Vodafone FLEX: plans and tariffs explained

This writer currently uses a Vodafone postpaid plan which comes with benefits worth 1GB of 4G data, 600 minutes of local and STD calls, and 600 SMSes. However, the data, which is primarily what the phone is used for, runs out sooner than the other benefits which aren't consumed even by the end of the month. This leads to a need for additional booster packs which translate to more cost, while the call and SMS benefits go waste.

The Vodafone FLEX plans allow you to spend your credits whichever way you want. Assuming the aforementioned plan was a FLEX Plan, the user would have the liberty to use more data while spending remaining credits on calls and SMSes as needed.

1 FLEX equals to either 1MB of data, 1 SMS, or 1 minute of an incoming roaming call. On the other hand, 2 FLEXes amount to 1 minute of outgoing local/STD/roaming call. With whatever FLEX credits you have in your account you may avail any of these services at any point of time depending upon the need, and equivalent credits will be deducted from your FLEX balance.

Vodafone currently has four FLEX plans – Rs 118 for 325 FLEX, Rs 204 for 700 FLEX, Rs 304 for 1,200 FLEX, and Rs 395 for 1,750 FLEX. All the plans are valid for 28 days, and unused FLEX credits can be carried forward to next month. The plans simply translate to zero wastage. Should you run out of your FLEX balance before 28 days, the company also has additional top-up packs, prices for which vary from circle to circle.

Vodafone FLEX vs Airtel myPACK
Airtel's myPACK also allows users to customise their prepaid plan. Assuming that a user utilises only 4G data and calls on his or her smartphone, the customised myPACK on Airtel for Rs 394 offers 250 minutes of local/STD calls and 1GB of 4G data. On the other hand, the Rs 395 Vodafone FLEX plan offers 363 minutes of local or STD calls along with the same data benefits.

While it's evident that the Vodafone FLEX plan offers more calls, the added perk of using FLEX credits for virtually any service apart from just calls and internet access is what gives it an edge over the Airtel myPACK plan, despite both the plans being prepaid. Additionally, there is a minimum requirement of availing an Airtel myPACK on prepaid which involves buying at least 250 minutes, 1GB of data, or 350 SMSes. Hence, the bare minimum you must spend to customise an Airtel myPACK to enjoy all services is Rs 428, which is more than the priciest Vodafone FLEX plan. As you might have figured out by now, Airtel myPACK plans have separately specified chunks for each service which include calling, internet, and SMS only. The FLEX plans, however, are cumulative and include roaming services as well.

Vodafone FLEX vs Regular prepaid plans
The flexibility difference between Vodafone FLEX and Airtel myPACK plan does not allow us to directly pitch the two against each other. However, to give you an idea as to how the new FLEX plans might help you save while sparing you the hassle of different recharges, we compared the new plan with regular prepaid plans from Vodafone, Airtel, and Idea.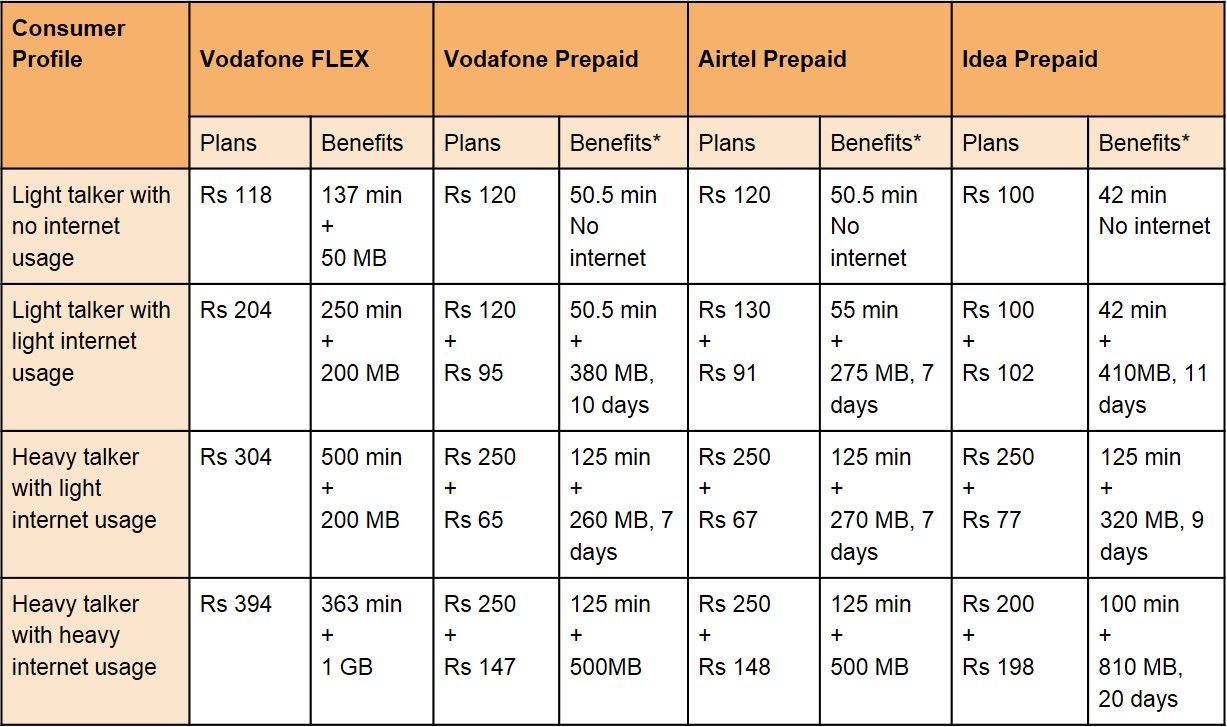 *The benefit minutes for regular prepaid plans have been calculated corresponding to standard call rates of 2p/s, and wherever unspecified, the data packs are valid for 28 days.
The Rs 395 Vodafone FLEX plan, if used to only access 4G internet, brings down the data cost to Rs 233.40 per GB. For a non-FLEX user, a GB of 3G/4G data on Vodafone costs Rs 255. On Airtel, the same would set you back by Rs 259, while on Idea you'll have to pay Rs 249, making the Vodafone FLEX tariff relatively cheaper.

The onset of Reliance Jio has made several telecom companies come up with offers that keep them in the fight against the overtly cheap Jio tariffs. With the Jio network still in its infancy and not being able to provide promised speeds, people have still not abandoned their primary carrier networks and we're sure Vodafone shares a huge section of that number. As the name suggest, the FLEX plans from Vodafone give users the flexibility to utilise their recharge as they see fit, be it spending it all on the internet or balancing between call, internet, SMS, and roaming.

Related read: Reliance Jio vs Airtel vs Vodafone vs Idea – tariffs compared