NVIDIA has officially unveiled its new Tegra 4 Processor at the CES 2013. Sometimes back only Vizio has now showcased at this Platform its new 10-inch Android Tablet with the newly launched Tegra 4 Processor Chip inside.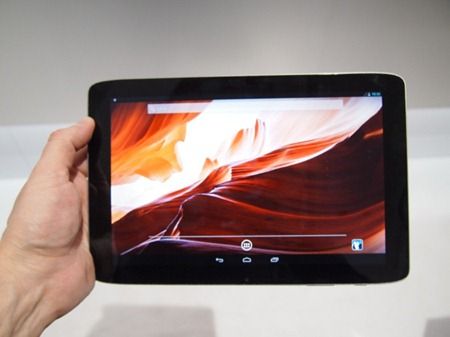 Vizio has launched at the Consumer Electronics Show held at Las Vegas its new 10.1-inch and bears a resolution of 2560×1600 pixels. The newly launched Tablet runs on Android 4.2 (Jelly Bean) Operating System.
Vizio's 10-inch Tablet features Bluetooth, Wi-Fi, NFC, Micro-USB Port along with a Micro-HDMI Port as its Connectivity features. The Tremendously Powered Tablet houses within itself an Internal Memory of 32GB offering a wide storage space. It also features a Rear Camera as well as a Front Camera for capturing wonderful Shots as well as for Video Calling.
The new innovation from the US-Based Company has got the privilege to be one of the first devices to be introduced with NVIDIA Tegra 4 Processor. It is expected to give direct competition to the Nexus 10 as well as to the iPad. The Tegra 4 Processor accompanied Tablet is expected to perform 50 percent faster than the Exynos 5250 Dual-core Processor available with the Nexus.
The price for Vizio's 10-inch Tablet as well as the official date for its arrival in the Market is yet to be known. However, It will be quite exciting now to see whether any other Gadget with NVIDIA Tegra 4 Processor makes its Debut in the coming time at Consumer Electronics Show 2013 held at Las Vegas.