Vizio has come forward with a glee club of devices at the Consumer Electronics Show 2013 held at Las Vegas. The Company has announced a 7-inch Tablet to add to its composite range of products recently launched at the event.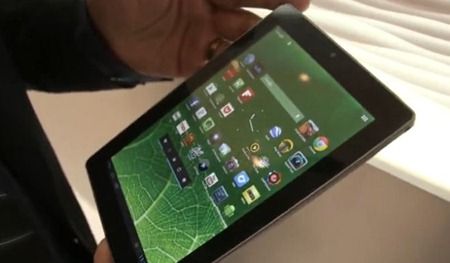 The 7-inch Vizio Tablet features a 7-inch IPS Display which bears a resolution of 1280×800 pixels. The Smart Tablet runs on Android 4.2 (Jelly Bean) OS and has got Nvidia's Tegra 3 Processor from its manufacturer. One of the key features exhibited by the Smart Tablet includes a Pure Windows 8 experience with no inclusion of any kind of vendor-specific junk.
The newly launched Tablet houses within itself an Internal Memory of 16GB to let its users stuff plenty of content in the storage space provided by it. Vizio's 7-inch Tablet features a 1.2MP Front Facing Camera for Video Calling.
Vizio has kept in mind the general requirement of easy Operation for the Tablets while designing its Gadget and has focused on keeping the Device small in size so that it can be easily hand held.
The Market has been witnessing a massive push from the various manufacturers in the 7-inch Tablet Segment any many of them have been priced affordably to give a tough competition to its rival.
The 7-inch Android Tablet has not yet got its priced announced officially while the new Tablet is anticipated to be rolled out from the company in the first half of the Year.
More details regarding the new 7-inch Tablet from Vizio are expected to emerge in the coming time.