Time of the week again when we turn to you users and consumers about what matters to you most in a smartphone. This time the question was 'What is more important in a smartphone between Processor and OS' asked on Facebook yesterday. We believe, it's an ever-green question and plays very crucial role in tilting anyone's decision if they are spoilt for choices between two or more smartphones. Moreover, technology is moving at such a fast pace that modern day smartphones can easily give a tough competition to computers when it comes to hardware configuration.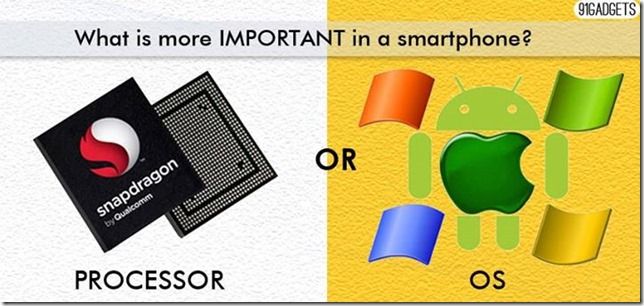 But, the question is more important because both processor and OS works hand-in-hand to give fast and smooth experience to users. To give you an example- consider Blackberry, iOS and Windows Phone offering smartphones with dual-core processors, whilst Android smartphones are loaded with quad-core and even octa-core processors. If we don't compare the Operating Systems by the apps availability and their count, then all of them strive to provide smooth performance with almost zero lag. Without delving in to our thoughts about this question, let's check what your responses were to the question-
User's Preferences
As expected, question elicited variety of replies from you with some having polarising preference to either Processor or OS, while some giving equal weightage to both of them.
Preference to Processor
Numbers always stands out and hence the dual-core, quad-core processors clocked at speeds as high as 1.9 GHz evoke interest from users to buy such power-packed smartphone. Let's see some of your interesting comments-
– Processor of course, because OS can be easily customized, rooted, upgraded and more.
– In Android OS, one should consider processor, but other OS might not need high-speed processor.
– The capability of OS is dependent upon processor only and if its not up to the mark, then OS will neither be able to provide good UI nor smooth navigation.
– Phone's performance depends a lot upon processor and its speed/ cores.
Preference to OS
Let's accept it the smartphones OS have the ability to provide customizability options. Moreover, they've actually become app-phone offering tons of functionality based on the apps installed. Reasons you all gave supporting OS-
Due to the simple fact that Android may lag and hang even in 8-cored processors, whilst other OS functions fine on less-capable hardware, which means OS should be given preference.
Because OS will be using the processor capability and if its not good, then even high-speed processor would be useless.
OS gives the main experience whereas processor resides inside the smartphone, hence OS is important.
Both getting equal importance
As stated earlier, both OS and processors actually complement each other and in the end the smartphone depends upon both of them, so many of you supported this fact only with interesting answers-
Processor has upper-hand without any doubts, but if a phone has crappy OS, then who's going to buy that phone?
Both are incomplete without each other.
Our Take
We agree to most of the responses given by all of you. If you're still interested to know our opinion, then our suggestion would be that you should zero in on an OS first as it will automatically narrow down the options. Since, iOS and BlackBerry OS are proprietary platforms running only on Apple and BlackBerry devices respectively. Similarly, even though many manufacturers develop WP devices like Nokia, Samsung, HTC, etc., but Nokia's Lumia series remains a dominant player. All of these devices run on a dual-core processor only, though their clock speed may vary. Things become interesting when we consider Android OS as its an open-source platform which can be used by any manufacturer that's why we've got wide range of options to choose from. The devices can run on a single-core processor to an octa-core processor and thus you can buy any of them depending upon other requirements (budget, display, camera, and more). There are other OS such as Firefox, Ubuntu Mobile, etc. in the works, but since none of the devices are commercially available in India, hence we are not considering them. One must note that the multi-core processors help in playing Full HD videos, multi-tasking, processor-intensive tasks and powerful games. But, if they aren't optimized for multi-threading, then they will not be able to utilize the true power of multi-core. What are your opinions regarding the question?
PS: Like us at

Facebook

and follow us at

Twitter

to be a part of such interesting discussions!