After launching Bhojpuri language radio station, few months ago, Radio Mirchi has come up with a big bonanza. It has once again gained the affection of Airtel, Idea, Vodafone, MTS, Docomo and Reliance mobile subscribers. Radio Mirchi is now gifting them two new radio stations to listen on their mobile phones, without any problem.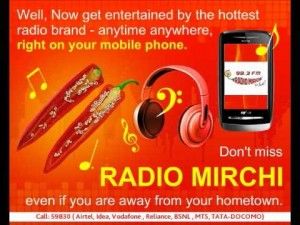 The two new radio stations are named Meethi Mirchi and Purani Jeans, which means Sweet Pepper/Chillie and Old Jeans. Both are pitched as melody and retro music stations. It is advised by Radio Mirchi that the subscribers of the above mentioned telcos must dial a short code number 59830 if they are desirous to listen to the station of their liking.
As a part of the launch of the two radio stations, Radio Mirchi had roped in Shafqat Amanat Ali, the famous Pakistani classical singer belonging to Patiala Gharana lineage, and youngest brother of late Asad Amanat, a lead vocalist of the Pakistan rock band, to act as RJ on Meethi Mirchi radio station.
Sarvmeet Singh Oberoi, Vice President-Corporate Strategy and Digital of Radio Mirchi said that they were in discussion with a couple of more telcos to include in near future in order to extend the reach of their mobile radio stations, and they also plan to add few more music genre by March to their mobile radio stations list.
So, happy listening.