TransluSense has showcased its Luminae Glass Keyboard as a real sensible Combination of Technology and as well as Beauty at the Consumer Electronics Show 2013 ongoing at Las Vegas.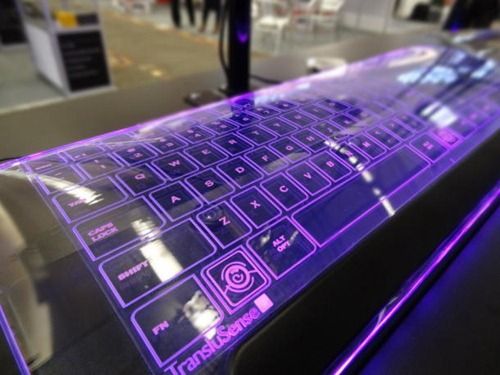 The Luminae Glass keyboard exhibits its features along with a light pipe, visible LED feed signal, infrared LED along with three Cameras. The Cameras featured by the Keyboard have been positioned in order to look upward from below to obtain a track record of light breaking pattern of the user's fingers.
The Glass Keyboard works on the concept of tracking the light breaking Pattern by the user's fingers. The Luminae Glass keyboard will also be available along with a Trackpad in its smaller Version.
The list of appealing features of the Luminae Glass Keyboard also includes the feature of Custom designing the Overlays Online along with the setting of the Keyboard which makes it capable of recognizing all the Keys and Shortcuts accustomed. The users can just peel it off and apply a new one once they get tired of it. The Glass Keyboard also offers a Multitouch.
Luminae Glass keyboard from TransluSense is available bearing a hefty Price tag of $500. The Luminae Glass Keyboard was in its early stages in the early 2012 but has managed well to initiate a plenty of people funding so as to own a piece of the dazzling Keyboard.
However, the Plain Glowing look along with the convenience of no dirt cleaning is a great innovation from the Company which has already attracted a large crowd towards itself.