2016 is believed to be a year with the prime focus set on wearable technology, and a plethora of wearables showcased at this year's Consumer Electronics Show in Las Vegas only reaffirms this belief.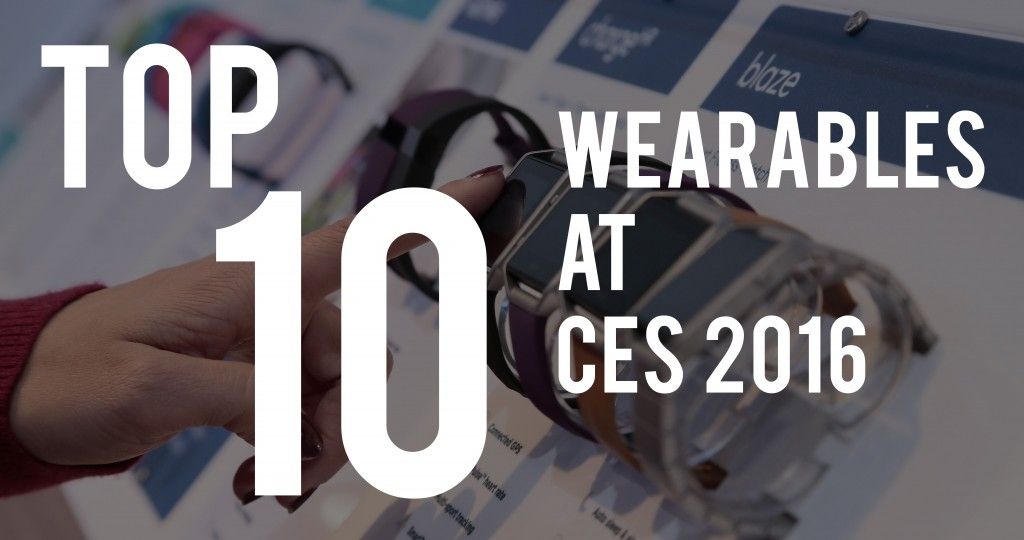 Here's a quick look at the top 10 wearables that were launched at CES 2016.
Casio WSD-F10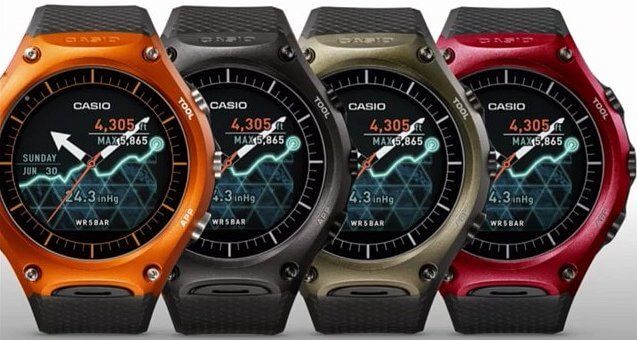 Casio has finally caught up with the current trend of smartwatches with its recently launched WSD F10 watch. The WSD F10 comes with a 1.3inches 320×200 pixel resolution display on a metal body and is gigantic in size. However, it is lightweight at the same time at 93 grams. It is MIL-STD-810G standard approved which translates to protection from shock, humidity, radiation, vibration, high and low temperatures, ice and water, and is therefore best suited for high octane activity tracking. It also provides an innovative solution to battery life on Android Wear devices with its Timepiece mode where it uses the secondary monochrome LCD display instead of the primary colour LCD thereby conserving battery and increasing the life up to about 30 days, all while still providing access to basic notifications.
Fitbit Blaze

Fitbit announced the latest offering to its ever-growing collection, the Fitbit Blaze. With the Blaze, Fitbit also provides numerous strap options of different colours and materials thereby giving the user the freedom to personalise the device according to their lifestyle. For activity tracking, the Fitbit Blaze packs a 'PurePlus' heart-rate sensor on the rear, provides the user personalised seven minute workouts with the FitStar feature and also possesses the SmartTrack software which automatically activates the activity tracking in case you forget to do so manually. The touch-enabled activity tracker provides call, text and calendar notifications via Bluetooth and should last around five days on a single charge. The Fitbit Blaze costs Rs 19,999 in the Indian market and would be available for purchase in March 2016.
Withings Go

Not all the wearables showcased at CES 2016 cost you a small fortune. The Withings Go costs £49 (approximately Rs 5,000) and is a tiny waterproof activity tracker with stellar battery life (up to eight months) thanks to its always-on E-ink display. It features walking, running, swimming and sleep tracking and can be clipped as well as can be worn as a watch, or kept in the pocket. It connects to smartphones via Bluetooth LE and provides valuable insights through the highly-acclaimed Withings Healthmate app.
Under Armour HealthBox by HTC

Under Armour in partnership with HTC announced the HealthBox, a complete kit of fitness wearable hardware perfected for budding athletes. Inside the box, one can find the new activity tracker called the UA Band, a connected chest strap to accurately monitor the heart rate called the UA Heart Rate and the UA Scale, which is a smart weighing scale. The UA Band has a 1.36inches PMOLED display with touch support and tracks your steps, activity and heart rate. It also features automatic sleep tracking functionality. The UA Scale measures body weight and also calculates the body fat percentage. Each component syncs back to the UA Record which provides valuable insights regarding the workout routines and health patterns observed. All-in-all, it is the one package you need for all your fitness tracking needs.
Under Armour Wireless Heart Rate Headphones

Apart from the UA healthbox, Under Armour also introduced the Under Armour Wireless Heart Rate Headphones in partnership with JBL. The sweatproof (IPX 5 rated) headphones provide the user the comfort of not having to glance at their smartphone or fitness bands during workouts and instead report their current heart rate direct to their ears at the touch of a button. The headphones connect to smartphones via Bluetooth 4.1 and constantly stream heart rate data to the UA Record app. They also feature JBL's Twistlock and Flexsoft technology ensuring comfort and a snug fit. Under Armour claims that the battery should last about five hours and the headphones also come in a version without the heart rate sensor as well.
Misfit Ray

Misfit has undoubtedly delivered one of the most gorgeous fitness trackers out there with the Misfit Ray. It is made up of a cylindrical piece of anodised aluminium and would be available in black and gold colour options. The elegantly-designed wearable lets you monitor your steps, calories burned, distance, sleep duration and quality, and can simply be worn as a bracelet complementing your watch instead of being a watch replacement. The Misfit Ray provides discreet LED notifications for incoming calls, SMS, alarms, movement reminders and can even act as a remote control for the camera and music applications. Also, there isn't a need to worry about recharging it ever so often as the user replaceable button cell battery has been touted to last six months.
Misfit Specter

Misfit also launched the Misfit Specter which forays its entry into the headphone market. However, unlike normal wireless headphones, the Misfit Specter also provides sleep, distance and step tracking. The earbuds are attached to a small square puck, which provides it Bluetooth connectivity, accelerometer sensor and eight hours of battery life. The puck can be clipped onto clothes and is surely a great option for all workout fanatics cum music lovers.
Mio Slice

The Mio Slice might seem like an ordinary fitness tracker at first, but deep down it works intelligently to provide you something that most trackers are yet to offer. Mio decided to scrub the normal fitness band approach where a user 'goal' is defined by a magic number of steps, say, 10,000 steps a day and instead personalises this approach to more accurately match a user's pattern using a new algorithm and a continuous optical heart rate sensor to calculate the Personal Activity Intelligence (PAI) score. According to Mio, keeping the PAI score above 100 should ensure that a user lives a longer and healthier life. The Mio Slice also offers push notifications and alarm although the other specifications such as battery, design and water resistance rating are not yet finalised.
iLi Wearable Translator

Logbar showcased the iLi, which is said to be the world's first wearable translator, envisioning to break the language barrier that deters communication between people, especially tourists in another country. Currently the wearable can catch phrases the user speaks into the device and can audio translate it into Japanese, Chinese or English languages at the push of a button. With a built-in translation engine and a preloaded 50,000 words and phrases vocabulary, it works without requiring any network connection. The Japanese company also announced future plans of including more languages such as French, Thai and Korean.
Fossil Q54 Pilot Incognito Smartwatch

American watch manufacturer Fossil added a new Incognito smartwatch to its Q series of wearables, called the Q54 Pilot. It offers customisable notification alerts and fitness tracking functionality all while maintaining an 'incognito' profile, that is, it does not go overboard with the digitalisation and does not make your watch look like a mini computer like the other popular smartwatches in the market. Instead, it retains the simplicity and elegance of an analogue watch with additional smart features. It offers vibrational alerts with three different vibration types, coloured LEDs for notification identification and tracks steps, distance and calories burned. The Q54 Pilot is set to cost between $175 to $215 (approximately Rs 11,000 to Rs 15,000) depending on the choice of strap.