For movie and TV show buffs, this week's lineup of game launches has a few treats in store. Official games for Star Wars, Captain America andGame of Thrones are here, complete with original characters, engaging storylines and multi-player combat. For the more serious iOS user, we've got the newly released Office for iPad, bringing Microsoft's suite of productivity apps to your tablet for the first time. Ready to supercharge your weekend? Here's our list of the top iOS apps and games this week.
Wondering how all your white shirts turned baby pink? Or why that top with a perfect fit is now two sizes too small? If your idea of doing laundry is dumping everything into your washing machine and pressing random buttons, this app wants to help. It has specific instructions on how to wash different types of clothes, iron and fold them. It also has tips on how to read labels on clothes, in case you haven't figured that out either.
Twitter just announced a major update to its photo-sharing functionality, and now it's Facebook's turn to bring out the goodies. Facebook Messenger has been updated to version 4.0, bringing with it the ability to create groups. Just like WhatsApp, you'll be able add people to a group, create a group name and add a group photo. The update also adds a forwarding feature, allowing you to forward messages and photos to users who aren't in your current conversation.
In a bid to become more mobile friendly, Microsoft has made its Office Mobile app completely free for iOS users. You can view and edit Word,Excel and PowerPoint docs, as well as access those stored in OneDrive, without paying a penny.
In addition, Microsoft has launched Office for iPad, a fully-functional Office suite designed specifically for the iPad's touch interface. The apps are free to download and view documents, but editing will cost you an Office 365 subscription. There are three separate apps available for Microsoft Excel,Microsoft Word and Microsoft PowerPoint.
Adding to the tangle of news-reading apps on iOS, is new entrant, Pipes. The mobile news reader allows you to create a 'Pipe' of top stories on any topic, and then pulls all relevant articles from the web. Pipes are not restricted to categories – you can add a specific website, product, celebrity, event, etc. By shaking your phone, Pipes will even display trending stories and make suggestions for new Pipes to add. The app comes with Facebook, Twitter and Pocket integration too.
Games
From the creator of Clash of Clans comes another combat strategy game.Boom Beach is set in a tropical island archipelago, where you'll get to attack the evil Blackguard, free enslaved islanders and explore the surrounding islands. You'll also raid enemy-controlled bases and engage in epic boss battles, while learning how to harness the power of ancient statues and Life Crystals.
The official game of Captain America: The Winter Soldier has just landed on iOS, and features an original story co-written by Marvel. You'll play the Captain himself, and fight iconic villains like King Cobra, Taskmaster and more. You'll also battle various crime organisations, and even be able to call on your Avenger buddies for help. The game features comic-inspired graphics, multi-player mode and league leaderboards.
Game of Thrones: Ascent (Free)
The new season of Game of Thrones is just around the corner, but if you can't wait until then, you can get your hands on the acclaimed RPG game, launched last year on Facebook. Making its iPad debut, Game of Thrones: Ascent features over 2,500 quests and dozens of adventures, immersing you in George R.R. Martin's fantasy fiction series. You'll also get to swear fealty to one of the great houses like Stark, Lannister and Targaryen, craft gear and items, accumulate wealth and compete in multi-player battles. The game will also be regularly updated with content to match new episodes of the show.
Created by Disney Mobile in collaboration with LucasArts, Star Wars: Assault Team is the ultimate turn-by-turn combat game for the Star Wars fan. The game lets you collect and play your favourite characters like Luke Skywalker, Han Solo, Princess Leah and more, complete missions and engage in player-versus-player combat. The game features advanced graphics, iconic Star Wars planets and cinematic scenes, too. Ready your Lightsabers. May the Force be with you.
A new point-and-click puzzle game, in Tiny Space Adventure you'll play a cute astronaut who crashes on an alien planet, and has to solve numerous puzzles to avoid being trapped in space forever. Each level contains increasingly difficult puzzles, but also features many surprises, which you'll get to discover along the way. The game's cartoony graphics and peppy sounds will appeal to younger audiences, but the more advanced puzzles could attract seasoned gamers too.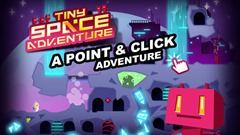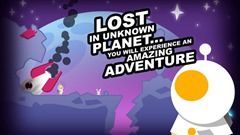 Also check out Little Big Adventure, Sometimes You Die and Word Monsters.