A hack-n-slash RPG, a unique sound-based adventure game and an intriguing title based on the NSA headline our top iOS games this week. In our roundup of top apps, we've got a brand new weather app from CARROT, a full-fledged photo editor and big updates to some of our favourite apps.
Apps
Meerkat (Free)
Live video broadcasting app Meerkat has become a phenomenon over the last few weeks, and has now received a useful new update. The app, which lets you stream live video to your Twitter followers, now lets you search for and follow users. Once you follow a user, you'll also receive notifications when they broadcast a new livestream.
CARROT Weather (Rs 190)
Everyone's favourite mean AI is back, this time in an all-new avatar. CARROT, which is known for its fitness apps, will now tell you the forecast in CARROT Weather. The app gives you all the deets on temperature, wind speed, humidity, sunrise and sunset, visibility and more, peppered with liberal doses of sarcastic dialogue, special animated characters, unlockable secret locations, and more.
PICSPLAY 2 (Free)
Photo editor PICSPLAY 2 offers an array of editing tools for your photos and selfies. It features 200 filters spread over 10 themes, customisable presets, textures, light leaks, vignettes, scenes and all the basic edits too. Professionals can make use of tools like blur, selective colour, curves, histogram and double exposures. For selfies, the app lets you reshape faces, smoothen skin and enhance details. There are also a ton of stickers, borders and fonts you can customise your photos with.
SignEasy (Free)
SignEasy, the popular app which lets you securely sign and fill out documents from your iPhone and iPad has received a major update in version 5.5.0. Making use of iOS 8's extension support, SignEasy now lets you fill and sign documents from within other apps like Dropbox, Box, OneDrive, Mailbox, Scannable, Slack and more.
Games
Mr Jump (Free)
A side-scrolling platformer with beautiful geometric visuals and one-touch gameplay, in Mr Jump your job is to guide the character to the end of each level, avoiding traps along the way. There are a total of 12 levels, each with unique environments such as plains, forests, mountains, etc. The obstacles include platforms, spikes, walls and holes, and there are unlockable power-ups available too.
Stormblades (Free)
An action RPG hack-n-slash game, Stormblades should be on every Infinity Blade fan's must-play list. You'll play a warrior coming of age, who must perform the rites of passage by defeating the Keepers. You'll have to batle enemies in vicious sword fights, dodging their counter-attacks and destroying their armour in the process. You'll be able to upgrade your blade along the way, empowering it with mystical properties. You'll also get to explore ruins, collect relics of defeated enemies, and face-off against other online players.


Adventures of Poco Eco (Rs 190)
In this relaxing adventure game with beautiful 3D graphics and an electronic soundtrack, your job is to help Poco and his friends find their lost 'sounds'. You can choose to leisurely explore the world by working your way through all 12 levels, or opt for a quick game by solving one of the many mini puzzles on offer.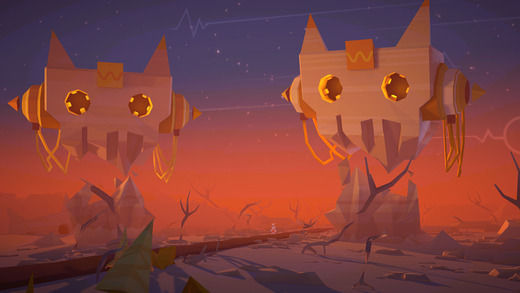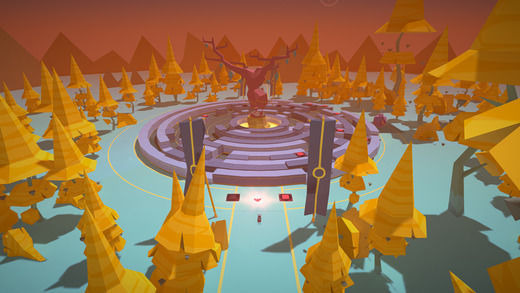 In this old-school puzzle RPG game, you can don the role of either Prince Wilbert or Princess Wilma, as you attempt to save the kingdom of Aventana from the demon cloud known as the Horde. As you embark on a quest to find the magical sword to defeat the demons, you'll explore over a dozen locations, each with their own enemies and dangers. The game features a choice of either Adventure or Endless game modes, five classes, 35 achievements and a leaderboard.
TouchTone is an intriguing new game based on the NSA. In the game, you play an ordinary citizen recruited by a government surveillance organisation. Your job will entail tapping phone calls, decrypting emails, reporting suspicious activity and working with the government to uncover dangerous plots and unmask potential criminals.
App of the Week
Dark Echo (Free)
Free on the App Store all this week is the scary sound-based horror game Dark Echo. In the game you'll walk through the dark, using sound waves to detect obstacles and threats, while trying to avoid attracting the attention of enemies.
Other interesting new games to check out include Sky Streaker, Hero Sky: Epic Guild Wars and Pocket Mine 2.