When Nokia recently unveiled Lumia 928, an upgraded version of Lumia 920 with metallic body and Xenon flash, it also announced that apps in Windows Phone have reached a count of 145,000. While, the count is nowhere near to the staggering number of apps present in Android (approximately 800,000) and iOS (more than 850,000), its growing rapidly. So, we bring to you the list of top apps present in Windows Phone store-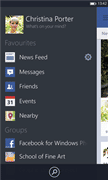 Social Networking: Facebook (Free)
The world's most popular social network with more than 1 billion users can be accessed from Facebook Beta app in Windows Phone. While the app is not officially developed by Facebook, it's developed by Microsoft and provide most of the functionalities. The design of the app is similar to the Facebook app in Android and iOS giving quick access to updating status, uploading photo or checking-in to a place. One can easily see their messages, notifications, pages, groups and friends online for chatting. The app also provides notifications for in the phone's lock screen. Though the app is currently in Beta, so it can be quite buggy.
Social Networking: Twitter (Free)
Twitter has changed the way people use to converse by limiting the character limit to 140 characters, the communication is real-time, apt and clear. The app works as expected for composing tweets, getting tweets from people one follow, retweeting or replying to others tweets. One can also tweet pictures and even edit them using the twitter's filters option. It also provides the top trending topics and hashtags. The app also allows integration of more than one account.
Communication: Whatsapp (Free)
Whatsapp is the world's most popular messaging service with more than 200 million users and counting, and is giving a serious threat to SMS's through which only text can be sent. Whatsapp allows sharing of images, multimedia, contact details, location and even makes the chat fun by the use of smileys. The best part of Whatsapp is that it's cross-platform and available for mobile platforms like Android, iOS, BB OS and even for Java and Symbian S40 phones. The app has a simple and beautiful interface for quick navigation for chatting and finding friends.
Communication: Skype (Free)
While the Whatsapp is a great option for chatting, it doesn't provide option for voice or video chatting. That's where Skype comes in which is a cross-platform app available for all mobile platforms (Android, iOS, Blackberry) and even computer OS (Windows, Mac OS, Linux). It allows Skype to Skype calls as well as paid calls to mobiles and landlines all over the world using Wi-Fi or 2G/ 3G connection. The app also gives call or message notifications in the home screen and lock screen and even integrates with Windows People Hub providing direct access to Skype contacts. It also allows addition of more than one Skype accounts.
Entertainment: Gaana (Free)
In this internet age, instead of downloading songs, transferring them to the mobile phones and then listening to them, Music streaming services allow to listen to music of our choice streamed from the internet. Gaana app have a beautiful metro interface offering songs English, Hindi, Tamil and in more than 20 regional languages. Based on one's choice of songs, it also gives recommendations for songs in the similar genre/ artist/ albums. The registered users can make playlist and share their favorite songs on social networking sites. Users also have the option to subscribe to Gaana Plus which allows access to songs offline and many more features.
The Gaana app is great for listening to songs from a particular album or by artist, but what if one just want to listen to random songs and may even discover some new songs in the process? Radio Streaming services allows one to listen to radio streamed live from the internet and TuneIn Radio is one of the best apps with vast number of Radio Stations. One can find stations based on various categories like music, talk (podcasts), language, location and more. The stations can be favorited for quicker access and can listened at different bit streams (if they have any) depending upon connection speed.
Entertainment: YouTube (Free)
Seems like Microsoft is keen on bringing the popular apps on Windows Phone platform, like Facebook this app is also developed by Microsoft for one of the most liked video service- YouTube. The app has a beautiful metro UI and give access to Trending Videos, videos across different categories and channels. Logged in users can subscribe to their favorite channels, comment/ like the videos and share them with friends on Facebook, Twitter or email. User also gets the option to watch videos in various quality (360p, 720p, Full HD, etc.). The app utilizes Live Tiles feature of Windows Phone and user can pin a video, playlist, channel or even a search query to a Tile.
While the most popular photography and filters app- Instagram is still not available on Windows Phone, it doesn't mean that there are not other apps offering same or even better functionality. Camera 360 app allows user to shoot pictures based on various themes like Auto, Portrait, Scenery, Microspur, etc. and even gives option for numerous effects. One can also edit the photos after taking them by adding frames and doing some touch-ups. The app also acts as a gallery for pictures taken through it. One can also share the photos on the social networks.
If you're looking for an advanced capturing and photo editing app in Windows Phone, then Fhotoroom is a good choice. It gives manual settings for ISO, Exposure and more. The app also gives multiple options for editing from basic features like cropping, rotating to more advanced features like adding frames, applying filters from more than 50 filters. It also allows for customized frames and filters. The app offers a user-friendly interface making it joy to use. Users can also share the edited pictures on Facebook, Twitter, Flickr, etc. by just one click.
Like most of the people if you dislike Internet Explorer for browsing websites on computer as well as on phone, then UC Browser is for you. It offers simple interface and fast access to the websites. It offers basic features like Multiple tabs, Speed dial and more advanced features such as Offline viewing (by marking selected website for offline access), Desktop mode (checking websites as they run on a computer), Flexible modes like Night mode, Incognito browsing, etc. It also offers option of smart downloading by not letting Wi-Fi to go to sleep mode when some file is being downloaded and scanning QR codes and visiting webpages embedded in them.
Location Services: HERE Maps (Free)
With the advent of GPS in smartphones, they've became our guide for navigating to unknown terrains, finding shortest path for reaching to a destination and many more things. While, the most popular Mapping service- Google Maps is not available for Windows Phone, HERE Maps by Nokia does the job. It lets you search a place, give turn-by-turn directions, real-time traffic information and much more. You can also favorite places and access them from phone or even it's website. The best part of the app is that it lets you download maps for accessing them offline at a later time.
Productivity: Evernote (Free)
Evernote is one of my favorite service for saving notes and accessing them from any device. The service is truly cross-platform with support for all mobile platforms, computer OS's and even browsers and offer seamless integration across all of them. One can save text, images, websites, audio recordings, receipts and many more acting as your daily journal. The app offers beautiful interface for accessing your earlier notes, or searching them via tags, title, content, etc. The app offers rich text editing options and can also be used as a to-do list through check-boxes.
Cloud Storage: SkyDrive (Free) or Box (Free)
With so many gadgets from a computer to a tablet and a smartphone, it becomes difficult having our important files across all of them. Cloud Storage services like SkyDrive and Box, let's one access their files from almost any device. They synchronize one's documents, images, and files across their all devices. SkyDrive service is by Microsoft, so it can easily open the documents created on Microsoft Office. Box also offers similar options and have a simplistic interface. Users get 7 GB space free in SkyDrive and 5 Gb in Box account.
Apps which lets you read from mobiles provide a wonderful option for staying up to date to what's happening in the fields of your interest. Weave is a news reader exclusively for Windows Phone lets you follow websites and blogs. One can also follow their topic of interest like Technology, Business, Gaming, etc. and app will start provide news related to them. It also offers customization option fonts, font size and background colors. If you don't have time to read the articles, then the app can also read it out to you. It also allows sharing of articles via social networks and email.
Utilities: Battery (Free)
Smartphones provides immense utility for work, time-pass and even fun, but all this depends upon the battery life of the smartphone. This app provides detailed battery statistics and also shows remaining battery on the phone's lock screen and home screen. User can close battery sucking utilities like Wi-Fi, data network, GPS, etc. from the app itself. The app gives rich battery usage chart which can be saved as a picture and sent to email or SkyDrive for checking usage history. It's live tile also gives battery details and standby time.
Many a times we need access to world clock, stop watch, date calculator, sales price calculator and many such things, instead of using apps for each of these tasks individually, Toolbox Plus gives access to about 17 such useful tools. It offers a simple interface for accessing the tool one might need. The free version gives access to all tools, but shows ads and for removing the ads, one can use the paid version.
As mentioned earlier, that apps present in Windows Phone store is very less in comparison to Android and iOS platforms and you might not find your desired app present in those platforms for Windows Phone. AppSwitch tell you the alternate apps present for your searched app. If you can't find the alternate apps for the app you're looking for, Appswitch will automatically notify you whenever it finds an alternative.
What are your favorite apps for Windows Phone? Or, you still not able to find your favorite apps on the platform? Share with us in the comments below.