Smartphones are growing by leaps and bounds as suggested by Gartner and according to IDC, Android OS is leading the pack. The beauty of Android smartphones lies in the huge variety of applications present in Play Store providing users the chance to customize just about any aspect of the device. With this, we bring to you our weekly roundup of released and updated Android Apps-
Google took everyone by surprise when it launched Chromecast dongle to stream content from mobile/ tablet to TV in its 24th July event. Unfortunately, it didn't came to this part of the world. Fret not! we've an app which kind of emulates its functionality. CheapCast requires users to have two Android devices, while one of them will act as a Chromecast, the other will be sending content (Google Music, YouTube, etc.) to it. If you've an HDMI supported device, then you can connect it to TV as well, thus streaming content to the TV.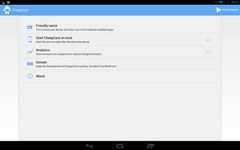 Of course, this is not the Chromecast replacement, but can be a great way to watch content on TV if you've an Android device lying around.
This is not an app, but a simple yet extremely addictive puzzle and it's so fun to play that we couldn't resist sharing it with you. The app has a beautiful interface and takes no time to make users understand about how to play it. You just need to swipe to connect two or more dots in any direction, however not diagonally.
Hmm, you're still reading? Just download the game and enjoy!

In its latest update to Google Maps, Google killed off one of the service called as Latitude. And, if you loved the functionality of Google Latitude, an app which lets you and your friends/ family track each other on Map, then this app is for you. Hemisphere lets you share your location with your contacts.
The app has a pro version to remove ads.
Have you ever wondered the exact usage of so many sensors like Ambient temperature, humidity, barometer in modern smartphones? These sensors are only good when an app is utilizing them, and that's where this app comes into picture. Using these sensors, the app can show ambient temperature, ambient humidity, absolute humidity, pressure, etc. in a beautiful widget on home screen and lock screen.
Sadly, these sensors are available in Samsung Galaxy S4 only and hence only this can utilize this app.
If you're a frequent traveller using Indian Railways or Airlines, then you must be fed up of checking your messages for checking flight details and even tracking the train/ flight status. Well, this app from popular travel search engine ixigo comes to your rescue. This app automatically tracks your messages for finding PNR information and then show all the relevant details at one place.
Users can manually add the PNR numbers as well.
Updated App(s)
Google is continuing its efforts against Facebook by adding useful and interesting features to its social network, Google +. The latest update bring rolled out to everyone gradually brings capability of viewing photos stored on Google Drive and editing or sharing them as well. For this reason, Google has added another app called G+ Photos. There's also easier switching between different accounts and pages. As was expected, Google has closed Google + Messenger since Hangouts app has replaced it, and if you want to back up your messenger data, then head to Google Takeout.
Does the update attracts you toward G+ or it still doesn't offer anything extraordinary from Facebook?
According to many people, Augmented Reality is the future and Layar is one of the oldest apps striving towards it. For this update, the company has completely overhauled the design of the app with new logo and interface. It has also added 'Recent Content' section to see history and revisit those layers again. Apart from various places, now the users can scan QR codes as well.
The app is great in theory, but there are not many places where one can use it since it may or may not have data for those places.
Under the leadership of Marissa Mayor, Yahoo is marching ahead with numerous acquisitions and revamped apps for mobile in order to target the youth. The biggest change is that the app automatically adds a background photo from Flickr depending upon the location, time and weather conditions. Besides weather, the app also provides interactive radar, satellite, heat and wind maps as well as animated sunrise/ sunset time, etc. It also gives warning for severe weather conditions.
For glancing the weather condition quickly, you can also add the home screen widget.