Popularity of Android and its Play Store are growing rapidly. We would go on to say that its rocketing fast indeed. At recent event, Chrome and Android head Sundar Pichai mentioned that the store has now more than 1 billion apps. This shows that all kind of apps are being used by people to enhance their smartphone functionality by one way or the other. Let's check out the apps of the week which are a combination of Utility and Productivity-
Most of us are familiar with the name BitTorrent which is akin to downloading Torrents, but BitTorrent Sync though coming from the same company helps for a different cause. It syncs files across various computer and mobile devices via Peer to Peer protocol in a secured and encrypted manner. The files can also be shared with friends and family and they can only be able to access them if they have a secret key. Secret keys further have the option to have a 'read only secret' or even 'one time secret'.
To make full use of the app, head on to BitTorrent Labs to download it for your computer as well.
It's said that public conveyance like buses and metro trains are lifeline of the city. But, while metro runs on a few routes only, buses ply on several routes across the city. As the name suggests, Delhi Transit Bus Info aims to provide help to commuters by giving information about the DTC (Delhi Transport Corporation) buses and their routes. Currently, it only has information about Orange Buses (or Cluster Buses), while the 'Trip Planner' feature gives detail of all the routes. Read the app review here.
We're glad that government is beginning to understand the wider reach of such technology initiatives and hoping to see more of them in the future!
Modern day smartphones have put the gaming consoles in our hand. They allow us to play all kind of games anytime and anywhere. Still, what's the point of gaming if we can't share our high scores and achievements with our friends and tease them? At the new Nexus 7 and Android 4.3 launch event, Google also announced an app called Play Games which would act as a common leaderboard for all your games where you can see your standing among your friends, discover new games and boast your achievements.
The app brings one of the most basic yet useful functionality to enhance our gaming experience.
Back in the day, when the internet was in its infancy, Yahoo! and MSN were the best websites for the purpose of homepage due to all-round content topics they used to offer. Now, the world has moved on to handheld gadgets, but still the basic premise of ability to read all kind of news in a single place is surely is time and effort saving. The app uses the live tiles layout which Microsoft pioneered with Windows 8 and Windows Phone.
Updated App(s)
We're deviating from our conventional route of mentioning apps which are available on Play Store only, but a popular and useful app like SwiftKey surely deserves such mention. Essentially, SwiftKey is a keyboard replacement app enabling users to type faster and accurate. This beta version gives it the ability to backup and sync your account, integrate your typing habits from Facebook, Twitter, etc. The app can also analyze trending phrases from Twitter and other news sources.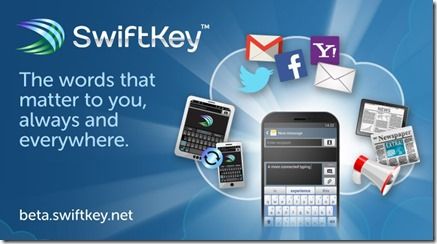 Thus, even if you've lost your phone or changing the phone, you don't have to worry about your typing habits as they are now store over the cloud.