As this week is nearing to end, we bring you the apps of the week for Android OS which just hit the play store as a newbie or as an update. This week the apps are a mix of cloud storage options, communication, photography and more-
Cloud Storage services makes our life easier by giving us the ability to save file once and access them anytime and anywhere. But, it also becomes very difficult to manage so many services and remembering their details along with files which have been stored into them. CloudCube is wonderful solution to this problem as it manages and syncs popular cloud services like Google Drive, Dropbox, Box, SugarSync, etc. The app lets one to download files/ folders from any of these services and also allows to upload files/ folders.
The app also have a feature called sync which can synchronize files/ folders between the cloud storage sites.
Polaroid photos have a strange intriguing attraction in them which not only make us nostalgic about them, but gives wonderful effect to the photos. Though, the concept of filters was popularised by Instagram, it's not the only app. Polamatic gives users the option to capture or import a photo and then personalize it with 26 polaroid frames, 20 photo filters or adding captions in various fonts. Unlike Instagram, the images can be saved to phone's memory and can be shared to social networks.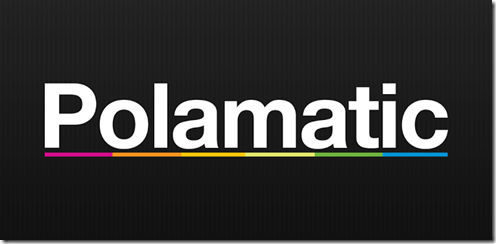 Go ahead and enhance your shots with some awesome filters!
Updated Apps
This app can be considered as new app or updated app depending upon the way you look at it. The cloud storage company Mega bought this app and turned it into official. If you're wondering why actually you need Mega, when already you've so many options for cloud storage mentioned above as well, then there are two things making it stand out- 50 GB Free space unlike just 2GB/ 5GB space and emphasis on data security/ privacy.
It offers usual options for uploading/ downloading files, automatic uploading of pictures captured by camera, etc.
There's no dearth of note-taking apps available for smartphones, but more than features each of them are differentiated on the basis of interface and their cross-platform availability. OneNote by Microsoft is a good option for note-taking providing most of the needed functionalities and latest update adding more to it. Now, users can completely format their notes, an option which was only available for desktop users earlier. Other additions include support for Office 356 notebooks, home screen widgets and searching ability.
Users can also pin the notes for offline access.
The smartphones of today have become jack of all trades from being used for calls to playing games and much more. Wouldn't it be easier and better to get complete idea of device status at one place. PowerLine app provides status of Missed Calls, Battery, CPU,Memory, Storage, etc. in an interesting fashion- Lines. Yes! it shows lines in several colours on the screen itself so that you don't need to open an app to know such things and can be seen from anywhere (even lock screen).
Free version of the app provides two indications, and for using more indicators, one can unlock the full version.
No matter, how many messaging and video calling apps come in to the existence, Skype remains a ubiquitous service for voice and video calling with availability across all mobile and computer platforms. The latest update brings a cleaner, flatter UI overhaul like Windows Metro interface or the recently unveiled iOS 7. Not just interface change, the app has become more responsive and all the options available for chatting like text message, voice/ video call, video message, etc. are easily accessible.
Try the updated app and enjoy conversations with your closed ones even more!