Android is the leading operating system for mobile phones, but the search titan isn't content with just that. Google wants to reach the next billion users and its Android One initiative will play a huge role to achieve that goal. The program made a global debut early this week in India, where Android and Chrome's SVP Sundar Pichai also shared some updates on Google apps, the most notable being that YouTube will start supporting offline mode in India and users can now buy magazines on the Play Newsstand app. Wondering what else happened past week in the world of Android apps? Well, you're at the right place as we've curated top apps and games that were updated or released this week.

Castround (
Free
)
Twitter has become a go-to place for anyone to share their thoughts in as few words as possible, but there aren't many ways to use tweets by others meaningfully apart from the ability to follow them or strike a conversation. Castround aims to change that by allowing you to view tweets based on location and you can also expand the radius of location for tweets. The app also shows the most popular topics in that location and allows you to see their timeline as well.

Glympse Keyboard (
Free
)
Glympse is a popular app allowing you to share your real-time location with others. Now, the developers have come up with a brilliant way of sharing your location in a jiffy from your keyboard itself, instead of opening the app. The app gives you the option to change your default keyboard to Glympse keyboard or enable quick send mode by long-press of a specified key on the keyboard. Another good part of using this app to share your location is the fact that the other person needn't download the Glympse app to view your location.
However, the new app relies on its parent app and you need to download that for using it.

Horizon (
Free
)
Capturing videos on a smartphone isn't an easy task, specifically considering that you have to hold it in two hands to record the video horizontally. Well, Horizon is a great solution to this problem as it makes use of the phone's gyroscope to shoot the video in the horizontal mode irrespective of the position you're holding it in. There are several options as well such as different straightening modes or the ability to record in 480p, 720p or full HD.
While the app is free, it'll embed its logo on a video longer than 15 seconds or else you can pay for the unlocked version.

SnapMovie (
Free
)
Unbundling is the theme of this season with all the big developers like Google and Facebook introducing standalone apps for specific purposes. Popular messaging service LINE also has followed suit and its latest app SnapMovie is the company's take on short videography. Just like Vine and Instagram's video feature, the app gives you the ability to add filters and background music to the video. However, unlike them, SnapMovie can capture up to 30 seconds of video and also allows the user to annotate it with text. Once done, you can share the videos with your friends on social media websites.
Games

Beach Buggy Racing (
Free
)
Beach Buggy Blitz is a popular kart-racing game and now it has outed its sequel in the form of Beach Buggy Racing. The game follows the same theme but is even more addictive because of scenic race tracks and a number of powerups. You can also upgrade your car to monster trucks and even lunar rovers.

Goat Simulator (
Rs 300
)
Started as a joke, the game has become immensely popular even though there's no story or gameplay in particular. As the name suggests, you're a goat and your sole aim is to wreak as much havoc as possible. The game also features appealing graphics.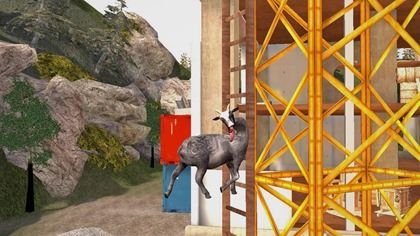 Octagon (
Free
)
If you like arcade games, then you ought to give Octagon a try. However, make sure you have fast reflexes as the game doesn't give you even a single chance to relax. The title gets its name from its eight-sided tunnel and you have to jump floors, flip upside down and more to make sure you don't fall in the holes. The game can be played in classic or endless mode and its soundtrack makes it more interesting.
If you're an owner of last-gen Moto X (review), the brand has released updated apps in the form of Moto Voice and Moto Display to give you enhanced Touchless control and Active Display features. If you like Any.do to-do manager, then the app has added a useful feature of attaching any kind of documents to your to-do lists.