"This week's selection of must have Android apps and games includes Task Bar, Deip.io and many more"
Owning a smartphone has become a necessity nowadays and regardless of how high-end your device is, it means very little if you don't have the right set of apps to make the most of it. With thousands of apps being added to the Android market every single day, the task to find the essentials might seem impossible. But worry not as every week, we bring the best of what Android has to offer to you. Be it an app to let you express yourself anonymously or a puzzler that will keep you hooked for hours, we have a great selection this week.
Apps
Task Bar (free)
Task Bar is an app which is designed to give you the best of two operating systems – Windows and Android. The app adds the app tray icon on the left along with some recently used apps which can be accessed by a single touch. The app tray icon can be opened to see the complete list of apps and the application can be hidden when not in use as well. If you wanted a Windows-style start menu on your Android device, this app should do the trick.

Candid (free)
If you want the world to know your ideas and thoughts without compromising your anonymity, Candid is the app for you. The app will let you post or browse posts that you like anonymously. The app is strictly moderated for any kind of bullying or slander. It features a colourful and clean UI and has several posts segmented in different categories like music, politics, etc. You can choose to join some local groups within your area or global ones too.
DoneThing (free)
DoneThing is your personal assistant which will save you the trouble of having to shop for groceries, pay bills or find help. The app basically wraps up all of your daily tasks which you are too lazy to do yourself. There is a real-time chat feature which makes ordering food or delivering goods a whole lot easier. The app also lets you track the status of your order and all the payments can be made with cash or through the app. So say hello to DoneThing and goodbye to your to-do lists!
theScore: Sports Scores & News (free)
With the Rio Olympics just around the corner, those interested in following the events will want to have at least one app dedicated to keeping them updated. theScore is one of the best apps out there to keep a track of your favourite sports and in a recent update, they have added the coverage for Olympics. Users can fine tune the settings to select the events which they want to follow from within the app and keep a count of the medal tally as well.
Games
Perchang (free)
If you were in the market for a different kind of puzzler, Perchang will definitely grab your attention. The game is a cross between Marble Madness and Lemmings in which you have to guide a set of balls through crazy contraptions like cannons, huge fans and much more. The game gets trickier with every passing level and features gorgeous graphics which will definitely keep your eyes on it for a while.
Diep.io (free)
From the makers of the hit game Agar.io comes another fun title for your mobile phones. The concept of Diep.io is fairly similar to its predecessor but this time around, you take charge of a tank and not a blob. The tanks can be upgraded by destroying blocks or other players to unlock different classes and weapons for your war machine. The game is rich on multiplayer and is a good try for someone looking to kill a couple of hours.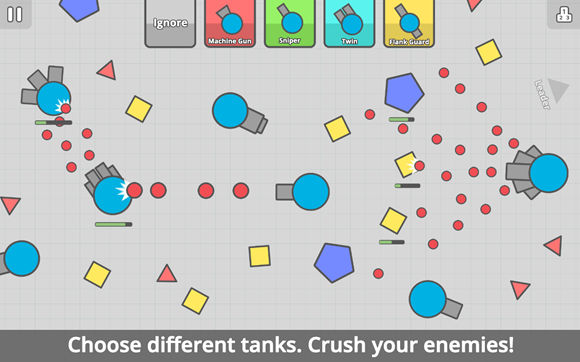 With that, we end this week's edition of top Android apps and games. We will be back soon with another must-have selection of titles for your Android devices next week.