This week, one of the earliest cloud storage providers
Dropbox
seems to taking the world of smartphone apps seriously as it has offered a brand new photo-management app along with bringing the popular email client
Mailbox
to Android. If these apps don't fit your need, don't fret as we present our weekly dose of interesting apps and games.

Carousel (
Free
)
With this app, the popular cloud storage service
Dropbox
is now extending itself beyond just file-syncing solutions.
Carousel
acts as a simplistic photo manager organising all photos stored on the device locally or saved on
Dropbox
in a timeline-based manner. It also gives the option to hide photos (from the app only) or share it with others by a simple swipe.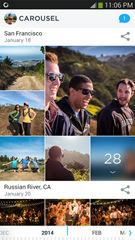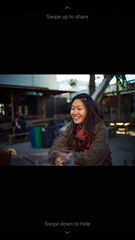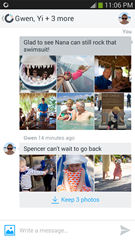 A couple of weeks ago, we told you about the extremely useful app,
Link Bubble
that saves precious time while reading web links. This time, we have another app that's available for the same task, albeit tackling it in a different manner. As the name suggests,
Hover Browser
opens websites in a floating browser that can be resized and placed anywhere on the screen. You can view multiple web pages without going back and forth between the app and the browser.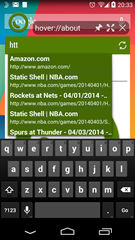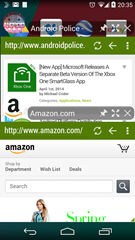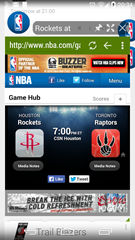 Mailbox (
Free
)
If you follow the zero inbox mantra, then you'll simply love the
Mailbox
app which has been quite popular on iOS. In fact, the app was so popular that new users had to sign up on a waiting list and it was eventually snapped up by
Dropbox
. Now the app makes it entry to Android devices and offers a slick interface with support for swiping gestures. It also offers a new feature called
Auto-swipe
, which learns from your actions on the emails and snoozes common ones with automated actions you usually take.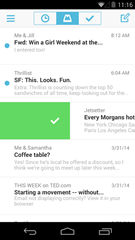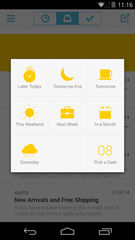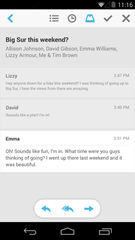 Currently, the app supports
Gmail
and
iCloud
accounts only.

Zomato (
Free
)
The popular restaurant-discovery service has revamped its website and app with a bunch of new features and tight social integration. This will allow users to get personalised results and reviews of the places their friends have visited. With the
FoodFeed
feature, users will be able to see the updates and activities of their friends. The app also dons a completely new interface making it easier for users to search as well as view restaurant ratings.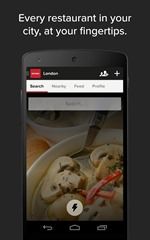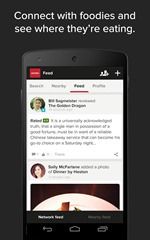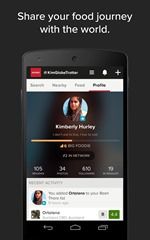 Games

Impossible Road (
Rs 125
)
As the game's title suggests, the road is difficult and curvy and you have to navigate a ball (dubbed as the vessel) through it. The only thing you can rely on is the left and right movement of the vessel to guide it through the hurdles, though we'd have preffered the game to utilise phone's accelerometer for tilting the vessel. Don't worry you can cheat your way through as well, if you know how!

The Walking Dead: Season One (
Free
)
You have read it, watched it, played it (on computers) and now you can enjoy the game on the move as well! It's an adventure-based game set in the same zombie universe as the series, though you'll find different characters. You'll be playing as a convicted criminal who's only chance of redemption is by protecting a little girl.
The Walking Dead
comprises of five seasons and while the first one is free, you have to shell money for the rest of the four seasons. Keep in mind that the game requires powerful hardware to run smoothly.

Wind-Up Knight 2 (
Free
)
Similar to its predecessor, the
Wind-Up Knight 2
is an addictive platformer. But compared to its previous iteration, the game offers better graphics and interesting levels along with several new powers. What's more, you not only have to level up in the main game but also play mini side games or challenge your friends in the tournament mode. If you use Read it Later services,
Pocket
has introduced a couple of new features with its recent update. The app now lets Android 4.4 devices make use of KitKat's immersive mode, and hides the status bar on devices running 4.1 and above. That's it for this week's Android app goodies… we're sure we'll have loads more to cover next week too. Watch this space!