As we enter into the new year, we're excited about what 2016 would bring to the dynamic world of smartphones and technology. Several new brands would be making their ways to the Indian market, and many next-gen technologies will become mainstream. The world of apps would also become more powerful, and we'd be at the forefront to keep you apprised of the things that matter. However, for now, let's see which apps and games deserve your attention.

AutoMate – Car Dashboard (
Free
)
With the advent of platforms like Apple Carplay and Android Auto, it has become easier to access necessary information such as navigation, controlling multimedia playback, etc. while driving, without any distractions. However, don't worry, if your car doesn't have any of these features, as AutoMate can turn your smartphone screen into an intelligent car dashboard. It can show you maps, places, let you call or message anyone along with providing contextual info. You can also control multimedia as well as use voice commands.
If you become a premium user, then the app offers even more useful features such as hands-free gestures, and the ability to customise wallpapers among others.

Wynk Games (
Free
)
Well, this app can very well be in the games section, as it acts as an aggregator of games. Wynk Games comes from the largest telecom operator in India, Airtel, and accompanies the Wynk music and movies apps. The USP of the new app is that it allows you to download premium games for free, and there aren't any ads either. As an introductory offer, Airtel data users can use the app for free, and other users would need to pay Rs 29 as monthly subscription charge.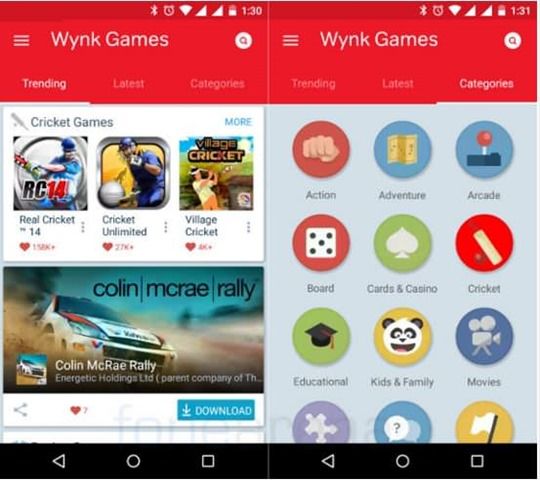 Games
Captain Cowboy would please the retro game enthusiasts with its 8-bit graphics and gameplay. You'd need to step into the shoes of the Captain and help him get out of the space maze, while collecting diamonds. The puzzle has several game environments, including underwater caverns and it also has friendly characters in the form of Snorkhogs and Gnurfs as enemies.

Cut the Rope: Magic (
Free
)
The popular puzzle game has got a sequel in the form of Cut the Rope: Magic, where you'll need to help Om Nom recover the candy stolen by an evil wizard. The magic part comes from the fact that you can transform Om Nom into different magical forms – Bird, Baby, Fish, Mouse and Spirit. The game has several boss-level events to challenge your skills and offers over 100 new puzzles to keep you addicted.

Don't Screw Up! (
Free
)
Consider yourself a good gamer? Then, try Don't Screw Up!, a title that insults your intelligence, no matter how well you play. You simply need to follow the on-screen instructions and if and when you fail to do so, the game ends. It's a casual game with simplistic graphics, which makes it even more fun.

TrainCrasher (
Free
)
TrainCrasher is an anime game falling in the beat-em-up category, where your job is to help the protagonist fight through a speeding train by killing bad guys. The RPG also has elements of a side-scroller. It includes boss fights and offers an interesting storyline. You can also upgrade your weapons, include your sword, gun and axe.
That brings us to the end of this week's edition. We'll be back soon with another selected list of titles for your Android devices.