The festive season is around and the shopping fever is on as well. Mobile phone is one of the hottest stuff when it comes to shop something new and we are sure most of our readers are definitely looking to buy some new handsets. Every penny counts and as a 91mobiles.com reader we expect you to take a wise decision while choosing a new handset for yourself and your dear ones. Obviously that's why we keep you updated and we win every time you make a right choice :-). In our effort to make you a smart buyer, we started the top 5 series which was highly appreciated by you. Today's list is a part of the same series and it is dedicated to the buyers with a budget between 10-20K. This is a nice budget and you can definitely expect to get a feature packed phone in this budget. Let's see what the list says. 1. Micromax Modu T : Rs. 10,299/-

Modu T
is a 3.5G touch phone which was awarded a Guinness World Records for being the lightest touch mobile phone in the world. Originally produced by Modu, an Israeli company and brought in India by Micromax. The phone comes with an unique modular feature which enables the phone to change its core functions just by using a range of unique phone enclosures, referred to as Modu Jackets/Mates. There are around 7
Modufy
jackets released so far, including a mini-GPS jacket, a full QWERTY enclosure, a photoframe and a powerful desktop speaker. However, the initial offering from Micromax is limited to the Sportify Armband and the Camerfy jackets (converts it into a 5 Mega Pixel camera).
2. Nokia E5 : Rs.10,990/-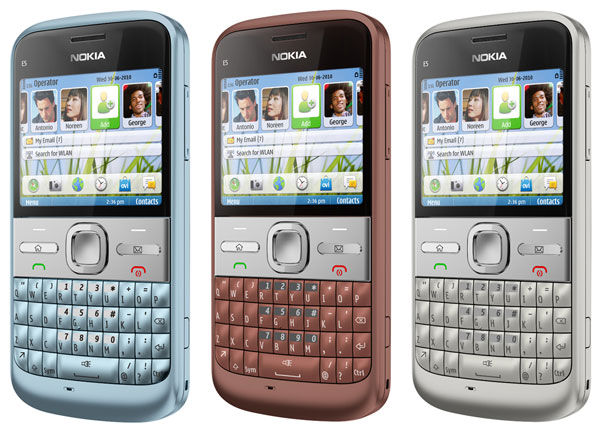 Except of price and looks, the phone is quite near to
Nokia E72
, which was featured in
a similar list for last month
. Additionally the mobile's browser is based on the same WebKit rendering engine as Apple's Safari browser and Google's Android Browser and delivers a user-friendly web navigation experience. It's 5 MP camera with LED Flash can capture images at 2592 x 1944 pixel resolution and can also record DVD quality video @15fps. The social network integration lets you upload your snaps and videos in a matter of minutes. A good balance between business and leisure features.
3. Samsung S7230E Wave 723 : Rs.12,599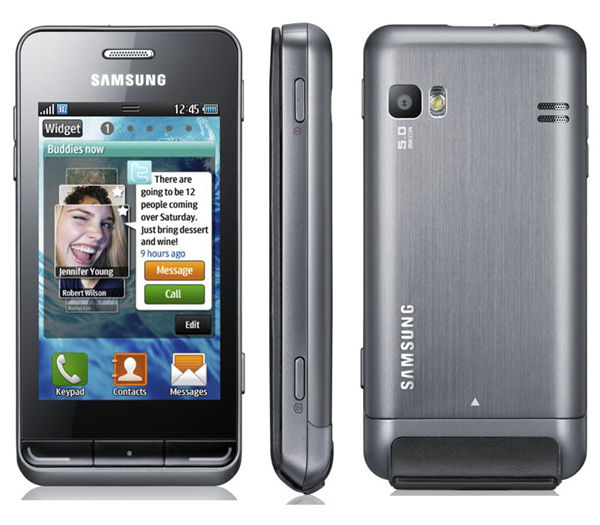 Samsung Wave 723 is another phone based on Samsung's proprietary Bada OS. As against the
first Wave phone
, Wave 723 does not have a Super Amoled screen but there is a nice addition of 5 Mega Pixel camera with led flash and the latest 802.11n Wi-Fi spec help make it appear a little more next generation.
4. Nokia C6 : Rs.13,240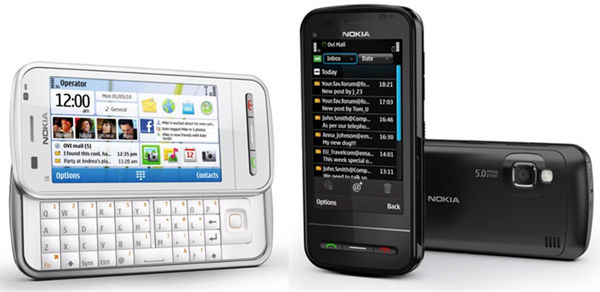 Sorry for too much of comparison but showing you the right figure is our first aim. Nokia C6 again is quiet similar to the
Nokia N97 mini
. Both are powered by 434MHz processors , run on the same operating system and have the same screen size. The major differences is C6's marginally larger chassis, support to Flash Lite 3.1 in the Web browser, and the Carl Zeiss optics for the camera. The Nokia c6 is well integrated with social networking sites, including Facebook, Orkut, MySpace and Hi5, with the option of Facebook updates on your homescreen. It also supports Yahoo! Messenger, Google Talk, and Windows Live Messenger IM's. The C6 is preloaded with Ovi Maps with free Lifetime Walk & Drive navigation.
5. Blackberry Storm 9500 : Rs.15,699

The popular Enterprise functionality of Blackberry with a touchscreen. The 3.25-inch screen delivers sharp, bright and clear images. The SurePress technology transforms the screen into a massive virtual button pad and lets you feel the downward movement of the screen when a selection is made. Storm 9500 comes with DataViz Documents To Go for easy document viewing and editing. The 3.2 MP camera can shoot at 2048 x 1536 resolution and comes with autofocus, image stabilization and LED flash. The phone also supports Geo-tagging of your images