"Here are the top devices which users searched for in the month of October"
The month of October was full of festivities, and also a time when consumers make their big purchases, especially in terms of gadgets. E-commerce sites like Amazon and Flipkart also reaped benefits by introducing various deals. So, did all that resulted in shuffling of consumer's favourite smartphones in the last month? That's what we intend to find out with our top 20 article today. It must be noted that the list serves as an indicator of the phones users are looking for, but may or may not reflect their actual sales. Without further delay, let's find out which devices topped the popularity charts.
Top 5
Well, this comes as no surprise, as the Xiaomi Redmi Note 3 (review) continues to sit at the throne unchallenged. Samsung's budget offerings have risen in popularity as both the Galaxy J7 Prime (first impressions) and Galaxy J2 (2016) are at the second and third spots respectively. Redmi Note 3's smaller sibling, the Redmi 3s Prime (review) dropped two places to find the fourth position. Lenovo's recent smartphone, the K5 Note is now at the fifth place.
The complete list
While there aren't many surprising names in the chart, that doesn't mean that there are no ups and downs. Here's a look at the entire chart, wherein we have also mentioned the change in the ranking, price segment, and the month of launch, along with smartphone's name.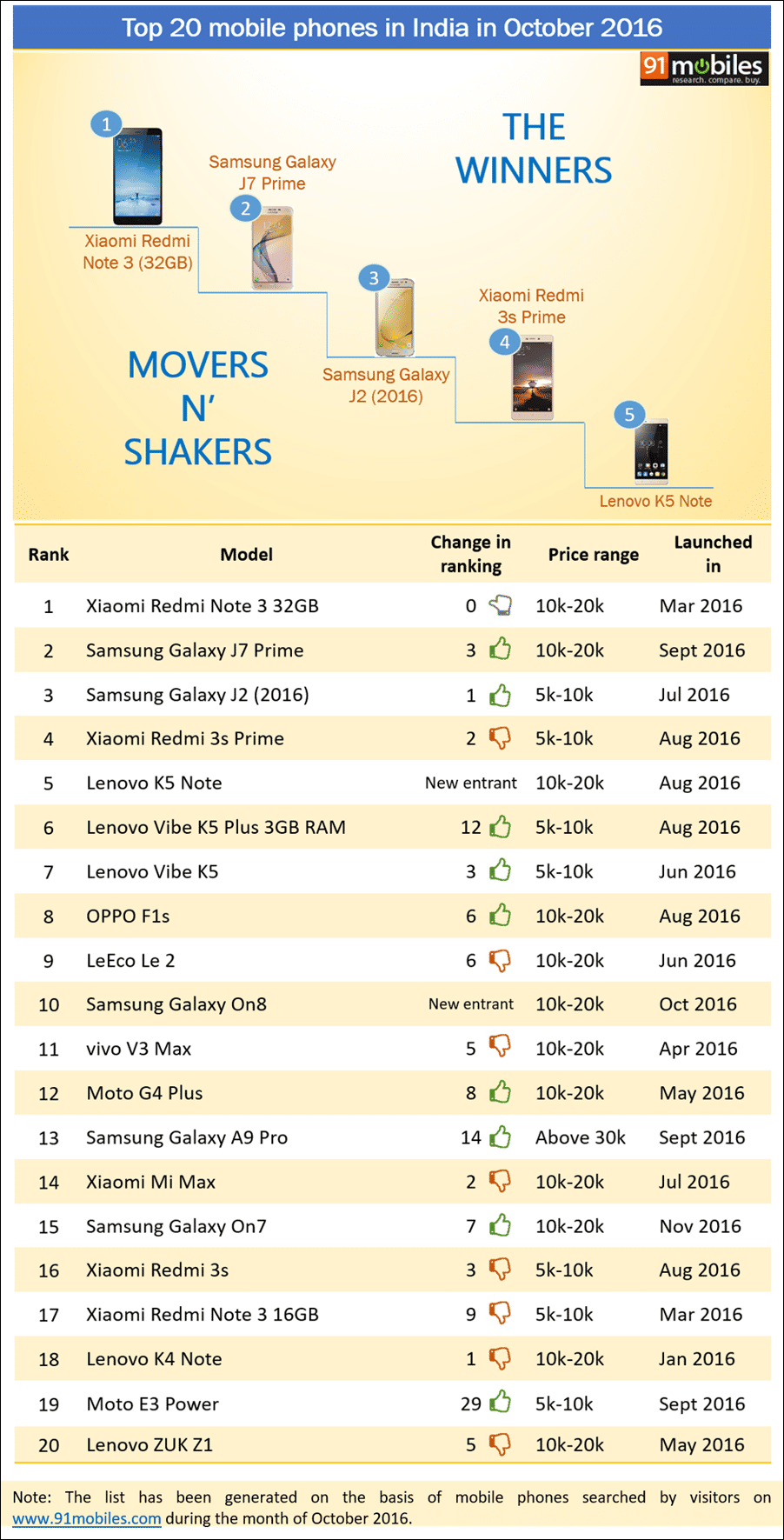 Hits and misses
New entrants
Lenovo's K5 Note (first impressions) is among the very few options that come powered by 4GB of RAM in the sub-Rs 15k segment. Its other specs are also quite impressive as it's fitted with 5.5-inch full HD display and is equipped with an octa-core Helio P10 chipset.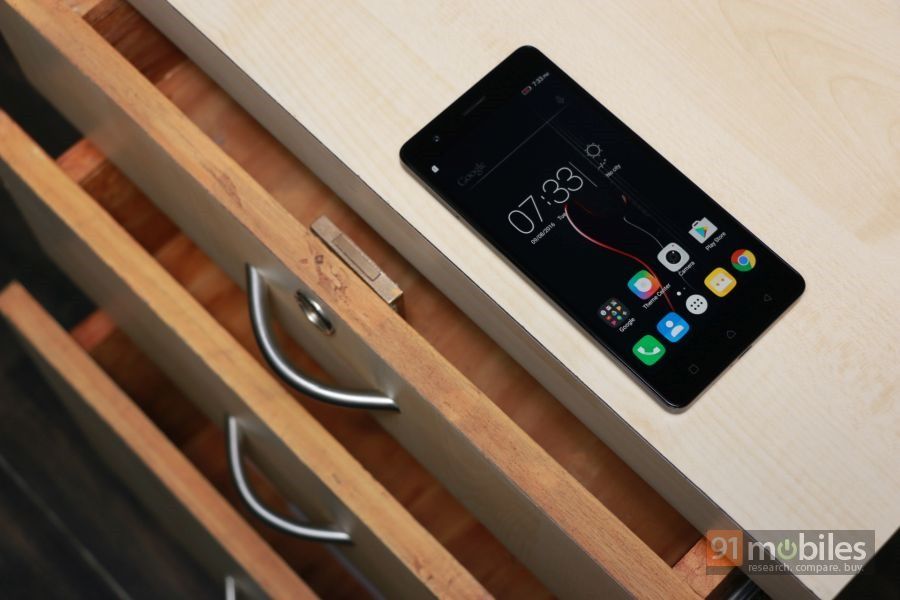 The Korean behemoth is on a roll with its budget devices in the Galaxy J and On range. Priced at Rs 15,900, the On8 sits at the near top of the On series, bringing forth powerful specs such as a full HD display, an Exynos octa-core processor, and 3 gigs of RAM. It also comes with useful software features such as S Bike mode atop Android 6.0 Marshmallow.
With the A series, Samsung is trying to offer flagship-level specs at a mid-range price point. As mentioned in our review, it's a heavyweight in more ways than one, thanks to a large 6-inch full HD display, 4GB of RAM, and a capacious 5,000mAh battery.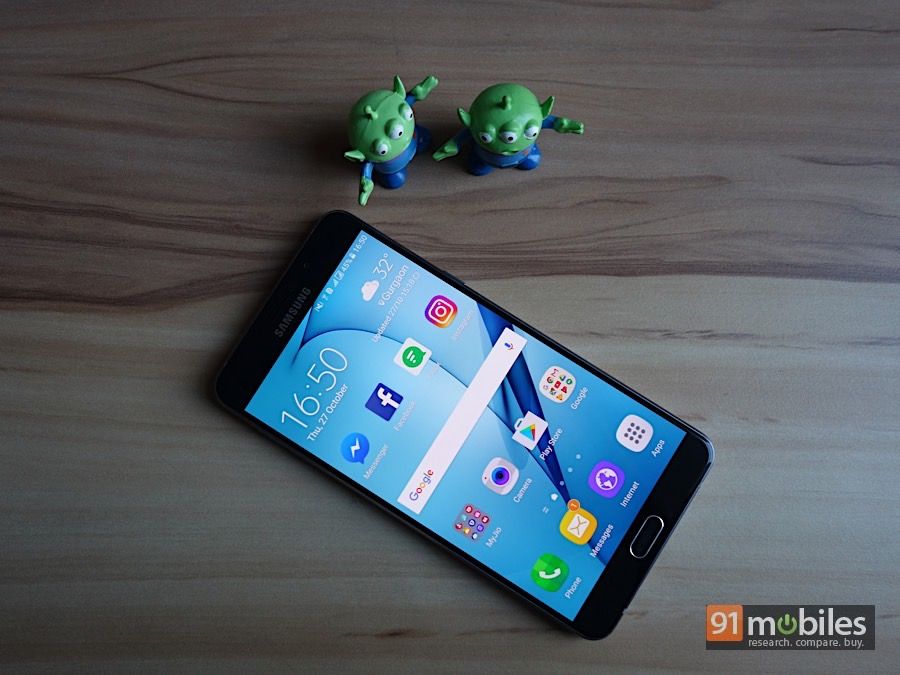 The re-entry of the Galaxy On7 in our list can be easily attributed to the attractive offers available on the smartphone during last month. The Galaxy On7 offers a 5.5-inch HD display, a quad-core CPU from Qualcomm, and 1.5GB RAM, at an affordable price tag of Rs 8,990.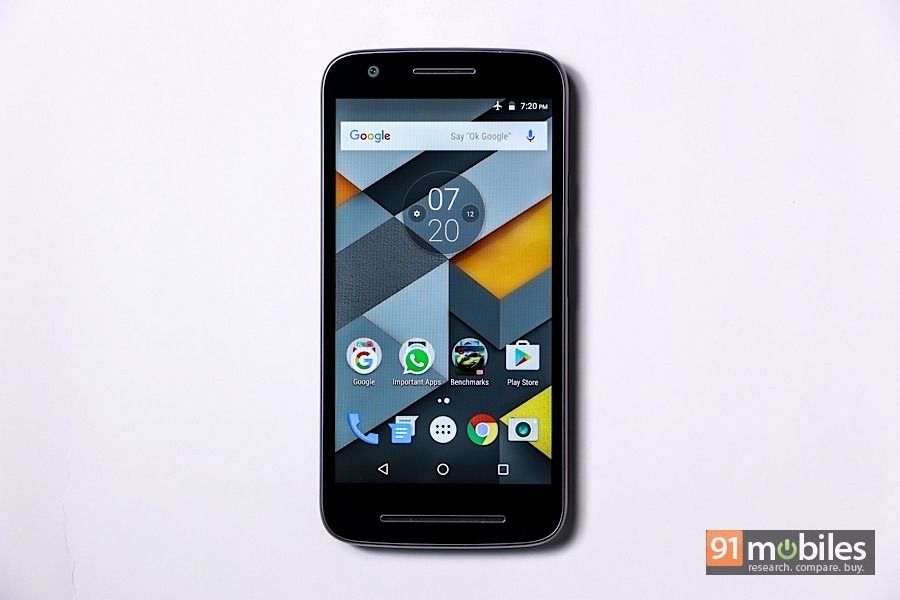 The most affordable phone in the Moto portfolio is making a comeback in the top 20 chart. The device offers an impressive battery backup with its 3,500mAh fuel tank, along with decent specs such as a 5-inch HD display, a quad-core processor, and 2GB of RAM.
The exits
Samsung Galaxy Note7
Samsung Galaxy J3 (2016)
Apple iPhone 7
OnePlus 3
ASUS Zenfone 3
Trend analysis
Samsung, Xiaomi, and Lenovo dominate with five devices each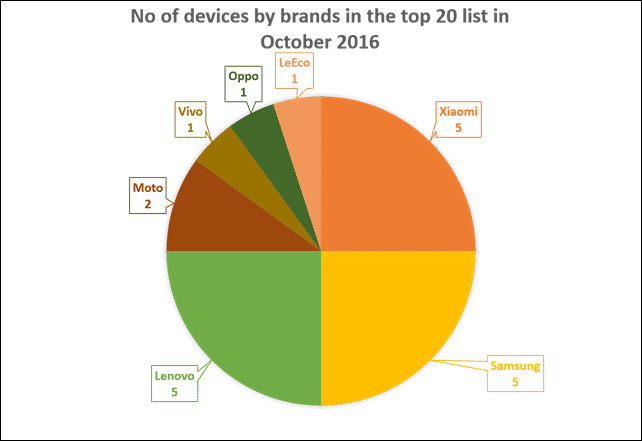 There's a sense of consolidation in the hyper-competitive smartphone space in India. While earlier, at least 10 brands were present in the top 20 list, this time around, only seven are present. What's even more interesting is the fact that Samsung, Xiaomi, and Lenovo form the majority with an equal number of mobiles listed. Another point worth highlighting is that the variants of the most popular devices have also managed to catch user attention – the Redmi Note 3 and the Vibe K5 being the prime examples.
Smartphones below Rs 20,000 garner all the eyeballs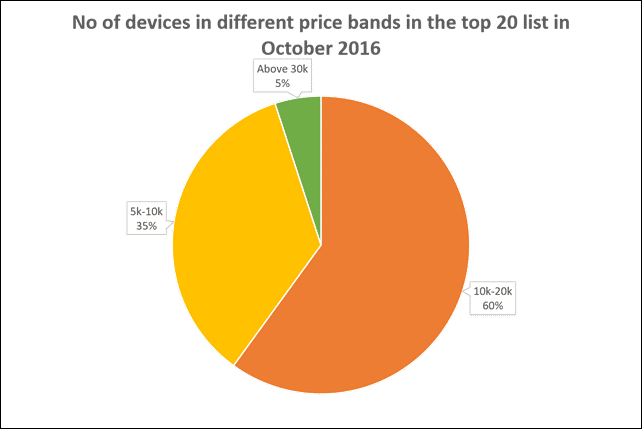 While the OnePlus 3 and ASUS ZenFone 3 held the flag high for Rs 20,000 to 30,000 segment till September, they have been shown the exit door, which has resulted in phones priced below Rs 20k capturing as much as 95 percent of the market.
As we inch closer to the end of 2016, it'd certainly be interesting to see which smartphones continue to be on top of the user's minds. So, be sure to check out the list of top 20 devices next month.