"Here are the top devices which users searched for in the month of May"
It's interesting to see that while flagships pack in more innovation and perhaps, are more attractive, the price-sensitive consumers in India are drawn towards affordable smartphones. The trend is becoming stronger with each passing month, as can be seen in our top 20 series. While there used to be a couple of high-end devices in the list each month previously, now the list is clearly dominated by budget handsets, with not even a single device priced above Rs 25,000. However, that doesn't mean that just having an offering in this range will suffice, as the specs and user experience also matter a lot, not to mention the brand name.
With that, let's check out the top 20 devices that users searched for on 91mobiles in the month of May. Needless to say that this serves as an indicator of consumer preferences, but doesn't necessarily indicate actual sales of these phones.
Top 5
After being on the top for the past few months, the ASUS ZenFone 2 (review | FAQs) has been dethroned and what's even more interesting, and perhaps surprising, is that it has slipped directly to the fifth spot. At first place is the Lenovo K3 Note which not only isn't available to purchase in India, but there's no indication either that it'll ever come to the country. Micromax's entry-level Canvas Spark holds the second position, while both the third and fourth places are held by Lenovo's smartphones – the P70 and A7000 (first impressions).
The complete list
Not only the top five devices, but the rankings of all devices in the list this time has shown a lot of change. Many known names have lost their popularity and slipped several places among the top 20 phones in the month of May. Take a gander at the entire list, wherein along with the smartphone, we've also mentioned change in its rank compared to April, it's price segment and the month when it was launched.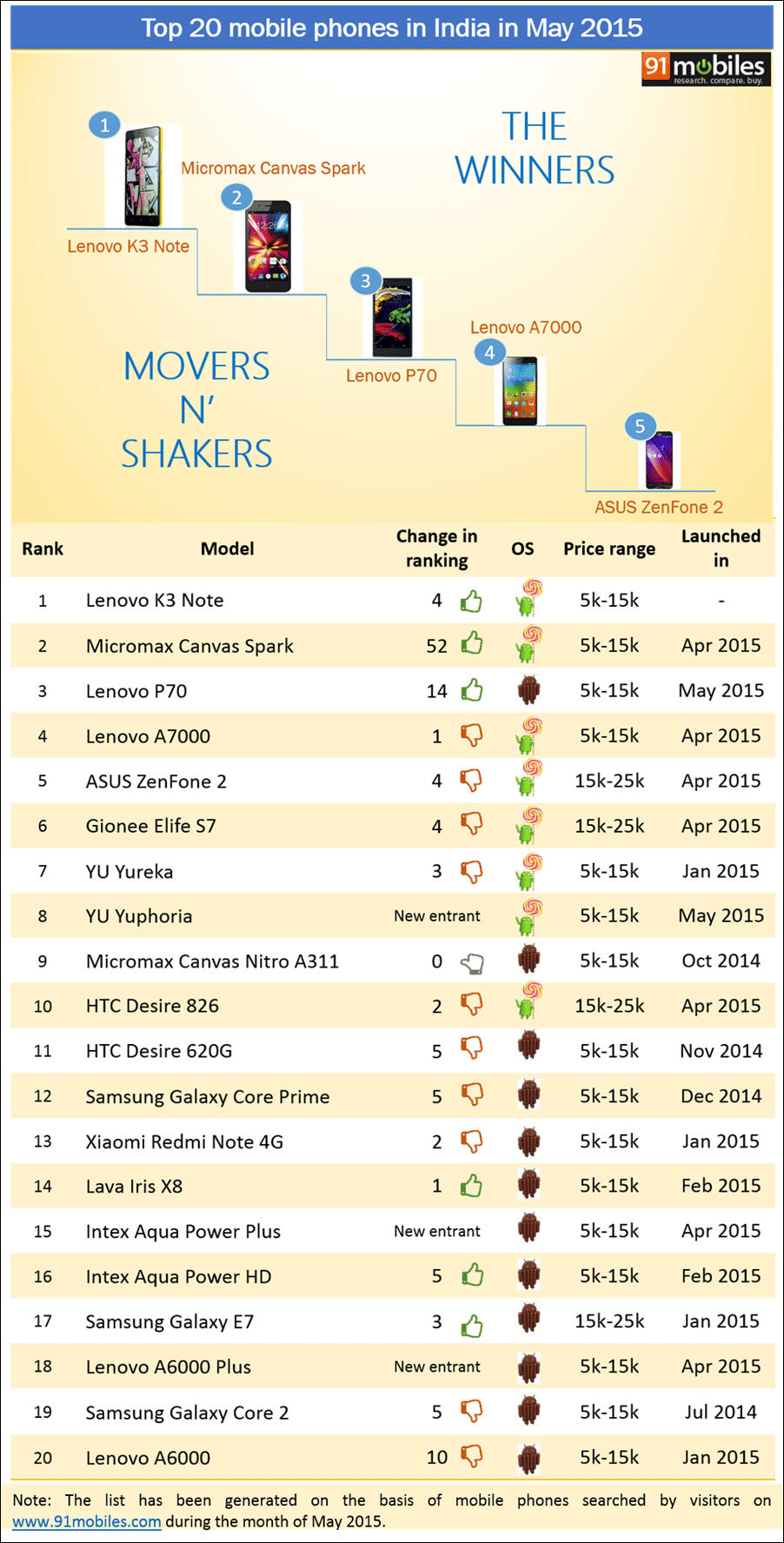 Hits and misses
Even though there have been lots of ups and downs among the top 20 phones, not many new devices were able to enter the coveted list this time around. However, let's take closer look at the debutants, which will be followed by ones which were kicked out in May.
New entrants
While the likes of Xiaomi and Motorola gave birth to a term called budget performance, Micromax isn't sitting idle and it's taken the battle to their own turf. It went a notch above (actually below, in terms of pricing) with the Canvas Spark (first impressions), which is priced at Rs 4,999 and offers impressive hardware along with the sweet taste of Android 5.0 Lollipop.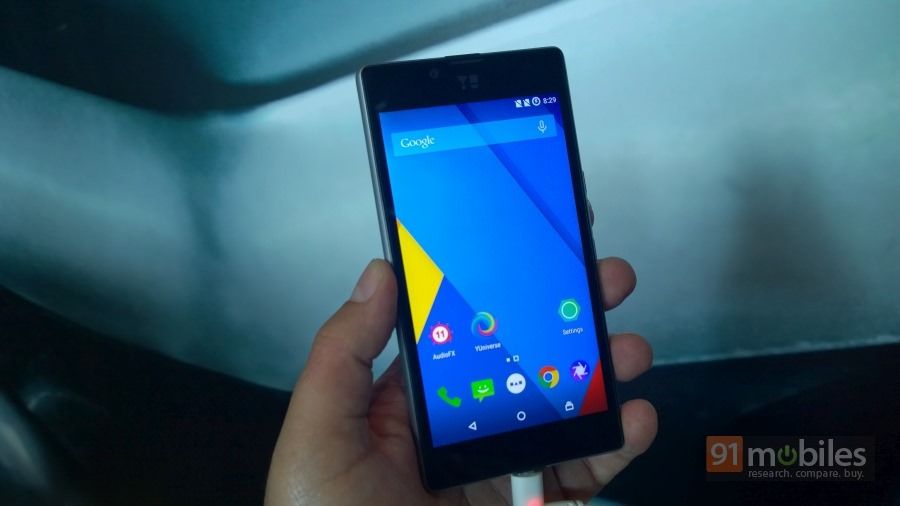 After the fabulous response to its debut offering, the Yureka, Micromax's sub-brand YU introduced the budget-performer Yureka last month and it has already found a place in the popularity charts. Following its bigger sibling, the Yuphoria (first impressions) offers a great mix of hardware, along with 4G connectivity and 64-bit architecture, topped up by the customisable Cyanogen OS.
While smartphones are becoming powerful and better in every respect, battery life still remains the last battlefront to conquer. Most devices give up in the middle of the day if their usage is pushed. While we're waiting for researchers to offer some innovative solutions to this problem, manufacturers are trying to pack high-capacity batteries in their offerings to combat this issue, and Intex Aqua Power Plus (showcase) is also one such device. Along with being fuelled by a beefy 4,000mAh battery, it also comes equipped with decent internals.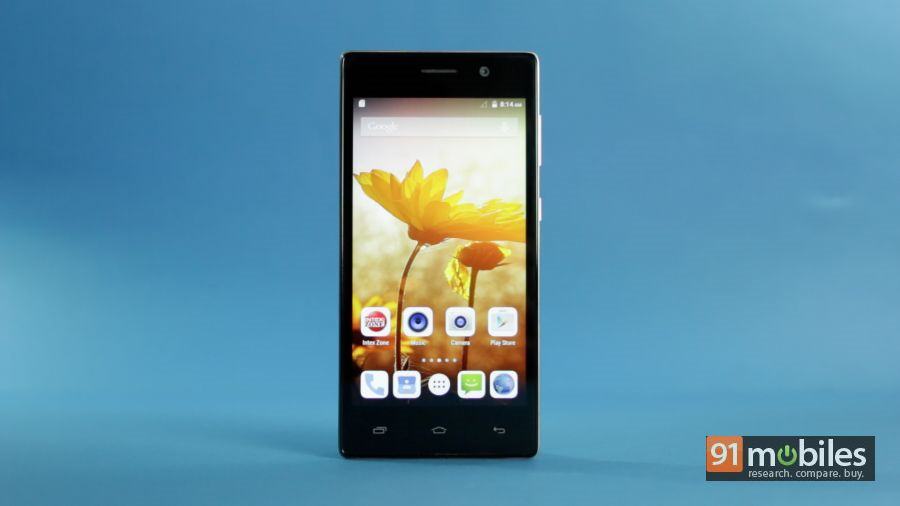 The Aqua Power Plus isn't the only device flaunting huge battery capacity. It's being followed by its family member, the Aqua Power HD, which offers the same capacity, but slightly better hardware along with an HD display.
Lenovo started off this year on a good note with the A6000 and following its success, it has introduced its upgraded model christened A6000 Plus (review | FAQs). Despite being priced in the sub-Rs 8,000 segment, the device offers a 5-inch HD display, a future-proof 64-bit processor coupled with generous 2GB RAM (for its asking price) and superfast 4G connectivity.
The exits
Micromax Canvas Juice 2
Panasonic P55
HTC Desire 626
Xiaomi Redmi 2
Samsung Galaxy A7
Trend analysis
Indian brands back in action
In the past months, the top 20 list was missing devices from homegrown manufacturers barring a couple of options. But that situation has completely reversed in the month of May. Among the top 20 devices, as many as seven offerings were from Indian brands such as Micromax and Intex. In fact, Intex has entered the list for the first time, and that too with a bang since it debuted directly with two phones.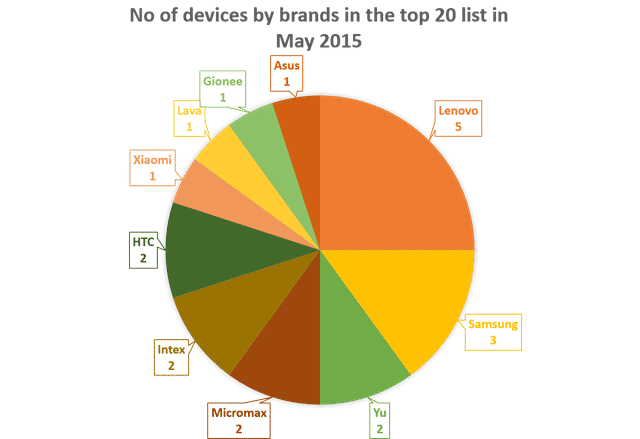 Other brands in the chart are the usual suspects, but what's worth highlighting is that Lenovo has pipped Samsung as the most popular brand in the month of May. In fact, the Chinese company had three of its devices among the five most popular phones itself, which is a rare feat.
4G devices in vogue
While 4G used to be a novelty factor till about an year ago, now it has become a primary criteria in choosing a smartphone and that's reflected with the top 20 list as well. In the month of May, 11 devices among the top 20 phones boasted of support for next-gen 4G networks. Moreover, consumers don't need to burn a hole in their pockets to acquire them as phones with this connectivity option are available for as low as Rs 6,999.
It's no surprise to see the top 20 chart being dominated by the devices in the Rs 5,000 to Rs 15,000 region this time as well, and the other four phones in the list are priced in the mid-range segment. While this trend doesn't seem to change anytime soon, we'll be back next month to check out the popular devices and see if any other trends catch our attention.