"Here are the top devices which users searched for in the month of April"
In recent times, we've seen quite a few industry reports that claim to show the state of smartphone brands in the market. But while these reports consider shipments or market share of the phone manufacturers, what about the consumer sentiment? Which brands and / or devices were able to grab consumers' attention? Well, that's what we intend to find out with our monthly feature, where we highlight top 20 mobile phones searched for by visitors on 91mobiles. Of course, this is not a comprehensive report, but it does serve as an indicator of users' preferences. So without further ado, here's a look at the top mobiles in the month of April.
Top 5
The top five in the month of April is similar to March's listing, yet is quite different. Xiaomi's budget offering, the Redmi Note 3 (review) has been able to maintain its throne at the top, whereas Samsung's budget phablet, the Galaxy J7 (first impressions) has jumped one place to sit at second position. Lenovo's K4 Note (review) dropped one spot, but what's interesting is that the lower-priced variant of the Redmi Note 3 has also been able to find a place among the top five by being at the fourth place. Samsung's latest handset, the Galaxy J3 (first impressions), has made a notable debut at the fifth spot.
The complete list
Interestingly, this time around, there aren't many new entrants in the list. However, there has been a downfall in popularity of a lot of mobile phones. So, let's check out the entire list of top 20 mobile phones in the month of April. Along with the name of the device, we've also mentioned its change in ranking, price segment, and month of launch, to provide better context.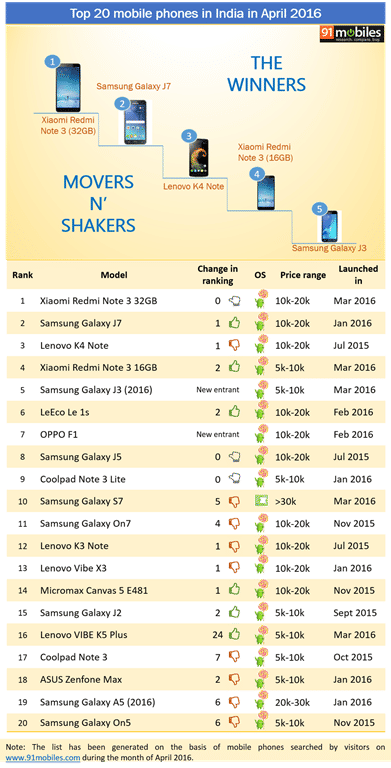 Hits and misses
New entrants
The Galaxy J3 is a sub-Rs 10,000 smartphone from the Korean brand and brings forth a decent set of specs – a 5-inch HD display, a quad-core processor, and 1.5GB RAM. What makes it interesting though is a made-in-India innovative feature called the S Bike mode, which ensures that bikers can enjoy a safe ride without being interrupted by calls.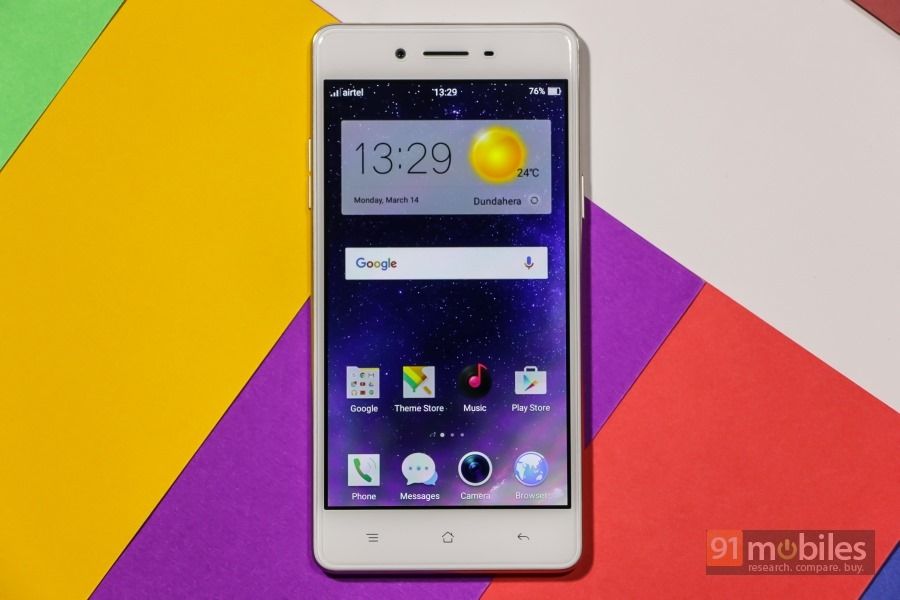 The Chinese brand OPPO off kicked the year with the launch of the F1 (review), a selfie-centric smartphone. The device comes with an 8-megapixel sensor at the front, which is supplemented with an LED flash to assist in capturing images in poorly-lit conditions. The phone isn't all about cameras though, as it offers a 5-inch HD display and is fuelled by a 1.5GHz quad-core processor paired with 3GB of RAM.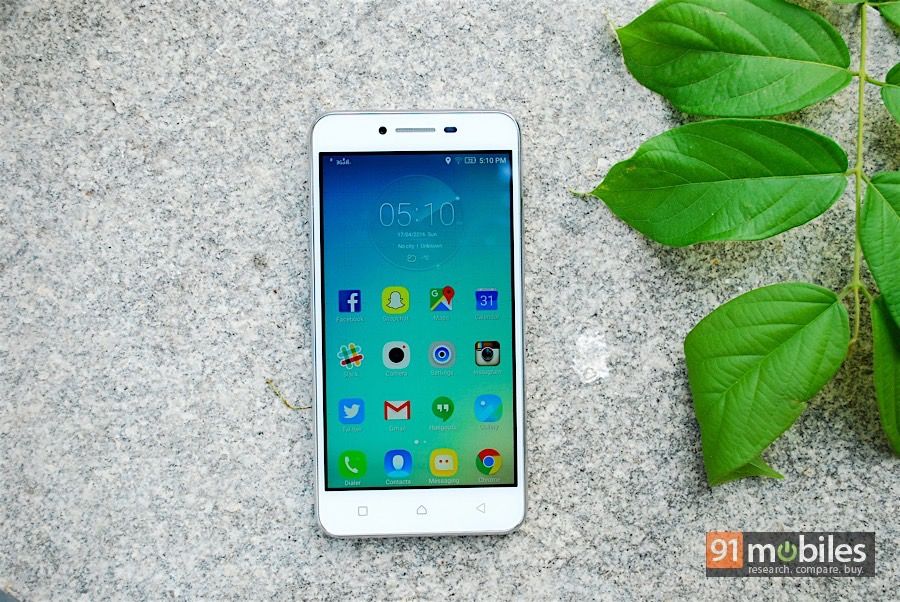 Lenovo tasted immense success with its 4G-enabled A6000 series, and it recently launched its successor in the form of the VIBE K5 Plus (review). Even though it's a budget phone, it comes encased a metallic body. It features 5-inch full HD display and comes powered by an octa-core processor, mated to 2-gigs of RAM.
The exits
Samsung Galaxy A7 (2016)
Motorola Moto X Play
Samsung Galaxy A8
Trend analysis
Samsung and Lenovo hold more than 50 percent mind share
Between Samsung and Lenovo, the brands share 12 devices in top 20 list, with the Korean behemoth having as many as eight of its smartphones. Interestingly, Samsung is present across segments, right from the budget category (below Rs 10,000) to the premium tier (above Rs 30,000). Other brands in the list include Xiaomi, Coolpad, LeEco, etc., and it can be noticed that all of them are of Chinese origin. The only Indian company in the chart is Micromax with its Canvas 5 (review).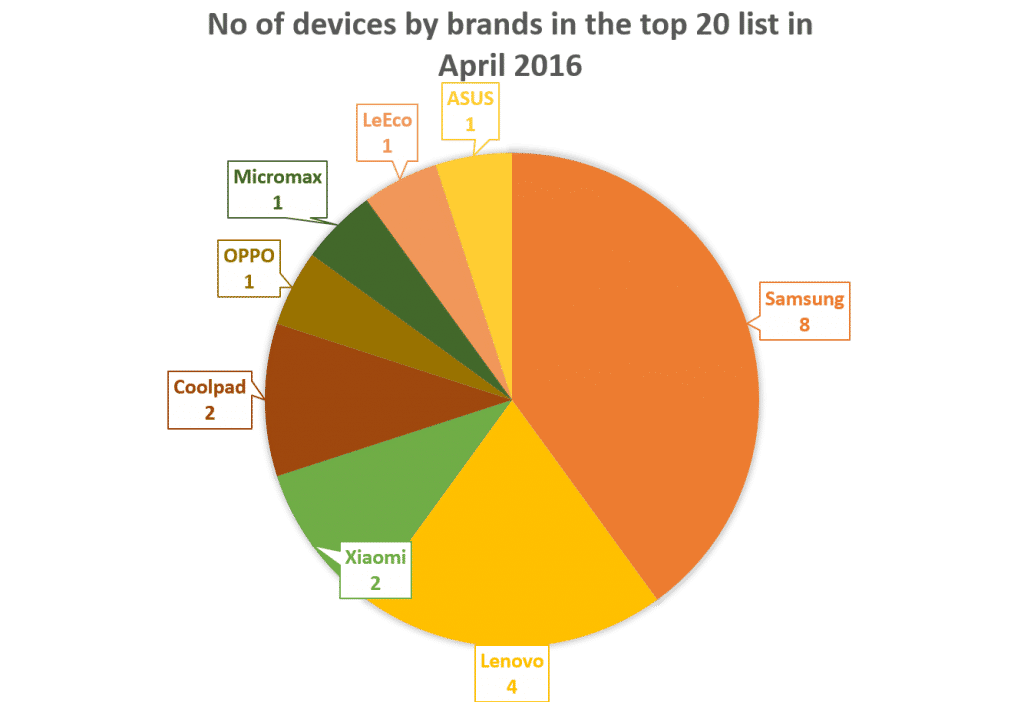 Phablet trend seems to be reversing
Until about a couple of months back, it seemed that the phablet juggernaut couldn't be stopped. Smartphones continued growing in size, with some of them bordering on tablet category (the Lenovo Phab is one such example). But now it seems that manufacturers have started to focus on the optimal size for ease of use and pocketability. All flagships introduced this year are in 5-inch territory, and a similar trend is noticeable in our monthly list as well. Almost 50 percent of the devices (nine, to be exact) feature a display panel of 5.2-inches or less, which is a comfortable size for one-hand usage.
With so many launches expected in the month of May, it'd be interesting to see which ones stick to users' minds. So, make sure to come back next month to find out the the most searched phones on 91mobiles.