"Here are the top devices which users searched for in the month of April"
The Indian smartphone market is as action-packed as it has been in the past few months and that doesn't seem it'll end anytime soon. Even though there are close to 100 brands in India, many more are expected to land, with some like Dazen and Nubia already starting teasing their upcoming device launches. But whether all these brands are able to make a connection with consumers is what really matters, and that's why each month, we take a look at the most popular top 20 phones searched by users on 91mobiles. While this data may not represent what people are buying, it does represent consumer sentiment and whether they value brand perception or the value offered by a handset. So, let's take a look at which phones and brands made a mark in the month of April.
Top 5
While the power-packed ASUS ZenFone 2 (review | FAQs) continues to lead the charge in the month of April as well, not many devices from our March top 20 list were able to keep their position this time. The second spot is held by the lean Gionee Elife S7 (first impressions), which leapfrogged 17 places, while the Lenovo A7000 (first impressions) jumped 50 spots to sit at third position. YU's debut offering, the Yureka (review | FAQs) dropped one spot to fourth place. The fifth smartphone is perhaps the most surprising one, being the Lenovo K3 Note, which was recently unveiled in China. There's no official info if it'll land on our shores, which makes its appearance at fifth spot surprising.
The complete list
The top 5 phones in the month of April do serve as an indicator for the complete list of 20 handsets. There are several ups and downs, along with many fresh faces which resulted in the exit of some popular devices too. Here's a complete list, and along with the phone's name, we've also stated its change in rank, price band and month of launch.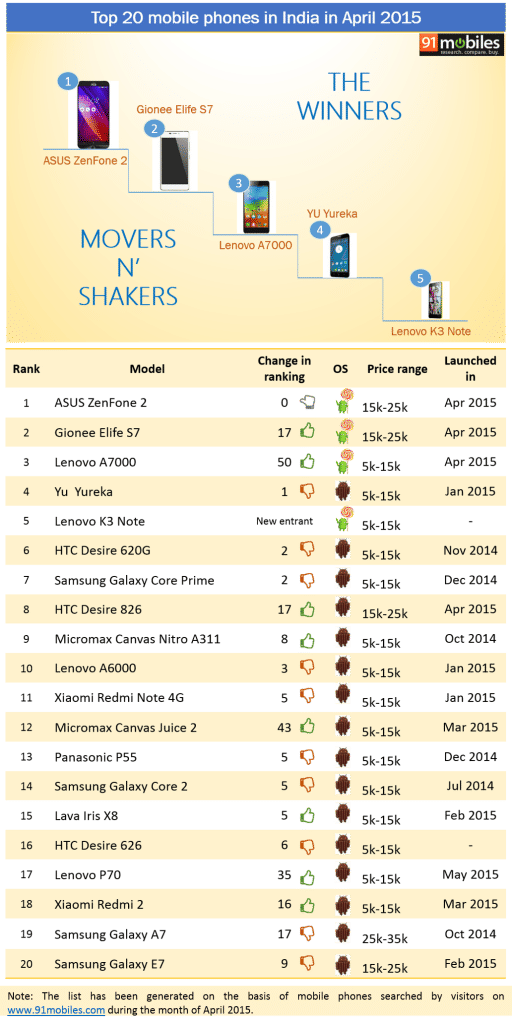 Hits and misses
Now that we've take a look at the entire list of top 20 devices in the month of April, let's give some attention to the new entrants. After that, we'll also see which phones were shown the exit door because of these new faces.
New entrants
After the huge success of the Lenovo A6000 (first impressions), released early this year, the Chinese giant introduced its bigger sibling, the A7000 in the Indian market. The device falls in the phablet category with its 5.5-inch screen and features loaded specs such as an octa-core processor, 2GB RAM at an affordable price tag. It's also future-proof thanks to 64-bit architecture of the chipset and 4G support.
The K3 Note was announced by Lenovo in China last month. However, its loaded specifications have already made consumers in India drool over it, even though there's no confirmation if it'll ever be available to purchase in India. The phone is built around phablet-class 5.5-inch display bearing a full HD resolution and comes powered by an octa-core SoC coupled with 2GB of RAM.
HTC's latest offering in its mid-range portfolio, the Desire 826 is aimed at selfie enthusiasts as it offers the 13-megapixel sensor at the front as well along with the back. The phone is quite loaded in other hardware aspects too and offers 64-bit processing thanks to the Qualcomm Snapdragon 615 processor mated to 2GB of RAM.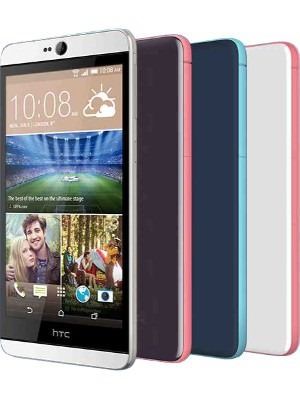 With smartphones becoming more than just daily drivers as they not only serve the purpose of calls and messaging, but also help us stay connected to the world, provide entertainment and more, it's important that their batteries last an entire day. The Canvas Juice 2 certainly seem to be fit for this task as it's fuelled by a 3,000mAh battery, which is beefy when compared to its peers in the sub-Rs 10,000 segment.
Just like the Micromax Canvas Juice 2, the Lenovo P70 is aimed at those who want long-lasting battery life. The device, priced around Rs 15,000, features powerful specs and also comes with a generous 4,000mAh battery. According to the brand, the phone can offer an impressive 2G talktime of 46 hours along with standby time of 34 days.
Xiaomi's budget offering has made a comeback in this list, perhaps because it's the most affordable 4G device in the country currently (since the Lenovo A6000 sales have been suspended temporarily). The Xiaomi Redmi 2 (review | FAQs) offers an enviable spec sheet with a 4.7-inch HD display, 1.2GHz quad-core processor with 64-bit compatibility and a gigabyte of RAM.
The exits
Sony Xperia E4
Samsung Galaxy Grand Max
Samsung Galaxy S6
ASUS ZenFone 5
Xiaomi Mi 4
Microsoft Lumia 535
Trend analysis
Lenovo gaining the momentum
While the past few editions of top 20 mobile phones saw the rising popularity of Chinese upstart Xiaomi, which even matched toe to toe with leading brand Samsung in terms of most number of devices in the list, this time Lenovo has seemingly sprung out of nowhere as the most popular brand with four phones along with the Chaebol. What's even more interesting is the fact that three of its offerings have made their debut in top 20 devices of April 2015.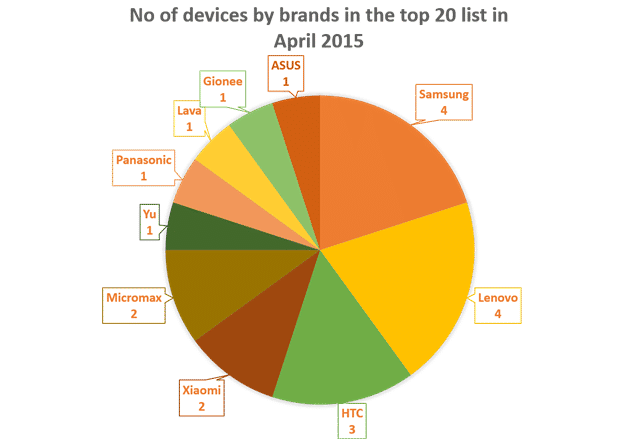 These two brands are followed by HTC with three of its phones, while Xiaomi and Micromax are present with two handsets each. The other manufacturers have just one device each in the list.
Mid-range offerings alluring the consumers
Compared to previous lists, where there was a majority of budget devices priced between Rs 5,000 and Rs 10,000 along with a couple of high-end flagship offerings, the month of April saw some change. While the affordable territory continues to dominate with 15 phones, it's followed by four handsets in the mid-range category. This means consumers are now attracted towards the idea of flagship killers, that are available at almost half the price yet offer loaded specs.
The only obvious missing name in the list is of Samsung's latest flagship, the Galaxy S6 (along with its sibling, the Galaxy S6 edge), due to which there isn't even a single device in this list priced above Rs 35,000.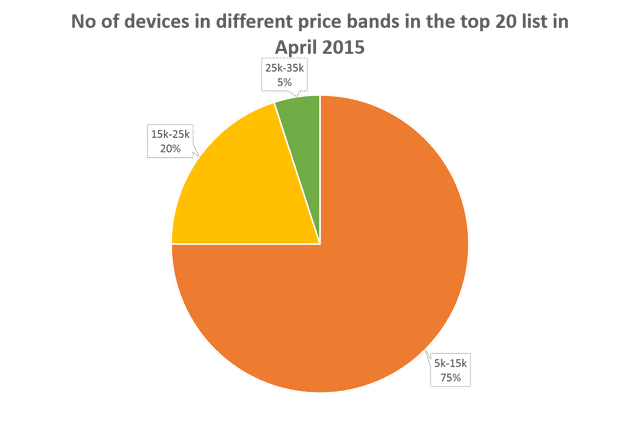 We're just four months into the year, and the market has already started showing strong trends. It remains to be seen if there will be winds of change or not, and that's why we'll continue with out analysis of top 20 devices every month. So, see you again next month to see what the month of May has in store.