India is emerging as a hot market for the global as well as domestic players who literally fight-it-out with each other to grab the pie (read market share) to cater the 1.2 billion-odd population of the nation. Their desire for more has kept mobile companies on their toes, constantly innovating in terms of design, software, hardware, and more. With Top 20 Mobile Phones in India, we find out how many of these brands and their models have attracted consumer's attention. The data is based on the searches performed by more than 5 million people on 91mobiles website. So, lets see which brands got the biggest share and whose share was snatched away-
The Complete List
Lets check out the devices that were able to make their presence felt in the top 20 mobile phones-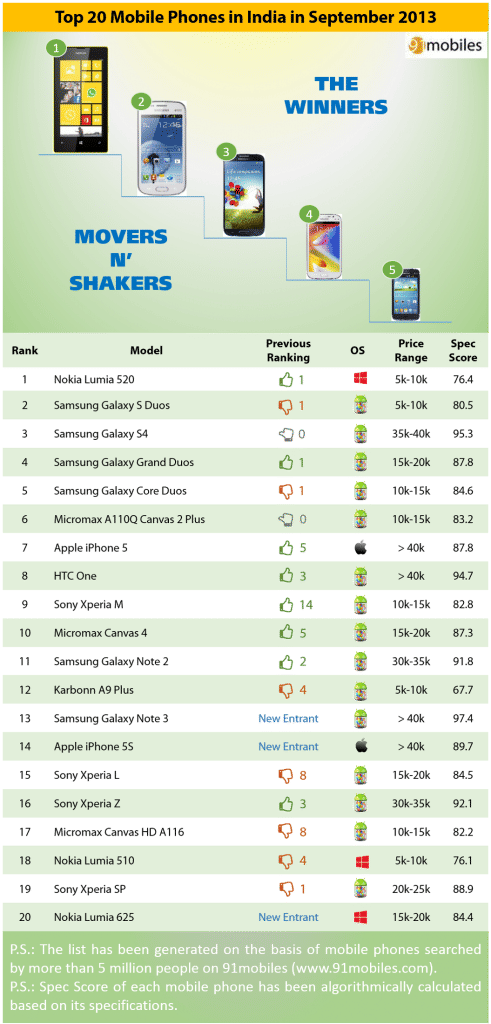 Hits and Misses
While some mobile phones held their positions in the ranking table dearly, some devices lost their position and hence resulted in addition of some new faces. Let's take a look at such devices-
The New Entrants
Launched in August this year, the Xperia M comes across as a great choice for budget-conscious users. Sporting a 4 inch screen (480 x 800 pixels resolution), dual-core processor and a Gigabyte of RAM, it should be capable of running most games and apps smoothly. An in-built storage of 4GB might sound low, but expandable memory of up to 32GB makes up for it. The device also boasts of NFC capability, which is usually available only in top end mobile phones.
Who would have thought that the ridiculously large screen experiment started off by Samsung in 2011 with the Galaxy Note, will capture the whole world's imagination. Launched in the month of September and now on to its 3rd iteration, the device continues to build on its strengths- large screen and S-Pen support backed by powerful hardware. The device also marks slight design departure from usual Samsung's offerings with a faux-leather back stitched at the sides.
Let's accept it, despite the fact that it's expensive and many people may not even think of buying it, the whole world looks up to it to see where the future of mobile phones may be heading. Though, for the first time, there was not just one, but two devices- iPhone 5S and iPhone 5C. But, thanks to its innovative features and metallic design, iPhone 5S has managed the most share of limelight. It's implementation of
Fingerprint sensors through Touch ID
has been getting lot of praises, so is the 64-bit A7 Chip.
The latest addition to the Lumia range, the Lumia 625 is Nokia's answer to the large screen phenomenon. The device vaunts of the largest display ever in Lumia series with the display of 4.7 inches, though sporting a poor resolution of 480 x 800 pixels. Targeting it as an entertainment device, Nokia's giving free streaming of up to 3000 movies for a period of 3 months. The dual-core processor of 1.2 GHz and 512 MB RAM gives smooth experience and the attractive price of 15k makes it a sweeter deal.
The Exits
The new devices came at the expense of these mobile phones-
Karbonn Titanium S5
Samsung Galaxy Fame Duos
Samsung Galaxy Grand Quattro
Samsung Galaxy S3
Many of Samsung's devices have slipped away from the Top 20 list, probably because it had too many devices in the same price range.
Trend Analysis
Price Segmentation
This is perhaps very surprising as the interest for top notch smartphones have increased this time. There are as many as 4 devices* which cost upwards of Rs. 40,000 and even then people are searching for them. The same count is shared by devices in the entry level and mid-range segment. //
* Apple iPhone 5S is not yet officially launched in India, but we can safely bet that it would cost more than Rs. 40,000 when it starts retailing.
Table Toppers- The Top Five
Interestingly, the Top five mobile phones in the month of September are exactly same as those of the August, however, their positions are interchanged. Nokia's most affordable WP 8 powered
Lumia 520
has toppled
Samsung Galaxy S Duos
from the top. While the
Samsung Galaxy S4
remains at 3rd, the 4th and 5th positions occupied by Samsung's smartphones only have also been interchanged.
Sony closing in on Samsung
Samsung still leads the Top 20 list with 6 of its devices, but the count has decreased since the last month. Sony made the most of Samsung's loss as it's device come in the second position with the count of 4. They're followed by Nokia and Micromax with 3 devices each. //
Camera Quality
If we leave out the 4 MP camera of
HTC One
(which in actuality isn't just 4 MP, thanks to its larger sensor giving it the tag of ultrapixel), all of the smartphones offers a camera of more than 5 MP. What's more interesting, though, is that there are 8 devices each with an 8 MP camera, which is followed by 7 devices sporting a 5 MP camera module. Even the 13 MP camera is being seen on 4 devices. //