As we are nearing towards the end of the year 2013, the focus has shifted from new launches to discount schemes and buy back offers as the vendors try to push their sales. The last few weeks saw offers on the Apple iPhone 4S and 5C, Nokia Lumia 1020, LG G2, BlackBerry Z10 and Q10, and more. As far as launches are concerned, the most notable ones in the month of November were Apple's iPhone 5S and iPhone 5C, and Google's Nexus 5. But were these launches and offers enough to entice the consumers? That's what we intend to find out with this feature: Top 20 Mobile Phones in India in November. The data is based on searches done by more than 5 million users on the 91mobiles website. It suggests what users are interested in, but may not necessarily indicate actual purchase.
The Top 5
Nokia's least expensive Windows Phone 8 based Lumia 520 is continuing with its top spot since the last two months. Other devices that managed to hold on their places amongst the top 5 are Sony Xperia C and Samsung Galaxy S Duos, although both came down one position each. What's surprising though, is to see popularity of Apple's latest smartphone iPhone 5C, resulting in its 5
th
spot, especially considering the fact that it isn't too different in specifications as compared to its last flagship.
The Complete List
Here's the complete list of 20 smartphones which were popular in the month of November. Against each mobile phone, we've mentioned its previous ranking to indicate its popularity or downfall, operating system, spec score (algorithm based score for its specifications), and launch date to give an idea about how consumer's respond to old/ new devices.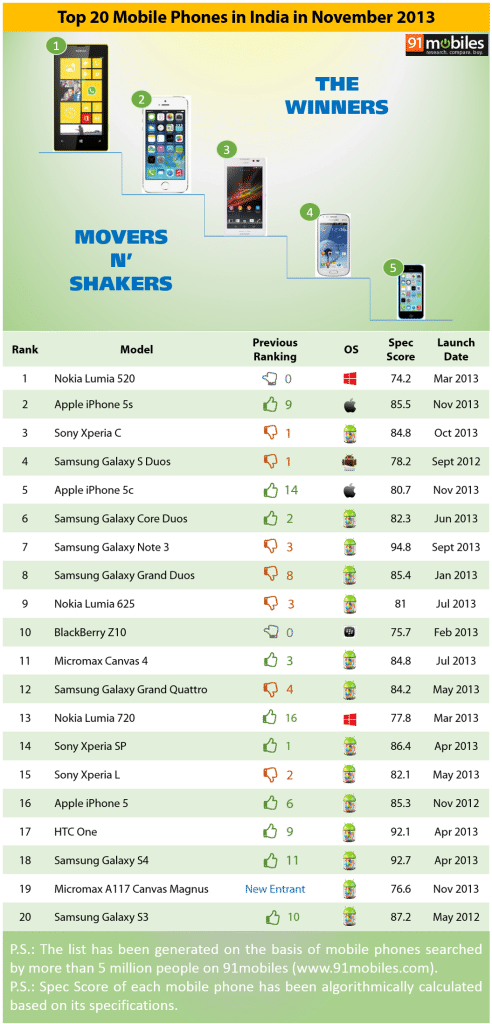 Hits and Misses
Though there were not many launches in the month, we still can see some action in the Top 20 list resulting in entry of many new devices.
New Entrants
Nokia's mid-tier Lumia 720 leaped 16 positions to enter the list directly at 13
th
spot. While the device offers decent features, its Carl-Zeiss camera of 6.1 megapixels deserves special mention.
It may seem that interest for Apple's previous generation of iPhone may be declining since its successor is already launched. But, that's not the case as iPhone 5 model entered the list at 16
th
Position.
HTC One

– 17th Position
The HTC One is touted as one of the best-designed phones of the year thanks to its metallic unibody. It's no slouch in the hardware department either, along with useful features like BoomSound, BlinkFeed, Zoe, and more.
Indian manufacturer Micromax's new smartphone in the mid-range segment, Canvas Magnus marked its entry at 19
th
position. It's powered by a more powerful processor than other smartphones in this price range thanks to the use of 1.5 GHz quad-core MT6589 Turbo chip.
Samsung's previous flagship, Galaxy S3 is the only smartphone in the list which is more than a year old. However, because of its reduced price, the device becomes a good choice in sub-25k range. Furthermore, Samsung has assured that the device will be updated to the Android version 4.3 Jelly Bean, which will also bring support for its Galaxy Gear smart watch.
The Exits
The entry of new devices in the Top 20 took place at the expense of these smartphones-
Sony Xperia M and Xperia M Dual
Nokia Lumia 920
Samsung Galaxy Note 2
Micromax Canvas HD A116
Trend Analysis
Waning interest in Micromax smartphones
Contrary to the belief that Micromax is giving a tough competition to global brands with its aggressively priced devices, it seems people are losing their interest in them. While earlier, we used to see interest for at least five to six Micromax devices, this month there are only two devices from the manufacturer amongst the Top 20 devices. On the other hand, Samsung is continuing its golden run with seven devices, and is being followed by Apple, Sony and Nokia with an equal number of devices.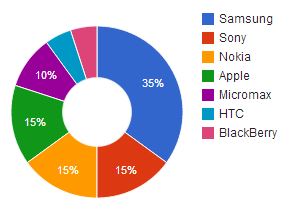 Apple and Samsung command premium pricing
Another interesting point to note is that the price of a smartphone is also a function of the brand selling it. HTC, Samsung and Apple, for example, have four of their smartphones above Rs 40,000 range and people are showing huge interest towards them. On the other hand, Nokia, Micromax and others have devices in the entry-level and mid-range segment only. That's the reason there are seven devices in the price band of Rs 15,000 – Rs 20,000.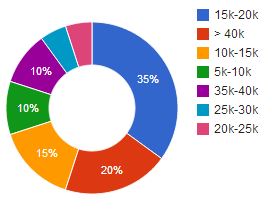 Surprisingly, the Google Nexus 5 was not one of the top 20 most searched devices, despite its top-notch specs and value for money positioning.
Camera capability matters
Smartphones today have replaced the need of having a dedicated camera for casual photography. That's why people are looking for better cameras in the devices. Out of 20 devices, 11 smartphones have a primary camera of 8-megapixels or above.