Each month, if not days, there are slew of phone launches from International and Indian handset manufacturers alike. But, how do we know whether they've been able make a dent in the consumer's mindset? Moreover, these devices are not only competing for mind share (and eventually market share) with launches happened in the same month, but even the devices which were launched many months ago. So, we decided to take a look at the searches done by more than 2.5 million users on our website in the month of June and list down top 20 devices. Here are our findings-
The Winners
Ever since Micromax unveiled this smartphone in February, it has been generating a lot of buzz and sales so much so that Micromax had to resort to increase its price by Rs. 1000 to meet the rising demand. The smartphone is a perfect combination of excellent specifications available at an economical price. Canvas HD is loaded with features, but its unique proposition is its 5 inch HD screen (720 x 1280 pixels) and a 1.2 GHz quad-core processor.
Though a relatively old smartphone, Galaxy S Duos holds its position in the list thanks to brand-conscious people looking for a budget device with decent features. It sports a 4 inch screen (480 x 800 pixels resolution) and is powered by a 1 GHz processor with 768 MB RAM. Being a dual-SIM smartphone, it becomes even more compelling choice for people who would like to keep their business and personal lives separate.
Nokia's Lumia series with Windows Phone have not been able to take on mighty iPhone's with iOS and several devices running Android, but Lumia 520 changes that equation by being the most affordable WP smartphone. The device flaunts a 4 inch screen (480 x 800 pixels resolution) and runs on 1 GHz dual-core processor accompanied by 512 MB RAM. On top of intuitive metro interface of Windows Phone 8, Nokia has also added some software enhancements like Nokia Music, Here Drive, City Lens, etc.
Like Micromax, Indian manufacturer Karbonn is slowly gaining popularity due to its value for money offerings. Karbonn A9 Plus is cheapest smartphone in this list, but its configuration can easily give a run for the money even to the smartphones costing around Rs. 10000. It packs a 4 inch screen (480 x 800 pixels), 1.2 GHz dual-core processor and 512 MB RAM, though runs on older Android 4.0 (Ice Cream Sandwich).
Samsung launched Grand Duos to cater the needs of the consumers who are looking for a large screen experience at an attractive price. It has a 5 inch screen (480 x 800 pixels), 1.2 GHz dual-core processor with 1 GB RAM. The smartphone is really power-packed in terms of features, though it got over-shadowed by the 1
st
rank holder Micromax Canvas HD A116 having almost similar configuration at a lower price.
Complete List
Let's see who else was able to make it to the list along with The Winners-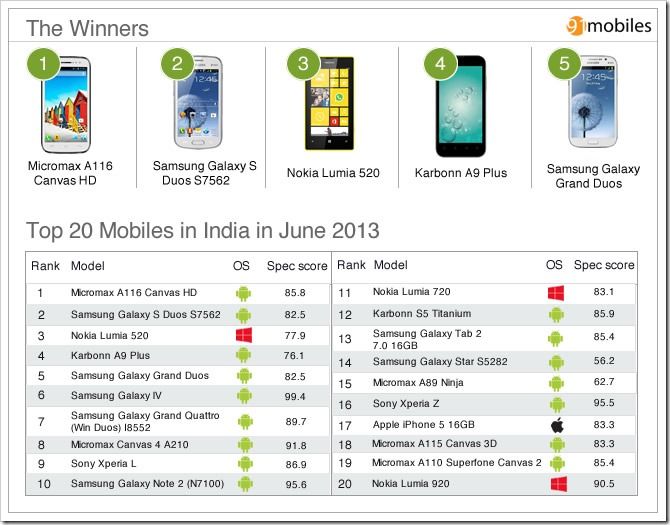 * Spec Score of each device has been algorithmically calculated based on it's specifications.
Interesting Insights
Brand Perception Matters
In terms of brand following, Samsung rules the roost with 7 devices out of 20 partly because of offering a device at every price point and size. Not so surprisingly, it's closely followed by Micromax with 5 devices which has been building up its brand recognition and device portfolio aggressively. The prime example of increasing affinity towards Micromax's devices can be seen with

Canvas 4

which even before it's launch created considerable amount of buzz to make it reach to position 8 in our list.
While we may say Nokia is doomed with WP OS, it's brand pull is still intact with 3 Lumia devices finding their place in the list.
//
Android leads as the OS of choice
Android is hitherto leader in terms of OS, but that might be because most of the manufacturers are using it, instead of iOS and WP which are being used by iPhone and Nokia Lumia (there aren't any notable devices from other manufacturers) respectively.
Smartphones penetration is growing
Many believe that feature phones are here to stay due to their low price, but the data suggests that people are skewing towards smartphones at entry-level as well. This list has only one device available at sub Rs. 5000 range-

Galaxy Star

(Position 14). But, if this trend continues and more manufacturers come forward providing devices at such low price-points, we may see rise of smartphones in the low-range as well.
//
Tablets with Voice-Calling functionality
Surprisingly, in between phones, one tablet was able to find its place in this Top 20 list-

Samsung Galaxy Tab 2

(Position 13) and what's even more surprising is that there are more powerful devices in this price range like Nexus 7. It might be because of the voice calling feature available in the tablet making it a good option for a spare calling device, which even we felt in our

7 days with Galaxy Tab 2

experiment.