Mobile Phone industry is one of the busiest industry with countless devices being launched every month in spite of the fact that the space is chock-a-block with other devices But, with so many handsets in a crowded space, how would we know whether they have been able to grab consumer's attention? Top 20 Mobile Phones a monthly feature where we list the most searched mobiles by the visitors on the 91mobiles website in the period of July month. These mobile phones have been searched by over 4 million consumers.
The Winners
1) Samsung Galaxy S4
There's no doubt that Galaxy S4, Samsung's flagship for 2013 is one of the most powerful and feature-packed smartphone. Even after 4 months of its launch, the smartphone is going strong and coupled with
Samsung's recently launched exchange offers
, the device is garnering more sales than ever. In a gist, the device features a Full HD 5" screen, 1.9 GHz quad-core processor, 2 GB RAM, 13 MP rear camera, 2 MP front camera, 2600 mAh battery and a lot of Samsung's custom features over Android 4.2.2 OS (upgradable to Android 4.3).
In last month's report, Galaxy S Duos held the first position and although it has been dethroned by a more recent member of its own family, it's still a great purchase in budget segment. The device offers a 4" screen, 1 GHz processor, 786 MB RAM, 5 MP primary camera, VGA secondary camera, 1500 mAh battery, TouchWiz optimizations on Android 4.0 (upgradable to Android 4.1) and most importantly a dual-SIM support.
3) Nokia Lumia 520
Nokia Lumia 520 continues to hold its reins at 3rd position for the simple fact that Nokia brand still scores well on trust factor amongst consumers and there are very little options from renown manufacturers in the entry-level range of smartphones. Lumia 520 sports a 4 inch display, 1 GHz dual-core processor, 512 MB RAM, 5 MP camera at the back, 1430 mAh battery and runs on Windows Phone 8. The smartphone may generate more sales thanks to
Nokia's buyback offers
.
Samsung Galaxy Grand managed to better its position by one rank which might be due to the fact that Canvas 4 wasn't as feature-packed as expected. And, people waiting for Canvas 4 decided to go ahead with Galaxy Grand because of brand affinity. In terms of configuration, the smartphone doesn't disappoint with its 5 inch screen, 1.2 GHz dual-core processor, 1 GB RAM, 8 MP rear camera, 2 MP front camera, 2100 mAh battery and Android 4.1.2 OS (can be
updated to Android 4.2.2
).
Although, Karbonn A9 Plus interchanged its position with Galaxy Grand by sliding down one position, it's still one of the best buys because of its cheap price tag. The smartphone comes across as a value for money purchase for those who desire all features from a device at a low price-point. The device flaunts a 4 inch screen, 1.2 GHz dual-core processor, 512 MB RAM, 5 MP rear camera, 1.3 MP front camera, 1420 mAh battery, Android 4.0 Operating System.
Complete List
We've already stated the top 5 devices, now let's dive into check other devices able to mark their entry in the list-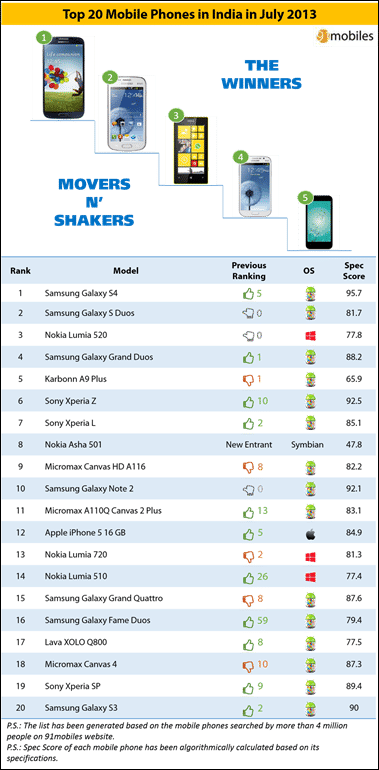 What do the trends suggest?
Samsung rules the market
Continuing with the similar trend of the past month, Samsung holds a big chunk amongst 20 devices with 7 mobile phones. It's followed by Nokia with 4 handsets. Perhaps, the biggest change comes from Micromax with just 3 devices compared to 5 devices in previous month and Micromax's loss has been Sony and Lava's gain. Lava marked the entry in this coveted top 20 list with Xolo Q800. //
Rise of Dual-SIM smartphones
Out of 20 devices mentioned in the list, exactly 50 % of them provide dual-SIM support. It seems that the dual-SIM handsets started out as a mere convenience for the consumers, and now are slowly becoming a necessity.
Affordable Segment attracting sales
There are 6 devices in the range of Rs. 5000-Rs. 10000 which signifies that majority of the people are comfortable with the purchase of budget device. Though we can't discount the fact that people are also going for mid-range as well as top-end smartphones. //
Old is (still) Gold
As many as 5 devices in this list have been launched almost an year ago and yet they find a place in this list. This can be attributed to the simple reason that these older devices offers good configuration and more bang for a buck.
Samsung Galaxy S3's successor Galaxy S4 wins the crown this month, it doesn't mean Galaxy S3 has become outdated. In the mid-range segment, the smartphone provides good features.
While people are eagerly waiting for Samsung and Apple to launch Note 3 and new iPhone soon, their predecessors Note II and iPhone 5 have become a bargain purchase because of several price-cuts.
Same is the case with now defunct WP 7.5 powering Nokia Lumia 510 and 2nd position holder Galaxy S Duos with a little older version of Android.