Indian Mobile Phones industry is going through a significant phase. Just a decade ago, there were couple of companies offering handful of devices to customers. Today the choices available to the consumer can be very bewildering. Not only large global firms, but also homegrown brands offer wide range of devices. One can buy from a simple feature phone to a smartphone to relatively new yet rapidly growing entrant-phablets. The endless choice doesn't stop at this only, users can choose from Android, iOS, Windows Phone platform and more. That's where our monthly feature comes into the picture, gauging the users' interest and choices amongst hundreds of devices available in the market. The list has been generated based on mobile phones searched by more than 2.4 million people in the month of August on 91mobiles website.
The Winners
Finally, after staying at 2nd position since last two months, Samsung's budget offering has managed its way to the Top. The device comes with all the features users expect from a smartphone these days with a 4 inch screen sporting decent WVGA resolution and a 5 MP shooter at the back. It has 1 GHz Snapdragon processor accompanied by a 768 MB RAM ensuring that the device gives you optimal performance. The device is loaded with Android 4.0 OS and is upgradable to v 4.1.1 (JellyBean).
The Lumia 520 follows the same success story as of Galaxy S Duos sitting at 3rd position since past two months and even offers similar set of features. The 520 sports a 4 inch screen with resolution of 480 x 800 pixels and is available in wide range of bright colors like Red, Yellow and Cyan. It's powered by a 1 GHz Qualcomm processor paired with a 512 MB RAM giving smooth performance on Windows Phone 8 OS. The OS will also be getting an update to Amber version giving it useful functionalities like FM Radio, Smart Camera app, etc.
The buzz and sales for Samsung's flagship device Galaxy S4 released in April has shown no symptoms of slowing down. Although it lost its 1st position to one of it's own family member, it doesn't mean that the device is lacking something. In fact, it can be considered as a complete all rounder with a 5 inch Full HD screen and an octa-core processor clocked at 1.9 GHz along with 2 GB RAM. It's also great for photography enthusiasts with a 13 MP primary camera. Samsung has loaded the device with Android 4.2 (upgradable to Android 4.3) along with several innovative functionalities through TouchWiz interface.
This is the newest entrant in our Top 20 list zipping ahead of 24 mobile phones. The Core Duos is positioned above entry level smartphones and offers a 4.3 inch screen bearing resolution of 480 x 800 pixels. The smartphone is powered by a 1.2 GHz dual-core Snapdragon S4 processor coupled with a 1 GB of RAM. It has a 5 MP camera with LED flash giving good shots for casual photyography and comes with Android 4.1.2 (JellyBean) platform.
If you're a fan of big screens, then Samsung's Galaxy Grand smartphone is a no-brainer for you, with a massive 5 inch touchscreen at an enticing price. Underneath, it's powered by a 1.2 GHz Qualcomm Snapdragon processor and RAM of 1 GB giving smooth functioning for multitasking or playing games. In camera department, it's packed with an 8 MP camera with LED flash. The Galaxy Grand runs on Android 4.1.2 (JellyBean), and will be getting an update to latest version of Android 4.3 soon.
The Complete List
Let's take a look at who all were able to make it the Top 20 list-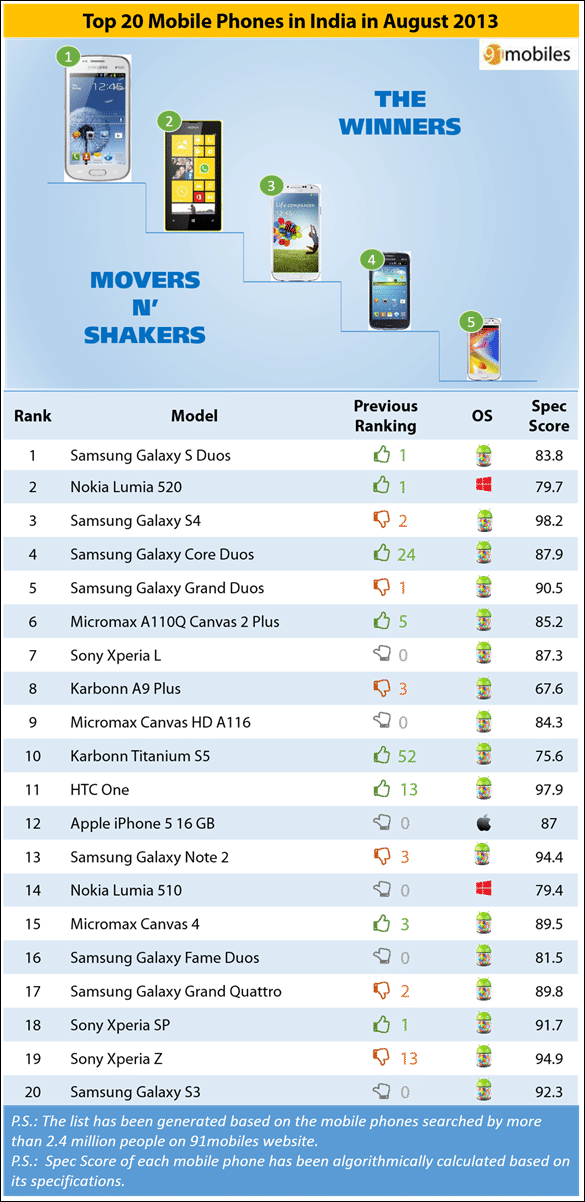 Trend Analysis
Samsung continues its domination
It's pretty surprising, at the time when we're hearing that Indian brands have been able to eat the market share of global brands, buzz and interest for numero uno manufacturer Samsung is not slowing down. This has resulted in eight smartphones from the manufacturer in the list . Micromax which always followed Samsung closely is now distant second sharing its position with Sony with three devices each. //
New Kid(s) on the block
The surprise entry in the list should be of HTC with its flagship device
One
at 11th position, which has always been applauded for its impressive features by tech community, but simply failed to strike a chord with consumers. Other new entrants include Samsung's Galaxy Core at 4th position and
Karbonn Titanium S5
at 10th position.
Smartphones across all price segments
Indian consumers are evolving and starting to get comfortable with the purchase of top end smartphones. Although, it's true that affordable segment of Rs. 5000- Rs. 10000 and mid-range segment of Rs. 10000- Rs. 20000 forms the bulk of smartphone searches and sales, other smartphones are evenly distributed in terms of price. //
Age of Giants
Barring
Galaxy Fame Duos
from Samsung sporting tiny 3.5 inch screen, all the devices in the list have a screen with 4 inches or above size. Not only that, phablets craze seems to have caught on with people as there are as many as 8 devices in the list which are flaunting a screen of 5 inches or above.