Apple keeps the pricing plans pretty simple. iPad 2 starts from $499 and goes all the way upto $829. iPad 2 starts from 16GB and goes upto to 32GB and 64GB. iPad 2 is available in Wi-Fi or Wi-Fi+3G mode. For every 16GB, Apple charges a premium of $100 and for 3G apple charges a premium of $130. So, when iPad 2 16GB Wi-Fi only is available at $499, the iPad 2 32GB Wi-Fi + 3G would be available for ($499 + $100 + $130 = $729).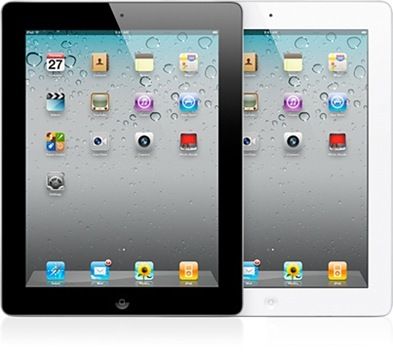 Now, which version should you go for? Given the state of 3G coverage and the data charges, you would be having a pretty lame experience accessing the internet through 3G connection from your iPad 3G version. Not to forget the insane data charges and the data restrictions that come into play depending upon your plan and operator! We faced this same dilemma when we wanted to buy an iPad 2 for ourselves. We settled for iPad 2 32GB WiFi only version. The storage capacity pretty much depends on your usage pattern. If you are the type who will be installing loads of apps, store all your pictures, read all your ebooks, listen to music and watch videos from your iPad, you probably might require the highest possible storage which is 64GB. But even 64GB is not like a never-ending storage, you will hit the ceiling sooner or later. So, if you think about it, you will anyway require an external storage where you will have your master catalogue. Once in a while you sync up and decide which one gets to stay on the iPad and which one gets to be parked away! For most cases, 32GB version would do.
Is it possible to access the internet on iPad 2 Wi-Fi only version when you are on the move? Since the iPad 2 does not have any usb port, it will not be possible to plug in your 3G USB modems and access internet straight away. Android tablets do have such facility, but iPads dont! So what's the alternative? The answer lies in the Mi-Fi device. Mi-Fi device or a travel Wi-Fi routers are capable of accessing 3G broadband network and sharing the same internet connection with 5 other Wi-Fi enabled devices through a secure Wi-Fi connection. What are the travel routers available in the market? Every operator have their own Mi-Fi devices but most of these devices are operator-locked and are available at a price range of Rs. 5,000 – Rs. 6,000. One travel router caught our attention in particular – Olive Nexus VR9 Travel Wireless Router! This costs just Rs. 2,999 and is not operator-locked. If you have a USB Modem, just slip it into the usb slot of this travel router. You need to setup and configure the travel router initially to get it working. Once setup, all you have to do is just switch-on the travel router and the connection will be on in couple of minutes. This device is operated through battery and the battery lasts for almost 4 hours.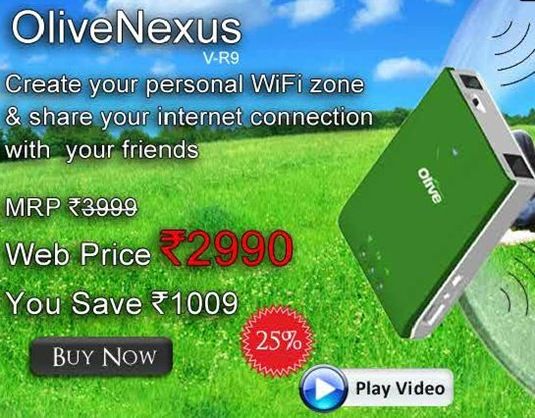 Steps to configure Olive Nexus Travel router with 3G USB modem
The steps to configure is pretty straight-forward. Do not look at the instruction manual that accompanies the product as it seems to be little outdated. The PDF manual provided on the site is pretty accurate and do follow that.
Step1: Switch on the travel router
Step2: Open the web browser and type in the url: http://192.168.123.254
Step3: Type "admin" as the password. This is the default password.
Step4: Click "Wizard" step
Step5: Setup new password
Step6: Setup Timezone
Step7: Choose WAN Type. If you are using 3G USB modem, choose "Some ISPs require the use of 3G to connect to their services".
Step8: In this step, type in the details of your USB Modem such as Dialled number, Account username and account password.
Step9: Enable Wireless Module.
Step10: Setup Wireless security and WEP Keys.
Step11: Confirm and apply the wireless settings. Now your Travel router is successfully configured with your 3G USB modem.
This travel router is very handy when you want to access internet on the move or at a place where there is not Wi-Fi connection. What is your preferred method? iPad 2 3G or iPad 2 Wi-Fi only with travel router?
References:
http://www.olivetelecom.in/olive-nexus-vr9-wireless-router/OliveNexus-3G-Configuration.pdf
http://www.olivetelecom.in/olive-nexus-vr9-wireless-router/OliveNexus-LAN-Configuration.pdf