Times Internet Limited (TIL) has announced that it has developed mobile applications for its flagship online music portal, Gaana.com. Gaana is now available as an application giving music lovers access to millions of songs on their mobile phones.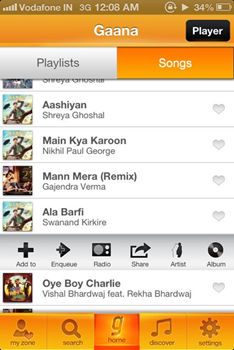 Some of its features include:
Access to over 1 million songs, in various categories such as Bollywood, Hollywood, Tamil, Telugu, and regional music.
"Social listening" which allows users to see what their friends are listening to
"My zone" allows users to view their music history, organise their favourite songs, playlists, albums and artists across their computer or mobile phone while it gets automatically synced in real-time across all devices.
"Radio mode" allows users to make their own radio station automatically, based on any song they play, using gaana.com's proprietary recommendation algorithm
One-click features to mark favourite songs or to share a playlist, via Facebook, Twitter, or email
The best curated playlists from radio channels like Radio Mirchi, and more, to help find new music
The service is completely free to the end user
The website has a very pleasant interface and loads fast. The navigation is pretty smooth with user friendly tabs.
The site currently receives nearly 3 million visitors per month, who spend nearly 2.5x more time per visit than visitors of other music sites in India.
Mr Satyan Gajwani, CEO, Times Internet said that TIL intends to use Gaana on mobile as a base to build even more functions and offerings across all platforms.
The app is available for download free of cost by visiting on mobile devices, tablets and PCs from the gaana.co website or on the iTunes App Store, Google Play Store, Blackberry App World, Nokia Ovi Store, or Samsung App Store.