Smart phone, business phone, push mail, blah-blah-blah… God knows what these mobile companies are going to give when all these ends. Every guy wants a phone which, if not fully, partially could replace their computer and also fit in the budget. A dream phone could be a device which lets us (off-course except of talking & texting) listen audio, watch movies, browse web (in a decent browser), chat, torrent, download, mail & the list goes on. I know most of the features already come in a number of phones but can you tell me the price of an average performing phone which incorporates all these features. A quality device with all these features may reduce your account balance by at least 20K, which is definitely out of budget for most of the folks (including me). Couple of days back I saw a comment on one of our peer site telecomtalk.info,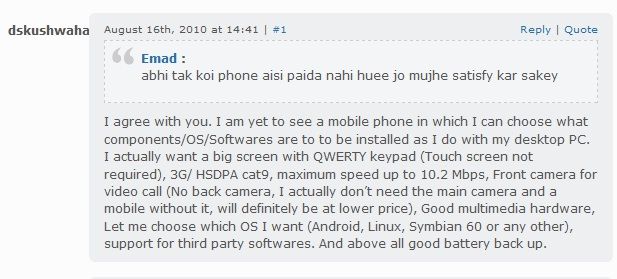 In a few words, Mr. Kushwaha said a lot of things what most of the Indian (even global) youth wanted to say. Off course, this is not the old BSNL only age. We live in a twitter world where messages spread faster than viruses. Being a commentator Mr. Kushwaha can raise his voice, being a blogger why can't I or being a professional why can't you? Imagine a phone where: – You can choose your OS – Install 3rd party application in the mainstream (Not only on Java platform) – Big screen with qwerty keypad – A navigation trackpad (May be blackberry style), with option to right click – Latest internet capable (e.g. 3G, HSPDA) – A really decent browser (lacking a lot even in high end phones) – A normal USB port (not mini) How much should it cost, provided we don't need a high MP camera, capacitive (or anything else, who cares) touchscreen. Something like this:
Any tele company company, with a small bit of R&D can easily make it within a budget of 10K. All of the features demanded (except optional OS & USB) already exist. All they need to be selective to choose only efficient features to balance the productiveness and cost. I did my job, now you need to do yours if you are agree with me. Shout it loud, so that the biggies seating there can hear it. Tweat it, share it on Facebook, Make it large, really large….. Cheers!!!