Its Diwali again. Like every year, we are lighting candles, firing crackers and spreading the light of happiness. This light of joy is so strong that it wins over the darkness of No moons night. Well if you are unaware, Diwali is celebrated on the No moons night (called Amavashya in Hindi) of Karthik hindu month and with the light of diyas it marks a win over the darkness.
There are 10 reasons to celebrate Diwali and every reason depicts the victory of good over the evil. Be it Angels versus Daemons, God versus Devils or any good versus evils, the good wins and the evil dies.
Though there are no Angels and Daemons now, but both good and evil exist. They exist among us and among the things created by us. The technology is a no exception. At one side its upgrading our lives while on the other side slowly and gradually taking us away from the natural way of living. Emergence of Internet and Social networks while help us keeping in touch, gradually blemish the way we used to interact with society earlier. Researchers across the globe have warned many times against the excessive use of Internet. It leads to depressions, frustration, obesity and various health hazards. The evil side of internet has now overpowering the good side in this urban culture.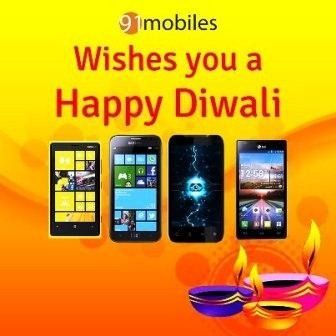 Why not to kill this evil this time. Shut down your laptop, pick up your mobile and start calling your near and dear ones. The ones who will feel happy that you cared, the ones who deserve your care but are not on the Facebook. If possible pay a visit to someone who you think will be happy to see you today. Bring some happiness to real lives and believe me, you will make this Diwali a real blast.
91mobiles, as always, cares for you, your family and your mobile life. Being the biggest database and no. 1 portal of Indian mobile industry, we are committed to provide an all in one platform to help you make an informed decision while purchasing your next mobile and to facilitate a better and happy mobile life.
We wish you and your family a very happy Diwali and a prosperous year ahead. May this festival of light enlightens your journey of life with lots of success and happiness.
And don't forget to refer our Diwali buying guide if your are planning to buy a mobile this season

.