The Third Rail is a portable battery case to charge your iPhone on the go using a Smart Battery attached on the back. The Slim Case is a sleek, everyday protective case with a high quality, soft-touch feel.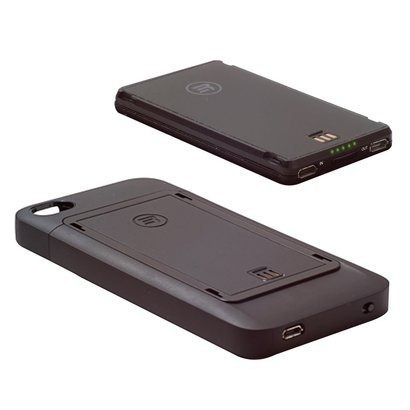 Currently, the Third Rail battery case only fits the iPhone 4, but the battery can work with almost any mobile device that charges using a standard USB cable. In fact, the Third Rail Slim case is certified by Apple for its iPhone 4 product.
The Third Rail Slim Case for iPhone 4 with Slide-on Smart Battery has two components, the protective case (currently available in black only) and a detachable battery.
You also get a cable to attach your phone in its case to a USB charger and an adapter which allows the Smart Battery to charge any device such as mobile phone, Bluetooth headset, MP3 player, gaming device. etc. that uses a USB charger.
The Slim Case dimensions at 4.96 x 2.43 x 0.46 inches is very compact and sleek, with no extra bulk. In fact the Smart battery is also very compact at 3.29 x 1.83x 0.27 inches lithium-ion polymer battery that has a capacity of 1250 mAh.
When your battery has drained out, just replace it with another battery in your Slim Case. The case has an on/off switch on the Slim Case that allows you to choose when you want power to flow from the battery to your iPhone.
However, the Third Rail Smart Battery can charge the iPhone 4 only up to 65% currently, which can be a drawback for people who need batteries with higher charges while they are on the move.
Inspite of this, the Third Rail Slim case is the best portable battery case available in the market currently.