Until a few years ago, cloud services were very much an enterprise concept. Not many end-users were aware of how the cloud functioned, or how it could apply to personal technology. Over the last few years, that perception has changed. Cloud services are now deeply integrated with our smartphones, tablets and computers, and are an essential part of how we use and share our data. Here's a look at the top five personal cloud services, and what they offer.

Dropbox is one of the most popular cloud storage services available. It lets you store your data in the cloud and access it later on any device, from anywhere in the world. You can log in to your account via the web interface, or use one of its apps available for the iOS, Android, BlackBerry, Kindle Fire, Mac, Windows and Linux platforms. When you sign up, Dropbox offers you 2GB of free storage, upgradable to a maximum of 500GB for $499 a year. You can also get up to 16GB of free storage by referring the app to your friends (you get 500MB for every person who signs up after your recommendation).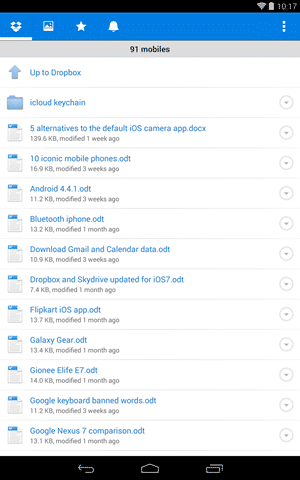 Dropbox is a great tool for sharing data. By inviting Dropbox users to collaborate on a folder, you give them access to edit, modify or add files. Unfortunately, Dropbox doesn't allow two people to edit a file at the same time, unlike Google Drive, where multiple people can view and edit files simultaneously. In this case, Dropbox creates two separate versions of a file, instead of merging the changes into one. You can also share links to files and folders, which allows people to view or download files but does not give them any collaborative control. A person does not have to be a Dropbox user to access shared links. Dropbox also has a
Camera Upload
feature, where it automatically backs up photos and videos from your phone, tablet or computer to your Dropbox account. Using the desktop app, you can also make sure that the Dropbox folder on your computer remains in sync with the online account at all times.
Dropbox for Business
allows organisations to share an official Dropbox account with their team, with features such as centralised administration, unlimited version history and file encryption.
Also consider:
Box, Mega, SugarSync

Apple's iCloud syncs and backs up data between your Apple devices, or between an Apple device and a computer. When you sign up for an iCloud account, you get 5GB of free storage, upgradable to a maximum of 50GB for Rs 5,500 per year. It's compatible with iOS, Mac and Windows. iCloud syncs your Mail, Contacts, Calendar, Notes, browsing history, iTunes purchases, photos and documents (compatible only with iWork and select apps) between your devices. Unlike Dropbox where you can save and share data in files or folders, iCloud only syncs your information through compatible apps. For example, enabling Photo Stream syncs your photos across iOS devices.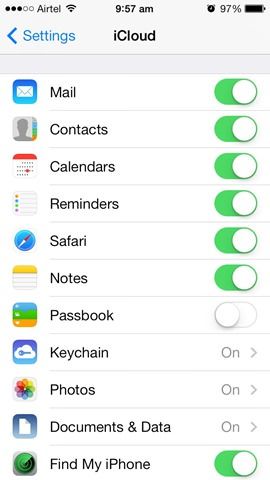 You can use iCloud on Windows by downloading the
iCloud Control Panel
. This enables you to sync your contacts, calendars and reminders in Outlook, download photos taken with an iOS device via Photo Stream, and sync your Internet Explorer, Firefox and Google Chrome bookmarks on Windows with Safari bookmarks on Apple devices. One of the most handy features of iCloud is automatic backup for the iPhone/iPad/iPod Touch. iCloud also offers the
Find my iPhone
feature, which enables you to locate and remotely erase a stolen or lost Apple device. With iOS 7, Apple introduced
iCloud Keychain
, which stores your Safari usernames, passwords, credit card information and Wi-Fi networks across all your Apple devices.

Google Drive allows you to create documents, spreadsheets, presentations, drawings and forms and share them with others. You can also upload photos and videos and store them on your personal drive. You get a total of 15GB of storage across Google Drive, Gmail and Google+ Photos, with upgrade options maxing out at 16TB for $800 per month. You can access Google Drive on the web, or download the app for Windows, Mac, Android and iOS. Google Drive includes a free web-based office suite, which makes it ideal to use at work. You can create, open and edit any office document and export it in a variety of formats like .doc, .rtf, .txt, .pdf, .ppt, .xls, .odt (Open Office document) and .html.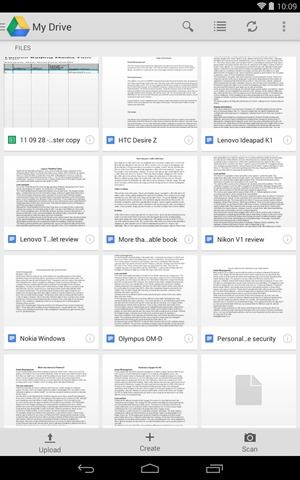 Google Drive excels when it comes to collaboration. Shared files can be edited by multiple users, with all changes merged into the document. There are markers to indicate who's editing in real time, and you can post comments and chat with others on the shared file. Like Dropbox, you can also share folders with others, giving them access to edit and add files. Google Drive is also compatible with a number of
third-party apps
. Google Drive also introduced a neat photo-viewing interface that lets you swipe through images with options to download, share and print them.
Also consider:
SkyDrive, SugarSync

Evernote is a digital note-taking app which lets you create notes and archive web pages. It is present on almost every platform imaginable, with apps for Windows, Mac, Chrome OS, Android, BlackBerry, iOS, Windows Phone, Windows 8 Touch and WebOS. Evernote gives you 60MB of free uploads per month. Upgrading to the premium plan gives you 1GB uploads per month with unlimited storage, for either $5 per month or $45 for the year. Evernote lets you upload text, videos and media either separately or combine them together to create a single note. You can group notes into Notebooks, and Notebooks into Stacks. Additionally, you can organise your notes with tags.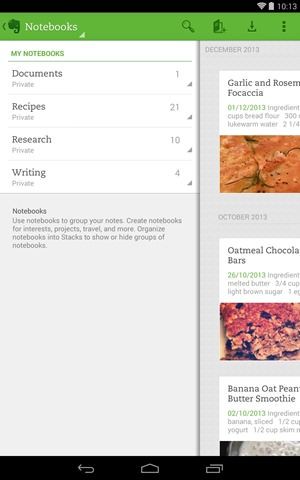 Evernote's search functionality is very advanced, allowing you to search for a particular note by typing in the title, keyword or phrase. It also uses OCR (Optical Character Recognition) technology to search for text or handwriting from photos. So if you're looking for the word '91mobiles' that appears somewhere in a photo, it should show up in your Evernote search. You can save highlighted text or entire webpages via the Evernote Web Clipper, an extension available for most browsers. Once the webpage is saved to your account, you can make changes and edit it. Evernote also lets you share folders and files, although you will need to use a third-party app like
LiveMinutes
to if more than one person is editing. Evernote has a dedicated
App Centre
that lists all compatible third-party apps.
Also consider:
Springpad, Google Keep

Formerly
Read it Later
, Pocket enables you to save web articles for reading later. It is available for iOS, Android, Mac, Windows, Linux, Google Chrome, Safari, Firefox, Opera, Kindle Fire and Kobo, which pretty much covers all platforms. Additionally, it has a web interface which can be accessed from any device or browser. Pocket doesn't have a limit on the maximum number of articles that can be saved in a user's account, although articles you save for offline reading will take up valuable space on your device. You can disable this option and choose to read articles in a web view format instead. Once you save an article to your Pocket, you can resume reading it on any of your other devices via the web or app. You can save articles to Pocket using the
bookmarklet on various browsers, emailing links to your account or directly via supported apps for iOS like Twitter, Zite, Flipboard, Reeder and TweetBot.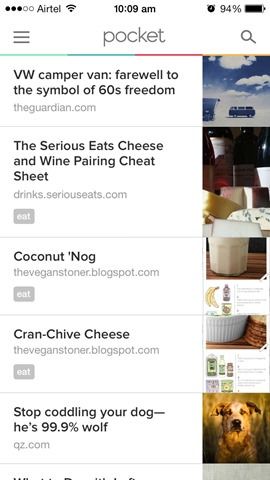 For sharing, Pocket lets you
Send to Friend
– where you can share content from the app in a formatted email with the link and your comments. The recipients do not have to be Pocket users, but if they are, they will receive a notification from their Pocket account. In November, Pocket introduced
Highlights
, which displays the best content in your account under different tags. Default tags are divided into
Best of
,
Trending
,
Long Reads
and
Quick Reads
. Highlights also adapts to your reading habits when you use Pocket frequently, creating tags that are constantly updated to match your interests. You can also organise your items by manually applying tags.
Also consider:
Instapaper