The Mobile Store
, India's largest mobile phone retail chain owned by Virgin Group has launched a 'Home-delivery' service for mobile phones. That's right. You can just pick up your phone, dial the toll free number, place your order and get it home delivered while you sit comfortably at home!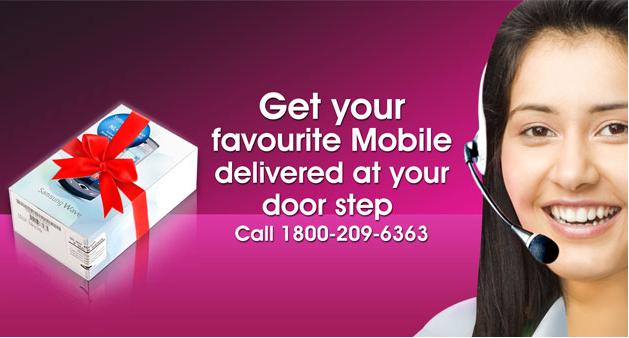 They have secured a toll free number
1800-209-6363
and setup a call centre to handel the requests. The press release claims that the entire call is powered by IVR and that no credit card information needs to be shared during the call. This novel scheme is currently available across
163 cities
in India. This facility will be extended to other cities gradually. Mobile Phones is one of the highly competed category in retail space both offline and online. Due to the intense competition, you can witness retailers slashing prices on a regular basis to attract customers. On top of this price cuts, online retailers such as flipkart.com, adexmart.com, letsbuy.com offer
free shipping
option and
cash-on-delivery
options where in you can pay through cash once you pickup your delivery! The cash-on-delivery is largely managed through courier agencies. Given this scenario, it is very difficult to improve the customer experience even further. So, some companies like timtara.com has introduced
same day delivery
and sometimes 4-hour delivery concepts too…Now to achieve this kind of insane delivery speed you need to have inhouse logistics. Timtara is trying this out in Delhi and time will say whether this is a sustainable move or not…! Coming back to TheMobileStore, Srikanth Gokhale, CEO spoke about this today, "as a customer-centric organization we are focused on finding novel ways to enhance pleasant experience in mobile phone buying. Home delivery of the cell phones is another step in that direction and is aimed at further facilitating the mobile phone penetration across the country". Curious to see how exactly this works, I called up the toll free number. A human operator picked up the call and gave a welcome message and he confirmed if I have credit with me. Having the credit card number and the CVV number is mandatory to place the order. This is contrary to what they mentioned in the press release. The IVR would take the user through the choice of menus to capture the model to be ordered, customer details and the credit card details. The delivery would be done in 3 working days. Essentially, they are charging me right away but take 3 days to deliver my product. So where is the superior experience here? I am better off by placing the order on flipkart or adexmart as I can safely expect the shipment to arrive in
2-3 working days
and I can pay by cash and more importantly I get to enjoy good price bargain for my phone. Bottomline,
TheMobileStore
's novel scheme of "
Place your order on Phone
" is a marketing gimmick and is an effort to capture more customers and to get access to their wallets. What do you think?