Know the apps that enhance your reading experience!
The internet has revolutionized the way we receive news updates and consume information, and thanks to the mobiles, we can stay up-to-date with the latest stories as they break.
Sources such as The Times of India and Cricinfo are constantly updated, but keeping an eye on every one of them can be a bit of a tough, and that too regularly. Perhaps, that is the reason there is huge outcry against the Google's decision to shut down Google Reader (an RSS service) a few days back.
There are few services for computer like The Old Reader, RSSOwl, etc. which lets you read RSS feeds. But, what about staying up-to-date through mobile? It is certainly difficult when you're browsing on a mobile to get the latest dose of news and happenings.
We bring you some of the apps which lets you receive information whenever and wherever you want on your Mobile.
Flipboard acts like your personal magazine bringing together world news and social news in a simple yet gorgeous layout. The name comes from the fact that the app gives user the feeling of reading articles as if they are 'flipping' through the pages of a magazine.
Look n Feel
As stated earlier, the app is absolutely beautiful. It's extremely easy and fun to read through articles, videos (from YouTube) or getting updates from your social networks. When you open Flipboard, you'll see a full-screen carousel of images and headlines from stories in your feed. This grid layout makes the most use of available screen space and the focus on images ensures that you've a decent idea of what to expect when tapping a story. In posts without images, the text-only representation makes perfect use of typography. The article screen is nicely divided. At the top, you get the options to favorite the article, share it on social media or see twitter chat about it. Then the source of the article is being displayed. The middle section displays the content of the article. The bottom of the screen indicates the number of pages in the article.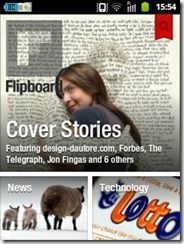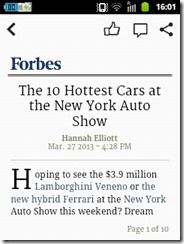 Content
When you open Flipboard for the first time, the app asks you to select Topics for which you would like to read articles about. Some of these topics are News, Technology, Business, Design, etc. Flipboard can also integrate with more than 10 services including Twitter, Facebook, Google+, Google Reader, LinkedIn, Instagram, Flickr, Tumblr, 500px, YouTube, etc. Flipboard scans the feeds of topics selected and accounts integrated and populates the app with news and links posted by your friends. Flipboard also curates its own channel called 'Flipboard Picks' which brings you Cover Stories of the day.
Functionality
Pros:
The app works well with plenty of sources to choose from and endless customization through social media integration.
Extremely good integration with Facebook and Twitter; for instance you can like and comment on posts within Facebook, and you can favorite and retweet posts on Twitter, and you can email posts from both services.
The search functionality is at its core. You can search for anything—people, topics, hashtags and even blogs.
Very intuitive navigation, pinch to open & close posts, flick to the next/previous post, logical popups, integrated web browser, very fast, no hiccups in terms of loading content.
You can save anything to be read later using Instapaper, Pocket and Readability.
Flipboard widgets gives you a glance to the latest news.
Ability to add sources from the web via bookmarklet. (Find it on share.flipboard.com)
Cons:
Finding sources that are of your interest among Flipboard's many curated news feeds can be very difficult.
Every time you exit the article to the table of contents, you lose your place in the magazine when you reopen it.
Google Currents (Android | iOS)
Google Currents delivers beautiful magazine-like editions of your favorite websites, blogs, etc. to your Mobile for high speed and offline reading.
Look n Feel
Currents' layout is somewhat similar to other reading apps. The Library- the opening screen in Currents- is clean and straightforward. The articles are categorized into various sections like News, Lifestyle, Business, Sports, Design, Other, etc. Logo icons represent the publications you've subscribed to. Clicking on a title will show you the whole article with text and images. The text size can be change to 'Small', 'Medium' or 'Large'. For reading other articles of the same source, tap in the bottom left corner and a screen will display various titles in the form of 'Table of Contents'.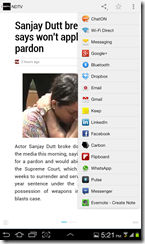 Content
Google Current has vast library of websites which can be subscribed to. Simply clicking 'Add subscription' will take you to various services/websites which are available to you for adding. Mainly you will be reading from one source at a time.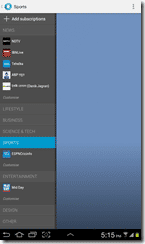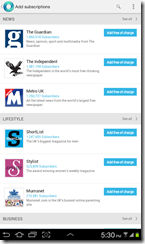 Functionality
Pros:
Offline syncing works well and is done automatically in the background.
The article can be shared to social networks, e-mail, SMS, etc.
To save any article for reading later, simply star it and it'll be there in your personal Saved stories edition.
Cons:
No social media integration in the app.
Apart from the sources given in the app, no option of adding your own source for subscription, unless you find its RSS feed.
Pulse brings all your favorite blogs, magazines, social networks and newspapers at one place. It is exciting to use, helps in reading quickly and ready to share the articles.
Look n Feel
Pulse takes quite the opposite approach to the bright and clean UI of its competitors by trying to have as much content on the screen as it can. Each story is represented by a thumbnail image like a cover-flow set of images in the browse section which makes it easy to scroll through categories of feeds. Each category includes about 15 to 20 publications. Each feed shows a selection of the most recent headlines with thumbnail images. Selecting a headline takes you to that article. To share it, use the icons on the bottom right.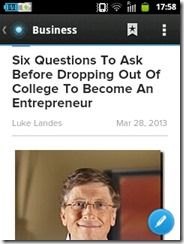 Content
You can add variety of sources like blogs, websites, etc. in each of the topics and also connect the app to Google Reader. You can also add your social media accounts for knowing what your friends are up to. For getting more information about the article, Pulse offers inbuilt browser to take you to the source.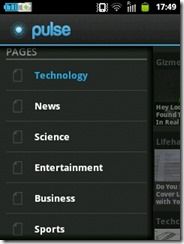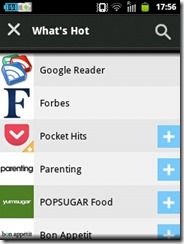 Functionality
Pros:
Support for RSS and social media.
Novel method of navigating through various sources and individual articles.
Quick preview of article blurbs.
Option of using Pulse widget(s) on Homescreen.
The articles can be saved for reading later and can even be synced with Instapaper, Pocket, Evernote, etc.
The articles can be read in offline mode.
Cons:
If you have a lot of feeds, then you'll have to scroll a lot.
All of the articles are presented in the same manner, so if there's something important in news or an interesting article, you might now know about it.
No search function within your feeds.
Twitter integration doesn't work well in comparison to Flipboard.
Zite is an intelligent magazine that helps you discover interesting things to read. Your Zite is as unique as you are as it learns what you like and dislike and gets smarter as you use it.
Look n Feel
The main screen of Zite shows 'Top Stories' which is a selection of top news headlines (skewed to your taste) and introductory content. On the right is a category-based table of contents (customizable by you).
Clicking on the topic will take to its description. There's an "A" at the top of every article screen that leads to font style and size settings which makes it easy to change the readability of the page- something that other apps don't provide.
The real power of Zite is on the right side of the screen for each story- Thumbs up and thumbs down button which makes Zite learn your liking and disliking. The top bar also features the source of the article and share options for the article.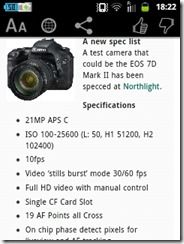 Content
Keep in mind that Zite improves by learning your interests over time. This means that it takes a little work to get Zite to show the content you most want to see (definitely worth it). The way that's done is by reading the news that Zite first populates the app with (could also be done by integrating Google Reader and Twitter account) and then teaching Zite which articles you like and which you don't.
Unlike some of the other apps covered here, it's not possible to manually add sources not already included in the app. There's search functionality, but that's only for searching for categories that are already part of Zite.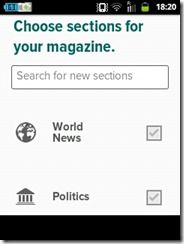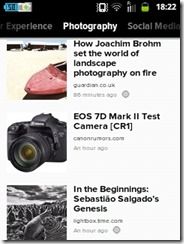 Functionality
Pros:
Zite personalizes your content automatically and gets better the more you use it.
Can be integrated with Google Reader for RSS feeds.
The magazine like interface is clean and simple.
Cons:
You can't add your own sources.
No option for offline reading.
Articles can't be saved for reading later.
It's only optimized for viewing in Mobiles, can't run on Tablets.
Bonus App: Feedly (Android | iOS)
Given the recent demise of Google Reader, people are taken aback and Feedly app provides a great alternative. More than 500,000 Google Reader users joined feedly within 48 hours after the announcement of Google Reader's closure. While all the apps mentioned above allow you to read the news from the sources you want or sources the app is providing or integrate RSS feeds from Google Reader, they still can't be a proper Google Reader replacement (with Categories, Tags, Saved Articles, etc.).
Some of its features are:
Ability to organize your favorite blogs, news sites and Youtube channels and access them all in one place (or sync with Google Reader, Twitter and Facebook).
Options to save articles across devices.
Ability to share articles with your friends on Twitter, Facebook, Google+ or LinkedIn (Directly or via Buffer, Pocket or Instapaper).
You can add feedly to all the devices phone, tablet and computer, and they will always be in sync.
You can use Feedly widgets in Homescreen.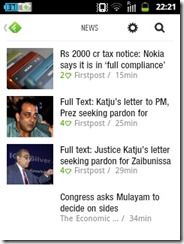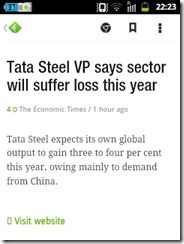 Verdict
Each of these news aggregation apps has their own pros and cons; individual's requirements and preferences play a role in determining which is best for you.
The apps functionality can be classified as:
· For a straightforward, visual RSS reader experience– Google Currents, Feedly and Pulse are the best options, with Pulse having more flexibility than Currents and Feedly.
· For social features– Flipboard is a good choice, not only it gives you the ability to share a story via Twitter or Facebook, but also allows to comment on a story from within the app.
·For keeping up with news followed by those you connect with on social sites– Flipboard or Pulse makes the most sense.
· For getting recommendations of stories that you might not find on your own– The app for that is Zite.