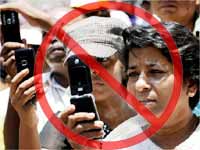 The government has imposed a ban to stop Bulk SMS, MMS ahead of crucial Ayodhya verdict. However, there is another side to the ban which was clamped to prevent cellphones from being used to spread rumours, distribute objectionable content and create panic ahead of and after the verdict.
Those people, who love getting their news updates on their phones, now have to find some other source while all those who are psychologically assured that their debit or credit card is safe due to the SMS that their banks send them everytime the card is swiped, now have to constantly check their purses to be sure.
Ultimately, thousands of people, who depend heavily on their cell phones for financial transactions, business deals, and confirmation of bookings such railways or airline tickets and even movie tickets, are suffering the brunt of the bulk SMS ban to a large extent.
The ban does not only harm end-user but also consequentially cause huge losses to a huge array of service providers such as banks, airlines, railways, taxis, and multiplex chains.